Really funny jokes-Orchestra attendance
The Dennis community orchestra in Ohio was beleaguered by attendance problems. There were many musicians who remained absent at rehearsals. All players in the orchestra had missed several rehearsals, except for one sincere violin player.

Finally, as the dress rehearsal came to a close, the conductor took a moment to thank Jack, the violinist for his faithful attendance. Jack, humbly responded "It's the least I could do, since I won't be at the final performance."
#joke
Tech Support: "I need you to r...
Tech Support: "I need you to right-click on the Open Desktop."
Customer: "Ok."
Tech Support: "Did you get a pop-up menu?"Customer: "No."
Tech Support: "Ok. Right click again. Do you see a pop-up menu?"
Customer: "No."
Tech Support: "Ok, sir. Can you tell me what you have done up until this point?"
Customer: "Sure, you told me to write 'click' and I wrote click'."
#joke
Funny video of the day - Ultimate Fails Compilation 2013 (So far)
Beer drinking 101
Symptom: Feet cold and wet.
Fault: Glass being held at incorrect angle.
Action: Rotate glass so that open end points toward ceiling.
Symptom: Feet warm and wet.
Fault: Improper bladder control.
Action: Stand next to the nearest dog and complain about house training.
Symptom: Beer unusually pale and tasteless.
Fault: Glass Empty
Action: Get someone to buy you another beer.
Symptom: Opposite wall covered with fluorescent lights.
Fault: You have fallen over backwards.
Action: Have yourself leashed to the bar.
Symptom: Mouth contains cigarette butts.
Fault: You have fallen forward.
Action: See above.
Symptom: Beer tasteless and the front end of your shirt is wet.
Fault: Mouth not open or glass applied to the wrong face.
Action: Retire to the restroom and practice in the mirror.
Symptom: Floor blurred.
Fault: You are looking through an empty glass.
Action: Get someone to buy you another beer.
Symptom: Floor moving.
Fault: You are being carried out.
Action: Find out if you are being taken to another bar.
Symptom: Room seems unusually dark.
Fault: Bar has closed.
Action: Confirm home address with the bartender.
Symptom: Taxi suddenly takes on colorful aspects and textures.
Fault: Beer consumption has exceeded personal limitations.
Action: Cover mouth.
Symptom: Everyone looks up to you and smiles.
Fault: Your dancing on the table.
Action: Fall on someone cushy-looking.
Symptom: Beer is crystal clear.
Fault: Someone is trying to sober you up.
Action: Punch him.
Symptom: Hands hurt, nose hurts, mind unusually clear.
Fault: You have been in a fight.
Action: Apologize to everyone you see, just in case it was them.
Symptom: Don't recognize anyone, don't recognize the room you're in.
Fault: You've wandered into the wrong party.
Action: See if they have free beer.
Symptom: Your singing sounds distorted.
Fault: The beer is too weak.
Action: Have more beer until your voice improves.
Symptom: Don't remember the words to the song.
Fault: Beer is just right.
Action: Play air guitar.
Blondes To The Moon
At a press conference the Brunettes announce they are going to make a trip to the Moon. The Redheads speak up "That's been done before, we're going to go to Mars". The Blondes speak up "That's nothing, we're going to be the first people to go to the Sun". One of the reporters says "Don't you idiots know that you'll burn up?" The Blondes say "NO WE WON'T; WE'RE GOING TO GO AT NIGHT!"
Held ransom
A girl had invented a device to cause any car that passed in front of her house to suddenly break down but couldn't find any practical way to profit from it.
So, thinking clearly, she set up the device, and as the cars passed the house and broke down, she'd offer the man in the car a place to stay for the night. Then as soon as the man was asleep, he'd be jarred awake by her with his penis in her mouth, and she'd hold a sign up saying "$50 or I'll bite hard!". Of course usually the guy would pay and she'd let him go.
Well one day a Newfoundlander broke down, and had to stay the night. Sure enough, he felt something between his legs at night, and there she is with him in her mouth and holding the sign "$50 or I'll bite."
The Newfoundlander just smiled and said "$100 or I'll piss!"
#joke
Pegasus, we hardly knew ye
Why did God stop making pegasuses?
Because it took too long to clean their crap off his windshield.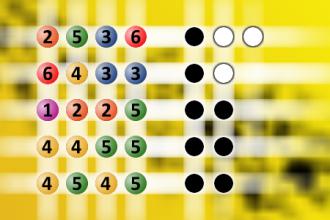 Which is a winning combination of digits?
The computer chose a secret code (sequence of 4 digits from 1 to 6). Your goal is to find that code. Black circles indicate the number of hits on the right spot. White circles indicate the number of hits on the wrong spot.
"The gunman took a sh...
"The gunman took a shot at new opportunities."
A stranger's advice
A guy was standing in a bar when a stranger walks in.
After a while they get to talking and at about 10:30 PM the second guy says, "Oh well,I better get home.My wife doesn't like me to stay out during late night."
The first guy replies, "I'll help you out of this. Just do what I say. Go home. Sneak into the bedroom. Pull back the covers. Get down between her legs then lick, lick and lick for about 20 minutes and there will be no complaints in the morning."
The guy agrees to try that and continues drinking with him for two more hours before heading home to give it a try.
When he got home, the house was pitch black. He sneaks upstairs into the bedroom, pulled back the covers and proceeded to lick for 20 minutes. The bed was like a swamp so he decided to wash his face.
As he walked into the bathroom, his wife was sitting on the toilet.
Seeing her he screamed, "What the hell are you doing in here?!"
"Quiet!", she exclaimed. "You'll wake my mother."
#joke
Reaching the end of a job inte...
Reaching the end of a job interview, the Human Resources Officer asked a young Engineer fresh out of MIT, "And what starting salary were you looking for?"
The Engineer replies, "In the region of $125,000 a year, depending on the benefits package."
The interviewer inquires, "Well, what would you say to a package of 5-weeks vacation, 14 paid holidays, full medical and dental, company matching retirement fund to 50% of salary, and a company car leased every 2 years say, a red Corvette?"
The Engineer sits up straight and says, "Wow! Are you kidding?"
And the interviewer replies, "Yeah, but you started it."
#joke
He who lives by the sword, die...
He who lives by the sword, dies by the sword. He who lives by Chuck Norris, dies by the roundhouse kick.
Not tonight, Adam
After a few days, the Lord called to Adam and said, "It is time for you and Eve to begin the process of populating the earth, so I want you to kiss her."
Adam answered, "Yes, Lord, but what is a 'kiss'?"
The Lord gave a brief description to Adam, who then took Eve by the hand and led her to a nearby bush.
A few minutes later, Adam emerged and said, "Thank you, Lord. That was enjoyable."
And the Lord replied, "Yes, Adam, I thought you might enjoy that. Now I'd like you to caress Eve."
And Adam said, "What is 'caress'?"
So the Lord again gave Adam a brief description and Adam went behind the bush with Eve.
Quite a few minutes later, Adam returned, smiling, and said, "Lord, that was even better than the kiss!"
And the Lord said, "You've done well, Adam. Now I want you to make love to Eve."
And Adam asked, "What is 'make love' Lord?"
So the Lord again gave Adam directions and Adam went again to Eve behind the bush, but this time he reappeared in two seconds.
And Adam said, "Lord, what is a 'headache'?"
#joke
Porn movies
Why do men like to watch porno movies backward?
They like the part where the hooker gives the money back.
Price Check on Tampax
When Jane reached the checkout counter, she learned that one
of her items had no price tag. Imagine her embarrassment when
the checker got on the intercom and boomed out for all the
store to hear, "Price check on Tampax, supersize please."
As if that was not bad enough, somebody at the rear of the
store misunderstood the word "Tampax" for "thumbtacks."
In a business-like tone, a voice boomed back over the
intercom, "Do you want the kind you push in with your thumb
or the kind you pound in with a hammer?"
#joke
Cat Jokes 03
Q: What looks like half a cat?
A: The other half!
Q: What was the name of the film about a killer lion that swam underwater?
A: 'Claws.'
Q: If a four-legged animal is a quadruped and a two-legged animal is a biped, What's a tiger?
A: A stri-ped!
Q: What do you get if you cross a tiger with a sheep?
A: A stripey sweater!
Q: How does a lion greet the other animals in the field?
A: 'Pleased to eat you.'!
Q: What do you get if you cross a tiger with a snowman?
A: Frostbite!
Q: What did the lions say to his cubs when he taught them to hunt?
A: 'Don't go over the road till you see the zebra crossing.'
Q: What is lion's favorite food?
A: Baked beings!
#joke
Bill Hicks: Confusing L.A. Weather
L.A. is a very confusing place, only place I know where you can have, simultaneously, a drought and a flood. Every time you watch the weatherman, he goes, Rained all day, didnt help the drought. Back to you, Tom. I got news for you, folks. If water doesnt solve your drought, youre screwed.