Adult jokes-Lost in the woods
If you are lost in the woods, here is what you should do.
Take Viagra and an iron supplement. Trust it to convert you into a perfect compass.
"The portrait artist ...
"The portrait artist made extra money as a census taker. He was good at canvasing people."
Funny video of the day - Cat Teleportation
Double Martini
A businessman enters a tavern, sits down at the bar, and orders a double martini on the rocks.
After he finishes the drink, he peeks inside his shirt pocket, then orders the bartender to prepare another double martini.
After he finishes that it, he again peeks inside his shirt pocket and orders the bartender to bring another double martini. The bartender says, "Look, buddy, I'll bring ya' martinis all night long - but you gotta tell me why you look inside your shirt pocket before you order a refill."
The customer replies, "I'm peeking at a photo of my wife.

When she starts to look good, I know it's time to go home."
Joke of the Day, posted everyday on getfrank.co.nz - Click to see the past weeks worth right here...
#joke
Bar Crawl
An Irishman drinks at the pub until they close.
He stands up to leave and falls flat on his face. He tries to stand one more time and falls again. He figures he'll crawl outside and get some fresh air and maybe that will sober him up.
Outside, he tries to stand up and falls flat again. He gives up and crawls the four blocks to his house, crawls up the stairs and pulls himself into bed.
The next morning, his wife stands over him shouting, "So, you've been out boozing again!"
"What makes you say that?" he asks, putting on an innocent face.
"The pub called -- you left your wheelchair there again."
#joke
A true tech support story...
Tech Support: 'What does the screen say now.'
Person: 'It says, 'Hit ENTER when ready'.'
Tech Support: 'Well?'
Person: 'How do I know when it's ready?'
Blonde gets haircut
A blonde went to a beauty salon to get a haircut. When the beautician approached the chair where the blonde was waiting, she noticed that she was wearing a walkman. The beautician took the blonde to her styling booth. She asked the blonde, "Please take off the walkman so I can cut your hair." The blonde replied, "I can't do without it, just cut around it."
The beautician shook her head in disbelief and started cutting. A few minutes later the beautician stopped and asked the blonde, "I just can't cut your hair properly while you are wearing that walkman. Please take it off." The blonde replied, "I just can't live without it, cut around it please." The beautician started cutting again and finally had had enough.
The beautician reached down and pulled the earphones from the walkman off the blonde. Just as she did so the blonde froze, then fell out off the chair and on to the floor. The staff at the salon rushed to her aid only to discover she was stone dead. All were stunned! The beautician lifted the earphones to her ear to listen to what was so important to the blonde.
In a soft but commanding voice she heard, "Breathe in.......... Breathe out............ Breathe in.......... Breathe out............ Breathe in.......... Breathe out............"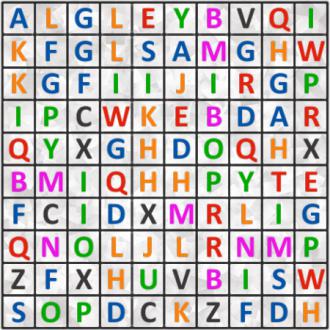 Find a famous person
Find the first and the last name of a famous person. Text may go in all 8 directions. Length of words in solution: 4,5.
A guy was driving when a polic...
A guy was driving when a policeman pulled him over. He rolled down his window and said to the officer, "Is there a problem, Officer?"
"No problem at all. I just observed your safe driving and am pleased to award you a $5,000 Safe Driver Award. Congratulations. What do you think you're going to do with the money?"
He thought for a minute and said, "Well, I guess I'll go get that drivers' license."
The lady sitting in the passenger seat said to the policeman, "Oh, don't pay attention to him - he's a smartass when he's drunk and stoned."
The guy from the back seat said, "I TOLD you guys we wouldn't get far in a stolen car!"
At that moment, there was a knock from the trunk and a muffled voice said, "Are we over the border yet?"
If Companies Run Christmas
If IBM ran Christmas...
They would want one big Santa, dressed in blue, where kids queue up for their present-processing. Receiving presents would take about 24-36 hours of mainframe processing time.
If Microsoft ran Christmas...
Each time you bought an ornament, you would have to buy a tree as well. You wouldn't have to take the tree, but you still have to pay for it anyway. Ornament/95 would weigh 1500 pounds (requiring a reinforced steel countertop tree), draw enough electricity to power a small city, take up 95% of the space in your living room, would claim to be the first ornament that uses the colors red/green together. It would interrogate your other decorations to find out who made them. Most everyone would hate Microsoft ornaments, but nonetheless would buy them since most of the other tree types wouldn't work with their hooks.
If Apple ran Christmas...
It would do everything the Microsoft ornaments do, but years earlier, and with a smaller mouse (not stirring of course).
If Silicon Graphics ran Christmas...
Ornaments would be priced slightly higher, but would hang on the tree remarkably quickly. Also the colors of the ornaments would be prettier than most all the others. Options would be available for 'equalization' of color combinations on the tree.
If Dell ran Christmas...
Wait a minute? Isn't IBM running this Christmas..?
If Fisher Price ran Christmas...
"Baby's First Ornament" would have a hand-crank that you turn to hang the thing on the tree.
If The Rand Corporation ran Christmas...
The ornaments would be large perfectly smooth and seamless black cubes. Christmas morning there would be presents for everyone, but no one would know what they were. Their service department would have an unlisted phone number, and be located at the North Pole. Blueprints for ornaments would be highly classified government documents. X-Files would have an episode about them.
If the NSA ran Christmas...
Your ornaments would have a secret trap door that only the NSA could access in case they needed to monitor your tree for reasons of national security.
If DEC ran Christmas...
We used to have Christmas back in the '70s, didn't we?
If Hewlett-Packard ran Christmas...
They would market the Reverse Polish Ornament, which is put in your attic on the weekend after Thanksgiving, and placed out for viewing the day after the January Bowl Games.
If Sony ran Christmas...
Their Personal Xmas-ing Device, which would be barely larger than an ornament and flat, would allow you to celebrate the season with a device attached conveniently to your belt.
If the Franklin Mint ran Christmas...
Every month, you would receive another lovely hand-crafted item from an authentic Civil War pewter ornament collection. Each ornament would weight about seven pounds, and require you to pay shipping and handling charges.
If Cray ran Christmas...
The holiday season would cost $16 million but would be celebrated faster than any other holiday during the year.
If Thinking Machines ran Christmas...
You would be able to hang over 64,000 ornaments on your tree (all identical) at the same time.
If Timex ran Christmas...
The holiday would be cheap, small, quartz-crystal driven, and would let you take a licking and keep on shopping.
If Radio Shack ran Christmas...
The staff would sell you ornaments, but not know anything about them or what they were for. Or you could buy parts to build your own tree.
If University of Waterloo ran Christmas...
They would immediately change the name to WatMas.
Holy Family in a Plane
A Sunday school teacher asked her students to draw a picture of Jesus' family. After collecting the drawings, she noticed that one little boy's drawing depicted an airplane with four heads sticking out of the windows. "I see you drew three heads to show Joseph, Mary and Jesus," she said to the boy. "But who does the fourth head belong to?"
The boy replied, "That's Pontius the pilot."
#joke
One time, Chuck Norris acciden...
One time, Chuck Norris accidentally stubbed his toe. It destroyed the entire state of Ohio.
The Baloonist
A woman in a hot air balloon realized she was lost.
She reduced altitude and spotted a man below. She descended a bit more and shouted: 'Excuse me, can you help me? I promised a friend I would meet him an hour ago but I don't know where I am..'
The man below replied, 'You're in a hot air balloon hovering approximately 30 feet above the ground. You're between 40 and 41 degrees north latitude and between 59 and 60 degrees west longitude.'
'You must be an Engineer,' said the balloonist.
'I am,' replied the man, 'how did you know?'
'Well,' answered the balloonist, 'everything you have told me is probably technically correct, but I've no idea what to make of your information and the fact is, I'm still lost. Frankly, you've not been much help at all. If anything, you've delayed my trip by your talk.'
The man below responded, 'You must be in Management.'
'I am,' replied the balloonist, 'but how did you know?'
'Well,' said the man, 'you don't know where you are or where you're going. You have risen to where you are, due to a large quantity of hot air. You made a promise, which you've no idea how to keep, and you expect people beneath you to solve your problems. The fact is you are in exactly the same position you were in before we met, but now, somehow, it's my f**king fault.'
#joke
Bad Date
After being with her all evening, the man couldn't take another minute with his blind date. Earlier, he had secretly arranged to have a friend call him to the phone so he would have an excuse to leave if something like this happened.
When he returned to the table, he lowered his eyes, put on a grim expression and said, "I have some bad news. My grandfather just died."
"Thank heavens," his date replied. "If yours hadn't, mine would have had to!"
#joke
D.L. Hughley: Police Following You
You ever have the police follow you so long, you get suspicious of your damn self? Maybe I did kill them people. Im a go ahead and turn myself in.
Internet addictions
Internet Addiction Disorder (IAD)
As the incidence and prevalence of Internet Addiction Disorder (IAD) has been increasing exponentially, a support group. The Internet Addiction Support Group (IASG) has been established. Below are the official criteria for the diagnosis of IAD and subscription information for the IASG.
A maladaptive pattern of Internet use, leading to clinically significant impairment or distress as manifested by three (or more) of the following, occurring at any time in the same 12-month period:
Diagnostic Criteria
(I) tolerance, as defined by either of the following:
(A) A need for markedly increased amounts of time on Internet to achieve satisfaction
(B) markedly diminished effect with continued use of the same amount of time on Internet
(II) withdrawal, as manifested by either of the following
(A) the characteristic withdrawal syndrome
(1) Cessation of (or reduction) in Internet use that has been heavy and prolonged.
(2) Two (or more) of the following, developing within several days to a month after Criterion 1:
(a) psychomotor agitation
(b) anxiety
(c) obsessive thinking about what is happening on Internet
(d) fantasies or dreams about Internet
(e) voluntary or involuntary typing movements of the fingers
(3) The symptoms in Criterion B cause distress or impairment in social, occupational or other important other area of functioning
(B) Use of Internet or a similar on-line service is engaged in to relieve or avoid withdrawal symptoms.
(III) Internet is often accessed more often or for longer periods of time than was intended
(IV) There is a persistent desire or unsuccessful efforts to cut down or control Internet use
(V) A great deal of time is spent in activitied related to Internet use (e.g., buying Internet books, trying out new WWW browsers, researching Internet vendors, organizing files of downloaded materials
(VI) Important social, occupational, or recreational activities are given up or reduced because of Internet use.
(VII) Internet use is continued despite knowledge of having a persistent or recurrent physical, social, occupational, or psychological problem that is likely to been caused or exacerbated by Internet use (sleep deprivation, marital difficulties, lateness for early morning appointments, neglect of occupational duties, or feelings of abandonment in significant others)
#joke
Marc Maron: Mathematical Cure for Jealousy
I used to be jealous; Im not jealous anymore. And a miracle happened to me, because if youre jealous, its a cancer, its a plague on your spirit, it really is. And I actually cured jealousy in a very weird way -- I cured it with mathematics. And Im not a math person at all, but Ive been with my wife for about seven years, so we have had sex probably, Id like to think, like, 9 million times or, at least, 1,500. So, the way I figured it, if she goes out and screws some other guy once -- Im still winning.
#joke