Class discipline
Bernie, who was a school teacher by profession, injured his spine in an accident and had to wear a plaster cast around the upper part of his body. He wore a cotton shirt over it and it was not evident at all.


As the new term began, he was assigned to a senior class with the rowdiest students in school.
Walking confidently into the classroom, with the cast still under his shirt, Bernie opened the window wide and then got busy with some desk work. There was a strong breeze that made his tie flap, so Bernie simply picked up the desk stapler and stapled the tie to his chest.
The whole class of trouble-makers went silent.
Bernie had no problems with discipline in that term.
#joke
Got used to sharing everything
An old man ordered one hamburger, one order of French fries and one drink. He then unwrapped the burger and carefully cut it in half, placing one half in front of his wife.
He then carefully counted out the French fries, dividing them into two piles and neatly placed one pile in front of his wife.
He took a sip of the drink, and then his wife took a sip and then set the cup down between them.
As he began to eat his few bites of hamburger, the people around them kept looking over and whispering. You could tell they were thinking: "That poor old couple -- all they can afford is one meal for the two of them."
As the man began to eat his fries, a young man came to the table. He politely offered to buy another meal for the old couple. The old man said they were just fine -- they were used to sharing everything.
The surrounding people noticed the little old lady hadn't eaten a bite. She sat there watching her husband eat and occasionally taking turns sipping the drink.
Again the young man came over and begged them to let him buy another meal for them. This time, the old woman said: "No, thank you, we are used to sharing everything."
As the old man finished and was wiping his face neatly with the napkin, the young man again came over to the little old lady, who had yet to eat a single bite of food, and asked: "What is it you are waiting for?"
She answered: "The teeth."
#joke
Q: Why did the cowboy ride his...
Q: Why did the cowboy ride his horse?
A: Because he was too heavy to carry

Scary Collection 04
A ghost joke
This woman wanted to marry a ghost.
I don't know what possessed her!
A witch joke
Have you heard about the good weather witch?
She's forecasting sunny spells!
A cannibal joke
Which is the only day you you are safe in a cannibal village?
Sitter days (when they eat the baby-sitter instead)!
A witch joke
How do witches tell the time?
By looking at their witch watches!
A vampire joke
What was the Californian vampire hippy like?
He was ghoul man, real ghoul!
A witch joke
What happens if you see twin witches?
You won't be able to see which witch is witch!
A Halloween joke
Why did the boy carry a clock and a bird on Halloween?
It was for "tick or tweet"!
A Kind Lawyer
One afternoon, a wealthy lawyer was riding in the back of
his limousine when he saw two men eating grass by the road
side. He ordered his driver to stop and he got out to
investigate.
"Why are you eating grass?" he asked one man.
"We don't have any money for food," the poor man replied.
"Oh, come along with me then," instructed the lawyer.
"But, sir, I have a wife and two children!"
"Bring them along!" replied the lawyer. He turned to the
other man and said, "Come with us."
"But sir, I have a wife and six children!" the second man
answered.
"Bring them as well!" answered the lawyer as he headed for
his limo.
They all climbed into the car, which was no easy task, even
for a car as large as the limo.
Once underway, one of the poor fellows says, "Sir, you are
too kind. Thank you for taking all of us with you."
The lawyer replied, "No problem, the grass at my home is
almost a foot tall."
Ants Dancing
Q: Why did the ants dance on the jam jar?
A: The lid said, "Twist to open."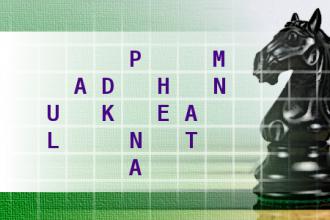 Chess Knight Move
Find the country and its capital city, using the move of a chess knight. First letter is N. Length of words in solution: 5,9.
Joe, a college student, was ta...
Joe, a college student, was taking a course in ornithology, the study of birds. The night before the biggest test of the semester, Joe spent all night studying. He had the textbook nearly memorized. He knew his class notes backward and forward. Joe was ready.
The morning of the test, Joe entered the auditorium and took a seat in the front row. On the table in the front was a row of ten stuffed birds. Each bird had a sack covering its body, and only the legs were showing. When class started, the professor announced that the students were to identify each bird by looking at its legs and give its common name, species, habitat, mating habits, etc.
Joe looked at each of the birds' legs. They all looked the same to him. He started to get angry. He had stayed up all night studying for this test and now he had to identify birds by their LEGS? The more he thought about the situation, the angrier he got.
Finally he reached his boiling point. He stood up, marched up to the professor's desk, crumpled up his exam paper and threw it on the desk. "What a ridiculous test!" he told the prof. "How could anyone tell the difference between these birds by looking at their legs? This exam is the biggest rip-off I've ever seen!"
With that, Joe turned and stormed toward the exit. The professor was a bit shocked, and it took him a moment to regain his composure. Then, just as Joe was about to walk out the door, the prof shouted out, "Wait a minute, young man, what's your name?"
Joe turned around, pulled up his pant legs and hollered, "You tell me, prof! You tell me!"
#joke
"Soup operas were the...
"Soup operas were the big winners at the Cans Film Festival."
When Chuck Norris plays Monopo...
When Chuck Norris plays Monopoly, it affects the actual world economy.
The maids revenge
Just after the maid had been fired. She took five bucks from her purse, she threw it to Fido, the family dog. When asked why by her former employer, she answered, "I never forget a friend. This was for helping me clean the dishes all the time!
Entrance Exam
A Christian, a Muslim and a Buddhist die and arrive at the Gate of Heaven. An angel (or deva) stops them and asks, "Why do you come here? Can you tell me the reasons why you are allowed to enter Heaven?"
The Christian replies, "My ancestors disobeyed God, and I sinned all my life: I killed, I lied, I cheated my wife and I was greedy. However, Jesus died for me and all my sins are forgiven. So I deserve to enter Heaven."
"OK," replies the Angel. "Sounds good, but I must give you an entrance examination before you can enter." The Christian promptly agrees and the Angel asks him: "How do you spell God?" It is an easy question, and the Christian passes through the Gate.
Next came the Muslim, who says, "I did not do any especially good or evil things during my life but I was very devout. I prayed to God five times a day. So, I too should enter Heaven." The Angel replies, "It sounds OK to me, but I have to give you a test also. How do you spell Allah?" The Muslim passes the test and enters Heaven.
Finally, it is the Buddhist's turn. He tells the Angel, "I've done all the good things in my life and I followed Buddha's five precepts: I never killed, I donated to charities, I meditated every day, and I never cheated my boss nor my customers." The Angel replies, "That is very good, but there are no exceptions. You must pass the entrance test also in order to get in." Thinking that the test should be simple, the Buddhist happily agrees.
The Angel then asks him: "How do you spell Avalokitesvara Bodhisattva?"
#joke
Every time Chuck Norris smiles...
Every time Chuck Norris smiles, someone dies. Unless he smiles while he's roundhouse kicking someone in the face. Then two people die.
Eugene Mirman: Good Father
I dont have a kid, but I think that I would be a good father, especially if my baby liked to go out drinking.
Rory Albanese: Least Respected Place
Im from Long Island, which is the least respected place in the world. I travel all over the country. I could be in the middle of Omaha doing something and the guy comes up to me and says, Hey, whered you grow up? Im like, Long Island. And hes like, Loser. Really? I grew up 22 miles from Manhattan; you lost your virginity to corn. I feel like I win that round. Im like, Ive seen the ocean. Game over.
#joke
5 Stages of Being Drunk
Stage 1 - SMART
This is when you suddenly become an expert on every subject in the known Universe.
You know everything and want to pass on your knowledge to anyone who will listen.
At this stage you are always RIGHT.
And of course the person you are talking to is very WRONG.
This makes for an interesting argument when both parties are SMART.
Stage 2 - GOOD LOOKING
This is when you realise that you are the BEST LOOKING person in the entire bar and that people fancy you.
You can go up to a perfect stranger knowing they fancy you and really want to talk to you.
Bear in mind that you are still SMART, so you can talk to this person about any subject under the sun.
Stage 3 - RICH
This is when you suddenly become the richest person in the world.
You can buy drinks for the entire bar because you have an armoured truck full of money parked behind the bar.
You can also make bets at this stage, because of course, you are still SMART, so naturally you will win all your bets.
It doesn't matter how much you bet 'cos you are RICH.
You will also buy drinks for everyone that you fancy, because now you are the BEST LOOKING person in the world.
Stage 4 - BULLET PROOF
You are now ready to pick fights with anyone and everyone especially those with whom you have been betting or arguing.
This is because nothing can hurt you.
At this point you can also go up to the partners of the people who you fancy and challenge to a battle of wits or money.
You have no fear of losing this battle because you are SMART, you are RICH and hell, you're BETTER LOOKING than they are anyway!
Stage 5 - INVISIBLE
This is the Final Stage of Drunkenness.
At this point you can do anything because NO ONE CAN SEE YOU. You dance on a table to impress the people who you fancy because the rest of the people in the room cannot see you.
You are also invisible to the person who wants to fight you.
You can walk through the street singing at the top of your lungs because no one can see or hear you and because you're still SMART you know allthe words.
#joke