Lawyer quickies 3
Q: How do you kill 4000 lawyers?
A: You build a new Titanic and declare it cannot sink.
Q: What's the strongest argument against both theories of origin?
A: Politicians and lawyers. Who in their right mind would create (or evolve into) these species?
Q: If a lawyer and an IRS agent were both drowning, and you could only save one of them, would you go to lunch or read the paper?
Q: How many lawyers does it take to stop a moving bus?
A: Never enough.
Q: Have you heard about the lawyers word processor?
A: No matter what font you select, everything come out in fine print.
Q: What do you get when you cross the Godfather with a lawyer?
A: An offer you can't understand.
Q: What do you buy a friend graduating from Law School?
A: A lobotomy.
Q: What is the difference between a catfish and a lawyer?
A: One's a bottom-crawling scum sucker and the other's just a fish.
Q: What is the difference between a female lawyer and a catfish?
A: One's slimey and has whiskers, and the other one lives in the water.
Funny video of the day - Cat Opening Drawer Gets Busted
Genie's Map
A woman rubbed a bottle and out popped a genie. The amazed woman asked if she got three wishes.
The genie said, "Nope, sorry, three-wish genies are a storybook myth. I'm a one-wish genie. So... what'll it be?"
The woman did not hesitate. She said, "I want peace in the Middle East. See this map? I want these countries to stop fighting with each other and I want all the Arabs to love the Jews and Americans and vice-versa. It will bring about world peace and harmony."
The genie looked at the map and exclaimed, "Lady, be reasonable. These countries have been at war for thousands of years. I'm out of shape after being in a bottle for five hundred years.. I'm good but not THAT good!
I don't think it can be done. Make another wish and please be reasonable."
The woman thought for a minute and said, "Well, I've never been able to find the right man. You know, one that's considerate and fun, romantic, likes to cook and help with the house cleaning, is good in bed, and gets along with my family, doesn't watch sports all the time, and is faithful.
That is what I wish for...a good man."

The genie let out a sigh and said, "Let me see the f*cking map again."
#joke
Diagnosis....
The man told his doctor that he wasn't able to do all the things around the house that he used to do. When the examination was complete, he said, "Now, Doc, I can take it. Tell me in plain English what is wrong with me."
"Well, in plain English," the doctor replied, "you're just lazy."
"Okay," said the man. "Now give me the medical term so I can tell my wife."
Assortment Of Jokes
1. How Do You Catch a Unique Rabbit?
Unique Up On It.
2. How Do You Catch a Tame Rabbit?
Tame Way.
3. How Do Crazy People Go Through The Forest?
They Take The Psycho Path
4. How Do You Get Holy Water?
You Boil The Hell Out Of It.
5. What Do Fish Say When They Hit a Concrete Wall?
Dam!
6. What Do Eskimos Get From Sitting On The Ice too Long?
Polaroid's
7. What Do You Call a Boomerang That Doesn't work?
A Stick
8.. What Do You Call Cheese That Isn't Yours?
Nacho Cheese.
9.. What Do You Call Santa's Helpers?
Subordinate Clauses.
10. What Do You Call Four Bullfighters In Quicksand?
Quattro Sinko..
11. What Do You Get From a Pampered Cow?
Spoiled Milk.
12. What Do You Get When You Cross a Snowman With a Vampire?
Frostbite.
13. What Lies At The Bottom Of The Ocean And Twitches?
A Nervous Wreck.
14. What's The Difference Between Roast Beef And Pea Soup?
Anyone Can Roast Beef.
15. Where Do You Find a Dog With No Legs?
Right Where You Left Him.
16. Why Do Gorillas Have Big Nostrils?
Because They Have Big Fingers.
17. Why Don't Blind People Like To Sky Dive?
Because It Scares The Dog.
18. What Kind Of Coffee Was Served On The Titanic?
Sanka.
19. What Is The Difference Between a Harley And a Hoover?!
The Location Of The Dirt Bag.
20. Why Did Pilgrims' Pants Always Fall Down?
Because They Wore Their Belt Buckle On Their Hat.
21. What's The Difference Between a Bad Golfer And a Bad Skydiver?
A Bad Golfer Goes, Whack, Dang!
A Bad Skydiver Goes Dang! Whack.
22. How Are a Texas Tornado And a Tennessee Divorce The Same? !
Somebody's Gonna Lose A Trailer
#joke
Praise the Almighty
Mrs. Smith, an old lady who lived in the countryside, had a peculiar habit. She would step onto her front porch every morning, raise her arms to the sky, and yell, "Praise the Almighty!"
Her new neighbor, Mr. Fowler who had just moved in, happened to be an atheist. Mr. Fowler didn't like Mrs. Smith's morning ritual. So, he would retaliate by stepping onto his front porch after her and shouting: "There's no Almighty!".
Time passed with the two of them carrying on the same way every day.
One morning, when it was bitter cold, Mrs. Smith stepped onto her front porch and yelled: "Praise the Almighty! I have no food and I am starving, provide for me, oh Almighty!"
The next morning when she stepped out onto her porch, she saw a big bag of groceries lying there.
"Praise the Almighty!" she cried out. "He has provided groceries for me!"
Her atheist neighbor, Mr. Fowler jumped out of the bushes and shouted: "There is no Almighty. I bought those groceries!"
Mrs. Smith threw her arms into the air and shouted: "Praise the Almighty! He has provided groceries for me and made the Devil pay for it!!!"

#joke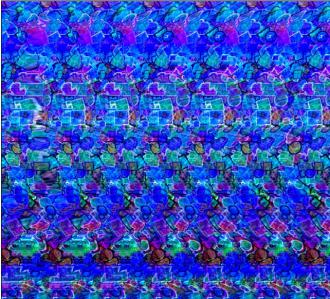 What is hidden in 3D image?
Stereogram - 3D Image
"A silk tie can make ...
"A silk tie can make a winsome Windsor."
A grasshopper walks into a bar...
A grasshopper walks into a bar and the bartender says, 'Hey, we have a drink named after you!'
The grasshopper looks surprised and says, 'You have a drink named Steve?'
Chuck Norris invented water....
Chuck Norris invented water.
Good Question!
And Moses looked upon the Lord and said:
"We are your chosen people and you want us to cut the tips off of our WHAT?"

Chuck Norris can dribble a foo...
Chuck Norris can dribble a football.
Pay for the Food
There was a poor old Irish cobbler whose shop was next door to a very upscale French restaurant.
Every day at lunch time, Mike, the Irish gent, would go out the back of his shop and eat his soda bread and maybe a kipper or piece of Irish blue cheese while smelling the wonderful odors coming from the restaurant's kitchen.
One morning, the Irishman was surprised to receive an invoice in the mail from the adjoining restaurant for "enjoyment of food"
Mystified, he marched right over to the restaurant to point out that he had not bought a thing from them.
The manager said, "You're enjoying our food, so you should pay us for it." The Irishman refused to pay and the restaurant took him to court.
At the hearing, the judge asked the restaurant to present their side of the case. The manager said, "Every day, this man comes and sits outside our kitchen and smells our food while eating his. It is clear that we are providing added value to his poor food and we deserve to be compensated for it."
The judge turned to Mike and said, "What do you have to say to that?" The old Irishman didn't say a thing but smiled and stuck his hand in his pocket and rattled the few coins he had inside.
The judge asked him, "What is the meaning of that?" The Irishman replied with a mile wide grin, – "I'm paying for the smell of his food with the sound of my money."
#joke
Todd Barry: Hearing Aid
Saw a great product advertised -- it was a hearing aid made to look like a Bluetooth headset. Its for people who are embarrassed about wearing a hearing aid but not about wearing a Bluetooth headset.
Truly amazing st...

Truly amazing stuff!

An Anagram, as you know, is a word or phrase made by transposing or rearranging the letters of another word or phrase. The following are exceptionally clever.

Dormitory: &nbsp Dirty Room

Evangelist: &nbsp Evil's Agent

Desperation: &nbsp A Rope Ends It

The Morse Code: &nbsp Here Come Dots

Slot Machines: &nbsp Cash Lost in 'em

Animosity: &nbsp Is No Amity

Mother-in-law: &nbsp Woman Hitler

Snooze Alarms: &nbsp Alas! No More Z's

Alec Guinness: &nbsp Genuine Class

Semolina: &nbsp Is No Meal

The Public Art Galleries: &nbsp Large Picture Halls, I Bet

A Decimal Point: &nbsp I'm a Dot in Place

The Earthquakes: &nbsp That Queer Shake

Eleven plus two: &nbsp Twelve plus one

Contradiction: &nbsp Accord not in it

#joke