Funny jokes-Unique birthday gift
Joe, a billionaire, was in a dilemma. His wife's birthday was approaching and he didn't have a clue what to gift her. There was nothing that she didn't already have.

So, when he shared his problem with a friend, the friend suggested, "I have a great idea. You can prepare a certificate for her which declares she can have three hours of great love making, and in any manner she likes. She should be delighted!"

Joe followed his friend's advise. The next day, when Joe met his friend, his buddy asked, "So, did you take my advice? How did it go? Did you have fun?"

Joe replied, "Oh, she loved it. She was ecstatic, couldn't thank me enough - she kissed me, and ran out of the house, shouting, "I will be back in three hours!"
#joke
Funny video of the day - Bikini Girl on Motorcycle - NO HANDS - Suzuki GSX-R
"The copyright law is...
"The copyright law is a statute of imitations."
Speed Limit
Sitting on the edge of the highway waiting to catch speeders, a state police officer saw a car driving along at 22 M.P.H. He thinks to himself, that car is just as dangerous as a speeder. So, he turns his lights on and pulls the car over. Approaching the car, he notices there are 5 old ladies, two at the front and 3 at the back, wide eyed and looking like ghosts.
The driver, obviously confused, said, "Officer, I don't understand, I wasn't doing over the speed limit! What did you pull me over for?"
"Ma'am," the officer said, "You should know that driving slower than the speed limit can also be dangerous".
"Slower than the speed limit? No sir! I was doing exactly 22 miles an hour", the old woman said proudly.
The officer, trying not to laugh, explains that 22 is the route number, not the speed limit. A little embarrassed, the woman smiled and thanked the officer for pointing out her error.
"Before I go Ma'am, I have to ask, is everyone ok? These women seem badly shaken and haven't said a word since I pulled you over."
"Oh! they'll be all right in a minute, officer. We just got off Route 142" ...
#joke
Did you hear about the restura...
Did you hear about the resturant on the Moon?
Great food but no Atmosphere.
Walter Smith...
A woman checked in at the pearly gates and asked to join her former husband, Walter Smith. Saint Peter said, "We have five million Walter Smiths. Give us a little clue."
The woman said, "My Walter is bald and has blue eyes, and he said that if I ever slept with another man he'd turn over in his grave."
Saint Peter motioned an angel forward. "Take her to Whirling Walter!"
#joke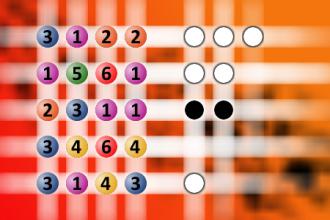 Find the right combination
The computer chose a secret code (sequence of 4 digits from 1 to 6). Your goal is to find that code. Black circles indicate the number of hits on the right spot. White circles indicate the number of hits on the wrong spot.
Stealing Six Barrels
The following is supposedly a true story. To be included, besides being true, the story is most likely strange, weird, surprising, or funny.
January 12, 1993
Long Beach police arrested two small, skinny men in October and charged them with stealing six 45-pound barbells from the Buffum-Downtown YMCA.
The men were struggling to keep the barbells in a small cart that kept tipping over because they were not strong enough to steer it.
#joke
A grasshopper walks into a bar...
A grasshopper walks into a bar and the bartender says, 'Hey, we have a drink named after you!'
The grasshopper looks surprised and says, 'You have a drink named Steve?'
Can't touch this
Chuck Norris can touch MC Hammer.
Three Jewish Mothers Compare Sons
Three Jewish mothers are sitting on a bench talking about how much their sons love them.
Sadie says, "You know the Chagall painting hanging in my living room? My son, Arnold, bought that for me for my 75th birthday. What a good boy he is; he loves his mother."
Minnie says,"You call that love? You know the Mercedes I just got for Mother's Day? That's from my son Bernie. What a doll."
Shirley says "That's nothing. You know my son Stanley? He's in analysis with a psychoanalyst in Harley Street. Five session a week. And what does he talk about? Me."
#joke
Expert Advice
A doctor and a lawyer were talking at a party. Their conversation was constantly interrupted by people describing their ailments and asking the doctor for free medical advice. After an hour of this, the exasperated doctor asked the lawyer, "What do you do to stop people from asking you for legal advice when you're out of the office?"
"I give it to them," replied the lawyer, "and then I send them a bill."
The doctor was shocked, but agreed to give it a try. The next day, still feeling slightly guilty, the doctor prepared the bills. When he went to place them in his mailbox, he found a bill from the lawyer.
Deon Cole: Getting Fit
When I moved out to LA they told me I had to work out. I was like, I dont wanna do that. They gave me this trainer, and the dude was like... The most important thing is, you cant eat late at night or youll get fat. And Im like, Forget that, you supposed to eat late at night. He was like, No you not. Im like, Well, why they put a light in the refrigerator?
#joke
Twins
A man was driving along the highway, and saw a rabbit hopping across the middle of the road. He swerved to avoid hitting the rabbit, but unfortunately the rabbit jumped in front of the car and was hit. The driver, being a sensitive man as well as an animal lover, pulled over to the side of the road and got out to see what had become of the rabbit. Much to his dismay, the rabbit was dead. The driver felt so awful he began to cry.
A woman driving down the highway saw the man crying on the side of the road and pulled over. She stepped out of her car and asked the man what was wrong.
"I feel terrible," he explained. "I accidently hit this rabbit and killed it."
The woman told the man not to worry. She knew what to do. She went to her car trunk and pulled out a spray can. She walked over to the limp, dead rabbit, and sprayed the contents of the can onto the rabbit. Miraculously, the rabbit came to life, jumped up, waved its paw at the two humans and hopped down the road. 50 feet away the rabbit stopped, turned around, waved at the two again, hopped down the road another 50 feet, turned, waved, and hopped another 50 feet. The man was astonished. He couldn't figure out what substance could be in the woman's spray can! He ran over to the woman and demanded, " What was in your spray can? What did you spray onto that rabbit?" The woman turned the can around so that the man could read the label. It said:
"'Hare Spray' Restores Life to Dead Hare. Adds Permanent Wave."
#joke
Donald Glover: iPhone Raps
I write raps so sometimes I will write them in my iPhone. So I was writing the n-word in my iPhone and my iPhone goes, Did you mean niggardly? And I was like, No iPhone. I meant n***er; write it. But then, two weeks later, I was writing Jigga -- which is the shortened form of Jay-Z. And my iPhone goes, Did you mean n***er? And I went, Whoa, iPhone. You do not get to say that.
#joke