Horse Race
A champion jockey is about to enter an important race on a new horse. The horse's trainer meets him before the race and says, "All you have to remember with this horse is that every time you approach a jump, you have to shout, 'ALLLLEEE OOOP!' really loudly in the horse's ear. Providing you do that, you'll be fine."
The jockey thinks the trainer is mad but promises to shout the command. The race begins and they approach the first hurdle. The jockey ignores the trainer's ridiculous advice and the horse crashes straight through the center of the jump.
They carry on and approach the second hurdle. The jockey, somewhat embarrassed, whispers 'Aleeee ooop' in the horse's ear. The same thing happens--the horse crashes straight through the center of the jump.
At the third hurdle, the jockey thinks, "It's no good, I'll have to do it," and yells, "ALLLEEE OOOP!" really loudly. Sure enough, the horse sails over the jump with no problems. This continues for the rest of the race, but due to the earlier problems the horse only finishes third.
The trainer is fuming and asks the jockey what went wrong. The jockey replies, "Nothing is wrong with me - it's this horse. What is he - deaf or something?"
The trainer replies, "Deaf?? DEAF?? He's not deaf--he's BLIND!"
#joke
Funny jokes-Horrible accident
Did you hear about the horrible accident last evening involving a guy?

The guy was driving his pickup truck with his motorcycle in the back, when the truck lost control, ran off the road and plunged into the lake.

The guy died trying to get his motorcycle out of the back of the pickup. He drowned attempting to get the tailgate open.
#joke
Funny video of the day - How to empty a swimming pool like a redneck!
"A Hall of Fame recen...
"A Hall of Fame recently opened to honor outstanding female soldiers. It was a WAC's Museum."
A wife was making a breakfast ...
A wife was making a breakfast of fried eggs for her husband.
Suddenly, her husband burst into the kitchen. 'Careful,' he said, 'CAREFUL! Put in some more butter! Oh my gosh! You're cooking too many at once. TOO MANY! Turn them! TURN THEM NOW! We need more butter. Oh my gosh! WHERE are we going to get MORE BUTTER? They're going to STICK! Careful. CAREFUL! I said be CAREFUL! You NEVER listen to me when you're cooking! Never! Turn them! Hurry up!
Are you CRAZY? Have you LOST your mind? Don't forget to salt them. You know you always forget to salt them. Use the salt. USE THE SALT! THE SALT!'
The wife stared at him. 'What in the world is wrong with you? You think I don't know how to fry a couple of eggs?'
The husband calmly replied, 'I just wanted to show you what it feels like when I'm driving.'
#joke
Guilt...
A son calls his mother. Mom how are you. Mom replies. Not too good. I haven't eaten in 38 days.
Replying with concern, the son asks "what's the matter mom, are you not feeling well, have you been to the doctor?"
Mom replies, not that, "I didn't want to have my mouth full of food when you called."
Business One-liners 12
Any minimum criteria set will be the maximum value used.
Any producing entity is the last to use its own product.
Any simple idea will be worded in the most complicated way.
Any smoothly functioning technology is indistinguishable from a "rigged" demo.
Any sufficiently advanced technology is indistinguishable from magic.
Any task worth doing was worth doing yesterday.
Any technology distinguishable from magic is insufficiently advanced.
Any theory can be made to fit any facts by means of appropriate additional assumptions.
Any time things appear to be going better, you have overlooked something.
Any time you wish to demonstrate something, the number of faults is proportional to the number of viewers.
Any tool dropped while repairing a car will roll underneath to the exact center.
#joke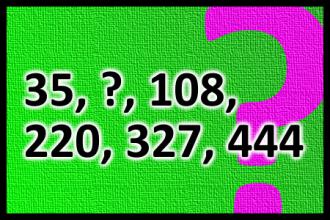 Which number should replace the question mark?
FUNNY MATH: Which number should replace the question mark?
Mike and Evander
Evander goes into a pub, buys a drink and sits at the bar.......
In walks Mike Tyson.
"Hey, Evander, sorry about the bite man, can I buy you a drink?"
"No thanks, Mike, I've got one 'ere....."
Submitted by calamjo
Edited by yisman
Wok and Roll
Q: What's a wok?
A: Something you throw at a wabbit.
A grasshopper walks into a bar...
A grasshopper walks into a bar and the bartender says, 'Hey, we have a drink named after you!'
The grasshopper looks surprised and says, 'You have a drink named Steve?'
10 Things You Never Hear in Church
1. Hey! It's my turn to sit in the front pew!
2. I was so enthralled, I never noticed your sermon went 25 minutes over time.
3. Personally I find witnessing much more enjoyable than golf.
4. I've decided to give our church the $500 a month I used to send to TV evangelists.
5. I volunteer to be the permanent teacher for the Junior High Sunday School class.6. Forget the denominational minimum salary. Let's pay our pastor so he can live like we do.
7. I love it when we sing hymns I've never heard before!
8. Since we're all here, let's start the service early.
9. Pastor, we'd like to send you to this Bible seminar in the Bahamas.
10. Nothing inspires me and strengthens my commitment like our annual stewardship campaign!
#joke
Someone once tried to tell Chu...
Someone once tried to tell Chuck Norris that roundhouse kicks aren't the best way to kick someone. This has been recorded by historians as the worst mistake anyone has ever made.
Myq Kaplan: New Game Show
I have a new idea for a game show for people who are high, and its called Can You Remember What You Just Saw? Thats actually the bonus round. Round one is Can You Describe Whats in Front of You Right Now? OK, you got it? Were going to take it away. What was it? We will not accept awesome.
Dov Davidoff: Dressing Up Like a Referee
I like to dress up as a referee and walk into a Foot Locker. You gotta try this. It freaks them out. They get all insecure. The guys like, Wait a second, can I help you? I was like, Can I help you, man? I, too, am a referee. Maybe we could work it out together. And then someone will ask me for a size 10, and Ill be like, Do I look like I work here, chief?
#joke
They once tried to carve Chuck...
They once tried to carve Chuck Norris' face into Mount Rushmore, but the granite wasn't hard enough for his beard.
Blonde - Tracks
Three Blonds are walking down the street when they see some
tracks. The first one said "I think they are dog tracks", The
second one said "I think they are cow tracks". The third one
said "I think they are Dodo bird tracks". What happened next?
They all got hit by a train!
Eugene Mirman: Kids Say the Darnedest Things
A lot of people think kids say the darnedest things, but so would you if you had no education.