Clean jokes-Oldest lady
India's oldest lady is 113 years old today, and she hasn't got a grey hair on her head. How is that possible?
She's lost it all - is completely bald!
"The international je...
"The international jewel thieves were hard to catch because they had a good ring leader."
Funny video of the day - Dancing tractor in Russia
Answering Machine Message 190

Hi, can I speak to Mark?... Oh, there isn't?... I'm sorry, I must have dialed the wrong number.


A grasshopper walks into a bar...
A grasshopper walks into a bar and the bartender says, 'Hey, we have a drink named after you!'
The grasshopper looks surprised and says, 'You have a drink named Steve?'
Chuck Norris once wrestled a b...
Chuck Norris once wrestled a bear, an alligator, and a mountain lion all at once. He won by tying them together with an anaconda.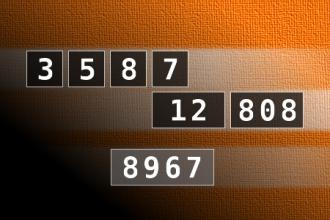 Calculate the number 8967
NUMBERMANIA: Calculate the number 8967 using numbers [3, 5, 8, 7, 12, 808] and basic arithmetic operations (+, -, *, /). Each of the numbers can be used only once.
Strong Medicine for the Nun
Pat is not feeling very well and he decides to go to a doctor. While he is waiting in the doctor's reception room, a nun comes out of the doctor's office. She looks very ashen, drawn and haggard.
Pat goes into the doctor's office and says to the doctor: "I just saw a nun leaving who looked absolutely terrible. I have never seen a woman look worse."
The doctor says: "I just told her that she is pregnant."
Pat exclaims: "Oh my, is she?"
The doctor responds: "No, but it sure cured her hiccups."
honest lawyer
Two lawyers were in a coffee shop talking. One of the lawyers names was Thomas Strange. After a while their conversation became rather morbid, and they started to started to talk about what they were going to have on their tomb stones. Thomas said the he wasn't going to have his name put on his tomb stone, instead he was going have "Here lies the body of an honest lawyer!!!" "Why are you going to have that?"
asked his friend.
"Well", said Thomas, "When people are walking through the cemetery, and they see...Here lies the body of an honest lawyer. They will say "Oh...That's Strange".
What do you call....
Q: What do you call a bunch of rabbits in a row all hopping backwards? <p> A: A receding hare line
Two guys were riding in a car,...
Two guys were riding in a car, arguing about how to say the name of the city that they were in. One said "Louieville" and the other "Louiseville." They went on arguing and arguing, until they came upon a fast-food restaurant. The one guy goes inside and says to the waitress, "Tell me the name of the place where I am right now really, really, really slowly." The waitress goes, "Bur-ger-King."
#joke
Exchange
What do you do with a bachelor who thinks he's God's gift to women?
Exchange him.
Submitted by Calamjo
Edited by Yisman
Chuck Norris sold his soul to ...
Chuck Norris sold his soul to the devil for his rugged good looks and unparalleled martial arts ability. Shortly after the transaction was finalized, Chuck roundhouse-kicked the devil in the face and took his soul back. The devil, who appreciates irony, couldn't stay mad and admitted he should have seen it coming. They now play poker every second Wednesday of the month.
Join us on WhatsApp