Short funny jokes-Hole in umbrella
Brenda asked her friend Dara, "Why did you cut a hole in your new umbrella?

Dara replied, "How else am I supposed to know when it stops raining?"
#joke
Cats on a fence.
A tom cat and a tabby cat were courting on a back fence at night.
The tom leaned over to the tabby with pent up passion and purred... "I'll die for you"
The tabby gazed at him from under lowered eye lids and asked, "How many times?".
Funny video of the day - Cat Jumping on Shoulder Fail
Short Gender Jokes
What is the thinnest book in the world?
What men know about women!
Why don't men eat more M & M's?
They are too hard to peel!
What do you call a man with an I.Q. of 50?
Gifted!
What is the difference between men and government bonds?
Bonds mature!
Why are blond jokes so short?
So men can remember them!
What do men and beer bottles have in common?
They are both empty from the neck up!
How can you tell if a man is happy?
Who cares!
How many men does it take to change a roll of toilet paper?
We don't know - it's never happened.
How are men and parking spots alike?
The good ones are always taken and the ones that are left are handicapped.
What's a man's idea of housework?
Lifting his legs so you can vacuum.
What's the difference between a man and E.T.?
E.T. phoned home!
What did God say after he created man?
I can do better than this!
What does a man consider a seven course meal?
A hot dog and a six pack of beer!
How do men exercise at the beach?
By sucking in their stomachs every time they see a bikini.
What's the best way to force a man to do situps?
Put the remote between his toes.
How do men define a 50/50 relationship?
We cook/they eat we clean/they dirty we iron/they wrinkle!
"The international je...
"The international jewel thieves were hard to catch because they had a good ring leader."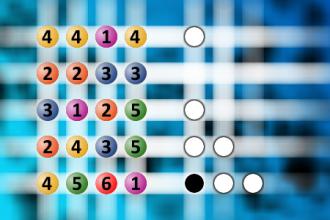 Which is a winning combination of digits?
The computer chose a secret code (sequence of 4 digits from 1 to 6). Your goal is to find that code. Black circles indicate the number of hits on the right spot. White circles indicate the number of hits on the wrong spot.
A grasshopper walks into a bar...
A grasshopper walks into a bar and the bartender says, 'Hey, we have a drink named after you!'
The grasshopper looks surprised and says, 'You have a drink named Steve?'
Chuck Norris has two speeds: w...
Chuck Norris has two speeds: walk and kill.
Fig Leaf Found
A little boy opened the large old family Bible, and he looked with fascination at the ancient pages as he turned them one by one.
He was still in Genesis when something fell out of the Bible. He picked it up and looked at it closely. It was a very large old tree leaf that had been pressed between the pages of the Bible long ago."Momma, look what I found!" the boy called out.
"What do you have there?" his mother asked.
With astonishment in his voice, the young boy answered, "I think it's Adam's underwear!"
#joke
Paper beats rock, rock beats s...
Paper beats rock, rock beats scissors, and scissors beats paper, but Chuck Norris beats all 3 at the same time.
Alfred Robles: Girl Like a Report Card
I want a girl that reminds me of my report card: her face has to be an A, she has to have double DDs, cause tonight I want to F.
Knock Knock Collection 189
Knock Knock
Who's there?
Walt!
Walt who?
Walt till your father gets home!
Knock Knock
Who's there?
Walter!
Walter who?
Walter-wall carpeting!
Knock Knock
Who's there?
Wanda!
Wanda who?
Wanda buy some Girl Scout cookies!
Knock Knock
Who's there?
Wannetta!
Wannetta who?
Wannetta time please!
Knock Knock
Who's there?
Warner!
Warner who?
Warner you coming out to play!
#joke
Porch or Lexus?
A blonde wanting to earn extra money decided to do odd jobs for her wealthy neighbors. At the first house, the owner said,"Well, you can paint my porch. How much will you charge?
"$50" she replies
The man agrees and gives her the paint and brushes and goes back in the house. The man's wife overheard their conversation and asked him if she had realized that the porch goes all around the house. "She should. She was standing on it"
A short time later the blonde came to the door to collect her money. "You've finished already?" the man asked.
"Yeah, and i had paint left over so i gave two coats."
Impressed the man reaches for the money. "And by the way," the blonde added, "it's not a porch. Its a Lexus."
A champion jockey is about to ...
A champion jockey is about to enter an important race on a new horse. The horse's trainer meets him before the race and says, 
"All you have to remember with this horse is that every time you approach a jump, you have to shout, "ALLLLEEE OOOP!" really loudly in the horse's ear. Providing you do that, you'll be fine". 
The jockey thinks the trainer is mad but promises to shout the command. The race begins and they approach the first hurdle. The jockey ignores the trainer's ridiculous advice and the horse crashes straight through the center of the jump. 
They carry on and approach the second hurdle. The jockey, somewhat embarrassed, whispers "Aleeee ooop" in the horse's ear. The same thing happens -- the horse crashes straight through the center of the jump. 
At the third hurdle, the jockey thinks, "It's no good, I'll have to do it" and yells, "ALLLEEE OOOP!" really loudly. Sure enough, the horse sails over the jump with no problems. This continues for the rest of the race, but due to the earlier problems the horse only finishes third. 
The trainer is fuming and asks the jockey what went wrong. The jockey replies, 
"Nothing is wrong with me -- it's this bloody horse. What is he -- deaf or something?" 
The trainer replies, "Deaf?? DEAF?? He's not deaf -- he's BLIND!" 
#joke