"I can't drink milk. ...
"I can't drink milk. I lactose genes required to digest it."
Stung by a bee
A woman taking golf lessons had just started her first round when she was stung by a bee. Distraught, she went back into the clubhouse and told her golf teacher about the incident.
"Where did it sting you?" he asked.
"Between the first and second hole," she replied.
He shook his head and said: "That's your problem right there. You had your feet too far apart!"
#joke
Funny video of the day - Epic Slip 'N Slide Pool Party!!
The pizza delivery boy
Danny, a college student, also worked as a part-time pizza delivery boy.
One day he arrived at Mr. Thompson's residence to deliver pizza.
After taking the pizza, Mr. Thompson asked Danny, "How much tip do you get normally?"
"Well," replied Danny, "this is my first trip to your place, but the other boys say if I can manage to get a quarter out of you, I'll be doing just fine."
"Is that so?" said an offended Mr. Thompson, "Well, just to prove them wrong, here's five dollars."
"Thanks," replied Danny, "I'll put this in my college fund."
"What are you studying in college?" asked Mr. Thompson.

Danny gave a quick smile and said, "Applied psychology."
#joke
A distraught older woman is lo...
A distraught older woman is looking at herself in the mirror and crying. Her voice shakes as she says to her husband, "I'm so old. I'm so fat. I look horrible. I really need a compliment."
Her husband, determined to quickly give his beloved the comfort she needs, exclaims, "Damn, do you have good eyesight!"
#joke
Public pool...
Little Johnny is approached by the lifeguard at the public swimming pool.
"You're not allowed to pee in the pool," said the lifeguard. "I'm going to report you."
"But everyone pees in the pool," said Little Johnny.
"Maybe," said the lifeguard, "but not from the diving board!"
#joke
Texan With A New Car
Three cowboys were hanging out in the bunkhouse. "I know that smart aleck Tex," said the first. "He's going to start bragging about that new foreign car he bought as soon as he gets back."
"Not Tex," the second cowboy replied. "He'll always be just a good ol' boy. When he walks in, I'm sure all he'll say is hello."
"I know Tex better than either of you," said the third. "He's so smart, he'll figure out a way to do both. Here he comes now." Tex swung open the bunkhouse door and shouted, "Audi, partners!"
#joke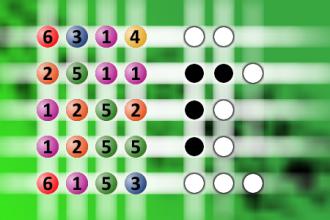 Which is a winning combination of digits?
The computer chose a secret code (sequence of 4 digits from 1 to 6). Your goal is to find that code. Black circles indicate the number of hits on the right spot. White circles indicate the number of hits on the wrong spot.
What animal should you never play cards with?
What animal should you never play cards with?
A cheetah!
A grasshopper walks into a bar...
A grasshopper walks into a bar and the bartender says, 'Hey, we have a drink named after you!'
The grasshopper looks surprised and says, 'You have a drink named Steve?'
According to Einstein's theory...
According to Einstein's theory of relativity, Chuck Norris can actually roundhouse kick you yesterday.
Computer Movers
Dick and Dirk are employed in a computer hardware store as movers.
One day both of them are asked to move some computers. Dick being energetic that day doesn't feel the computer to be heavy at all. At the same time he sees that Dirk is struggling very hard to lift his computer.
At this Dick says, "What Dirk, my comp has 500 MB HardDisk and yours has just 250, even then you cannot lift it ???"
At this Dirk thinks for a while and replies, "Thats right, but my HardDisk is full and yours is empty"
#joke
Five Jewish Men
Five Jewish men influenced the history of Western civilization.
Moses said the law is everything.
Jesus said love is everything.
Marx said capital is everything.
Freud said sex is everything.
Einstein said everything is relative.

Ways To Get Rid Of Telemarketers
An old one, but a good one…
1. If they want to loan you money, tell them you just filed for Bankruptcy and you could sure use some money.
2. If they start out with, "How are you today?" say, "Why do you want to know?" Or you can say, "I'm so glad you asked, because no one seems to care these days and I have all these problems, my sciatica is acting up, my eyelashes are sore, my dog just died…" When they get try to get back to the sell, just continue your problems.
3. If they say they're Joe Doe from the XYZ Company, ask them to spell their name, then ask them to spell the company name, then ask them where it located. Continue asking them personal questions or questions about their company for as long as necessary.
4. This one works better if you are male: Telemarketer: "Hi, my name is Judy and I'm with Canter and Siegel services…. You: "Hang on a second." (few seconds pause) "Okay, (in a really husky voice) what are you wearing?"
5. Crying out, in well-simulated tones of pleasure and surprise, "Judy!! Is this really you? Oh, my gosh! Judy, how have you BEEN?" Hopefully, this will give Judy a few brief moments of terror as she tries to figure out where the hell she could know you from.
6. Say, "No", over and over. Be sure to vary the sound of each no, and keep an even tempo even as they're trying to speak. This is the most fun if you can keep going until they hang up.
7. If MCI calls trying to get you to sign up with their Family and Friends plan, reply, in a sinister a voice as you can muster, "I don't have any friends…would you be my friend?"
8. If they clean rugs: "Can you get blood out, you can? Well, how about goat blood or HUMAN blood.
9. Let the person go through their spiel, providing minimal but necessary feedback in the form of an occasional "Uh- huh, really, or "That's fascinating." Finally, when they ask you to buy, ask them to marry you. They get all flustered, but just tell them you couldn't give your credit card number to someone that's a complete stranger.
10. Tell them you work for the same company they work for. Example: Telemarketer: "This is Bill from Watertronics." You: "Watertronics!! Hey I work for them too. Where are you calling from?" Telemarketer: "Uh, Dallas, Texas." You: "Great, they have a group there too? How's business/the weather? Too bad the company has a policy against selling to employees! Oh well, see ya."
11. Answer the phone. As soon as you realize it is a telemarketer, set the receiver down, shout or scream, "Oh, my goodness!!!" and then hang up.
12. Tell the Telemarketer you are busy and if they will give you their phone number you will call them back. If they say they are not allow to give out their number, then ask them for their home number and tell them you will call them at home. (This is usually the most effective method of getting rid of Telemarketers)
#joke
Fighting for Virgini
The guy walked into the bar (ouch) looking like he'd been run over by a truck. His hair was matted, his face bloody and scratched, his clothes torn. His friends bought him a beer, then asked, "What happened?"
The guy chugged the beer and said, "I was fighting for Joanne's virginity."
"No kidding?"
"Yeah. But that little tiger was determined to keep it."
This guy was with a hooker for...
This guy was with a hooker for the first time. She took him into her room and asked him what would be his pleasure. Being naive, he asked, "Do you have any suggestions?"
She said, "Would you like French style, Straight, Around the World, or maybe 69?"
He replies, "I'll try one of those 69's."
As they were engaged in a 69, the hooker let out a loud and smelly fart. "Ooohh! Excuse me," she said with a giggle. They proceeded and a few minutes later, she let another stinky, loud fart fly. "Ohhh," she said as she giggled and said, "how do you like it so far?"
He replies, "Well, it feels pretty good, but I'm not sure I can take 67 more!"
#joke