"As a drug counselor,...
"As a drug counselor, I get clients by refeeral."
Switching channels
An old married couple was at home watching TV.
The husband had the remote and was switching back and forth between a fishing channel and the porn channel.
The wife became more and more annoyed and finally said:
"For god's sake! Leave it on the porn channel. You already know how to fish!"
#joke
Funny video of the day - Fire extinguisher FAIL
Really funny jokes-Until the last moment
Minister Reeves was waiting in line at the gas station to have his car filled. There were several cars ahead of him and though the attendant hurried with his job, it took quite some time before it was minister's turn to get his car refueled.
The attendant, while motioning him toward a vacant pump, said, "Reverend, sorry for the delay. It seems as if everyone waits until the last minute to get ready for a long trip."
Minister Reeves laughed, "I know what you mean. It's the same in my business."
#joke
The children were lined up in ...
The children were lined up in the cafeteria of a Catholic elementary school for lunch. At the head of the table was a large pile of apples.. The nun made a note, and posted on the apple tray: 'Take only ONE . God is watching.'
Moving further along the lunch line, at the other end of the table was a large
pile of chocolate chip cookies.
A child had written a note, 'Take all you want. God is watching the apples'.
#joke
Bad Couch Trip
I've been feeling down for so long that I finally decided to
seek the aid of a psychiatrist.
I went there, laid on the couch, spilled my guts then waited
for the profound wisdom of the psychiatrist to make me feel
better.
The psychiatrist asked me a few questions, took some notes
then sat thinking in silence for a few minutes with a puzzled
look on his face.
Suddenly, he looked up with an expression of delight and
said, "Ummmmm, I think your problem is low self-esteem. It is
very common among losers."
#joke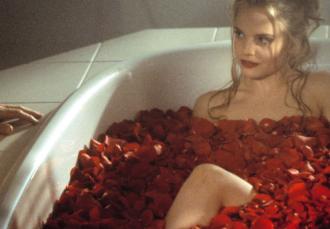 Guess the name of the second actor
Look carefully at the picture and guess the name of the second actor at the scene.
A grasshopper walks into a bar...
A grasshopper walks into a bar and the bartender says, 'Hey, we have a drink named after you!'
The grasshopper looks surprised and says, 'You have a drink named Steve?'
Three Types Of People
There are three types of people thoes who can count and those who cant. :)
According to Einstein's theory...
According to Einstein's theory of relativity, Chuck Norris can actually roundhouse kick you yesterday.
Cute kids...predicting the future
Amy: Can people predict the future with cards?
Joan: My mother can.
Amy: Really?
Joan: Yes, she takes one look at my report card and tells me what will happen when my father gets home.
Pepsi Genie
It was a black man.....a hungry, thirsty bum. He was looking for food in a garbage can, when suddenly he finds a can of Pepsi. He opens the can and a magic genie comes out.
"You get three wishes, be very careful and don't spoil them."
"OK, OK," and without hesitation he says, "first I want to be white. Second, I want a lot of girls, naked girls, beautiful girls sitting on my face! And third, I want plenty to drink.... lots of water.
Bam, presto...the Magic Genie turned him into.....a toilet!
#joke
Chuck Norris built a time mach...
Chuck Norris built a time machine and went back in time to stop the JFK assassination. As Oswald shot, Chuck met all three bullets with his beard, deflecting them. JFK's head exploded out of sheer amazement.
Iliza Shlesinger: Season Change
I was in New York last Christmas, its snowing, theres a guy in a t-shirt. Im like, Dude, arent you cold? No, Im from New York, I dont get cold. Just cause youre from a cold place doesnt mean youre genetically predisposed to not feeling cold. Youre not a penguin. I was like, In fact sir, youre Puerto Rican, so if anything, you should be more cold.
A widower who never paid any a...
A widower who never paid any attention to his wife while she was alive now found himself missing her desperately. He went to a psychic to see if he could contact his late wife. The psychic went into a trance. A strange breeze wafted through the darkened room, and suddenly, the man heard the unmistakable voice of his dearly departed wife. "Honey!" he cried. "Is that you?" "Yes, my husband." "Are you happy?" "Yes, my husband." "Happier than you were with me?" "Yes, my husband." "Then Heaven must be an amazing place!" "I'm not in Heaven, dear."
#joke