"A tennis exponent al...
"A tennis exponent always has a gut feeling beforehand that he will beat his opponent."
Hilarious jokes-Watson Woods
Lisa checked in at the Gates of Heaven and requested to join her former husband, Watson Woods.
Saint Peter said, "We have a million Watson Woods. Give us a little hint."

Lisa said, "My Watson is handsome, has a mole on his cheek, and he said that if I ever slept with another man he would turn over in his grave."
Saint Peter instructed an angel, "Take her to Whirling Watson!"
#joke
Funny video of the day - Latest funny Russian clips compilation
Insurance...
Larry's barn burned down and his wife, Susan, called the insurance company.
Susan told the insurance company, "We had that barn insured for fifty thousand and I want my money."
The agent replied, "Whoa there, just a minute, Susan. Insurance doesn't work quite like that. We will ascertain the value of what was insured and provide you with a new one of comparable worth."
There was a long pause before Susan replied, "Then I'd like to cancel the policy on my husband."
#joke
Business One-liners 56
Familiarity breeds attempt.
Familiarity breeds children.
Far-away talent always seems better than home-developed talent.
Fill what is empty; empty what is full; scratch where it itches.
For every "10" there are 10 "1's".
For every action, there is a corresponding over-reaction.
For every action, there is an equal and opposite criticism.
For every action, there is an equal and opposite government program.
For every credibility gap there is a gullibility fill.
For every idiot proof system devised, a new, improved idiot will arise to overcome it.
#joke
Small pants
Q: Why are Michael Jackson's pants so small?
A: Because they aren't his!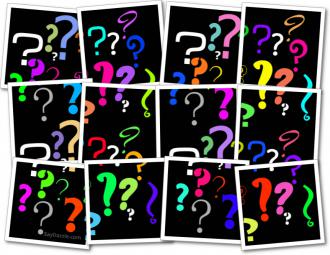 I always follow you around, ...
I always follow you around, everywhere you go at night. I look very bright to people, but I can make the sun dark. I can be in many different forms and shapes. What am I?
Switching channels
An old married couple was at home watching TV.
The husband had the remote and was switching back and forth between a fishing channel and the porn channel.
The wife became more and more annoyed and finally said:
"For god's sake! Leave it on the porn channel. You already know how to fish!"
#joke
A grasshopper walks into a bar...
A grasshopper walks into a bar and the bartender says, 'Hey, we have a drink named after you!'
The grasshopper looks surprised and says, 'You have a drink named Steve?'
The US did not boycott the 198...
The US did not boycott the 1980 Summer Olympics in Moscow due to political reasons: Chuck Norris killed the entire US team with a single round-house kick during TaeKwonDo practice.
A guy was in a cave, looking f...
A guy was in a cave, looking for treasure. He found an old lamp, rubbed it, and a genie came out. The genie said "I will grant you three wishes, but your ex-wife will get double." The man agreed, and said "I wish I had a mansion." The genie granted it, and his ex-wife got two mansions. The man said "I would like a million dollars." The genie again granted it and his ex-wife got two million dollars. Then the man said, "Scare me half to death."
#joke
Nun of Your Business
While shopping in a food store, two nuns happened to pass by the beer, wine, and liquor section. One asked the other if she would like a beer.
The second nun answered that, indeed, it would be very nice to have one, but that she would feel uncomfortable purchasing it.
The first nun replied that she would handle it without a problem. She picked up a six-pack and took it to the cashier. The cashier was surprised, so the nun said, "This is for washing our hair."
Without blinking an eye, the cashier reached under the counter and put a package of pretzel sticks in the bag with the beer.
"The curlers are on me."
- Joke shared by Beliefnet member smoothsable
A student comes to a young pro...
A student comes to a young professor's office hours. She glances down the hall, closes his door, and kneels pleadingly. "I would do anything to pass this exam," she says. She leans closer to him, flips back her hair, and gazes meaningfully into his eyes. "I mean," she whispers, "I would do anything..." He returns her gaze, "Anything?" "Anything." His voice softens, "Anything?" "Anything," she repeats again. His voice turns to a whisper. "Would you ... study?"
#joke
Excuses!
A married man decided to work late to be with his sexy secretary, so he called his wife to make up an excuse.
After work he invited his secretary to dinner. It soon became obvious that he was going to get lucky, so the two went back to her apartment and had great sex for two hours.
Afterward the fellow went to the bathroom to straighten up for the trip home and noticed a huge hickey on his neck.
He panicked, wondering what he was going to tell his wife.
After the man unlocked his front door, his dog came bounding to greet him. Aha, the man thought, and promptly fell to the carpet, pretending to fight off the affectionate animal.
Holding his neck with one hand, he said, "Honey, look what the dog did to my neck!"
"Hell, that's nothing" she answered, ripping open her blouse. "Look what he did to my tits!"
Submitted by Glaci
Edited by Curtis
#joke
Paul Varghese: Buying a Convertible
I was actually thinking about buying a convertible... But then I thought, what if I was at a stoplight -- how would I avoid the homeless guy?
Pick up lines that m
1. If you and I were squirrels, could I bust a nut in your hole?
2. I'd like to wrap your legs around my head and wear you like a feed bag.
3. If it's true that we are what we eat, I could be you by morning!
4. How do you like your eggs: poached, scrambled, or fertilized?
5. I was about to go masturbate and I needed a name to go with your face.
6. You are so fine that I'd eat your shit just to see where it came from.
7. My love for you is like diarrhea, I just can't hold it in.
8. Roses are red. Violets are blue. I like spaghetti. Let's go fuck.
9. Is that a keg in your pants? 'Cause I would love to tap that ass!
10. If your right leg was Thanksgiving, and your left leg was Christmas, could I meet you between the holidays?
11. You remind me of a championship bass, I don't know whether to mount you or eat you!
12. Your parents must be retarded, because you are special. 13. Could I touch your belly button . . . from the inside? 14. I'm not too good at algebra, but doesn't U+I = 69?
15. How about we play lion and lion tamer? You hold your mouth open, and I'll give you the meat.
16. Guy: "Would you like to dance?"
Girl: "I don't care for this song and surely wouldn't dance with you."
Guy: "I'm sorry, you must have misunderstood me, I said you look fat in those pants"
17. I'm new in town, could I have directions to your house. 18. Fuck me if I'm wrong, but is your name Yolanda?
19. I love every bone in your body - especially mine.
20. You might not be the best looking girl here, but beauty is only a light switch away.
21. Hey baby, what's your sign? Caution, slippery when wet, dangerous curves ahead, yield?
22. I can't find my puppy, can you help me find him? I think he went into this motel room.
23. Wanna play Pearl Harbor?....Its a game where I lay back while you blow the hell out of me.
24. Your body's name must be Visa, because it's everywhere I want to be. 25. Can I buy you a drink, or do you just want the money? 26. I may not be the best looking guy here, but I'm the only one talking to you.
27. That shirt looks very becoming on you, but if I were on you, I'd be coming too.
28. I'd like to screw your brains out, but it appears that someone beat me to it.
29. Oh, I'm sorry, I thought that was a braille name tag.