Golf , naturally
Jim, who was about to retire from work, was gifted a set of golf clubs by his colleagues.
Wanting to the game, he approached a professional for guidance, clarifying that he knew nothing whatever of the game.
The professional showed him the stance and swing, then said "Just hit the ball toward the flag on the first green."
Jim, the trainee teed up and smacked the ball straight down the fairway and onto the green, where it stopped inches from the hole.
"Now what?", Jim asked the dumbfounded professional.
"Uh... you're supposed to hit the ball into the cup" the professional finally managed to mutter.
Jim replied, "Oh great! NOW you tell me!"
#joke
Dear Dad,
$chool i$ r...
Dear Dad,
$chool i$ really great. I am making lot$ of friend$ and $tudying very hard. With all my $tuff, I $imply can`t think of anything I need. $o if you would like, you can ju$t $end me a card, a$ I would love to hear from you.
Love,
Your $on
The Reply:
Dear Son,
I kNOw that astroNOmy, ecoNOmics, and oceaNOgraphy are eNOugh to keep even an hoNOr student busy. Do NOt forget that the pursuit of kNOwledge is a NOble task, and you can never study eNOugh.
Love,
Dad
#joke
Jobs at the food company...
One day, three unemployed factory workers heard that a large food company was enlarging and needed more staff. So they went downtown to see if they could get themselves a job.
After filing out their applications, each one was interviewed and each one managed to get hired. As they were waiting to be assigned their new duties, a foreman came by and spoke to the hiring boss.
The foreman told the boss that he didn't think it was such a good idea as one of the workers had snapped for no apparent reason at his last job.
Also a second was said to have had cracked up after severe mental stress.
The third, he believed was their father who he felt was a bit odd but he couldn't put his finger on it.
The hiring boss reassured the foreman and said that they would start on something easy and after a week, the company would re-assess them to see if they would be kept on.
The foreman reluctantly agreed and asked the boss where he thought they should start.
The boss replied, "Why not take them and put them in our Cereal Division...Snap, Crackle and Pop should work out fine down there."
#joke
College Prayers
O Lord, hear my anxious plea
Calculus is killing me
I know not of 'dx' or 'dy'
And probably won't until the day I die.
Please, Lord, help me in this hour
As I take my case to the highest power.
I care not for fame or loot
Just help me find one square root.
And Lord, please let me see
One passing mark in organic chemistry.
Oh such a thing I constantly dread
I'd just as soon join the Marines instead.
Lord, please give me a sign
That you've been listening all the time.
Please lead me out of this constant coma
And give me a shot at my diploma.
#joke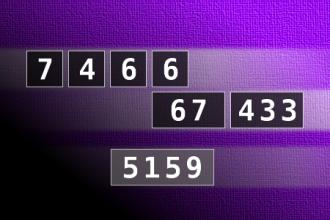 Calculate the number 5159
NUMBERMANIA: Calculate the number 5159 using numbers [7, 4, 6, 6, 67, 433] and basic arithmetic operations (+, -, *, /). Each of the numbers can be used only once.
"A tennis exponent al...
"A tennis exponent always has a gut feeling beforehand that he will beat his opponent."
A grasshopper walks into a bar...
A grasshopper walks into a bar and the bartender says, 'Hey, we have a drink named after you!'
The grasshopper looks surprised and says, 'You have a drink named Steve?'
When Chuck Norris takes his sh...
When Chuck Norris takes his shirt off the sun gets a tan.
Letters from Little Boys to God
Dear God,
Why is Sunday School on Sunday? I thought it was supposed to be our day of rest.
Tom L.
Dear God,
I went to this wedding on Sunday and they kissed right in the church! Is that O.K.?
Neil
Dear God,
If you watch me in church on Sunday, I'll show you my new shoes.
Mickey D.
Dear God,
Please send me a pony. I never asked for anything before. You can look it up.
Bruce
Dear God,
If you give me a genie lamp like in Aladdin, I will give you anything you want, except my money or my chess set.
Raphael
Dear God,
Please put another holiday between Christmas and Easter. There is nothing good in there now.
Greg
Dear God,
Please send Dennis Clark to another camp this summer.
Peter
Dear God,
You don't have to worry about me. I look both ways.
Dean
Dear God,
Are you really invisible or is that just a trick?
Doug
Dear God,
I want to be just like my Daddy when I get big but not with so much hair.
Sam
Dear God,
I am American. What are you?
Robert
Dear God,
If you didn't let the dinosaur become extinct, we wouldn't have this country. You did the right thing.
Jonathan
Dear God,
Maybe Cain and Abel would not kill each other if they had their own rooms. It works with my brother.
Larry
Dear God,
I do not think anybody could be a better God. Well, I just want you to know that I am not saying that because you are God already.
Charles
Dear God,
I didn't think orange went with purple until I saw the sunset you made on Thursday. That was cool!
Eugene
- Joke shared on Beliefnet's Religious Humor page
The chief export of Chuck Norr...
The chief export of Chuck Norris is pain.
Pukeing drunk
Two notorious drunks are sitting at the bar. One is crying. The other asks what's wrong.
"I've puked all over myself again and my wife is gonna kill me."
The other drunk says "do what I do pal. Explain to your wife that some other drunk puked on you. Put a ten spot in your shirt pocket and tell her that the drunk was sorry and gave you ten dollars to have your clothes cleaned."
"Sounds like a great idea" says drunk number 1.
When he gets home, sure enough his wife is fuming and begins yelling at him about his clothes and how disgusting he is. The drunk starts spinning the lie and says " look for yourself, there's ten bucks in my shirt pocket."
His wife looks in the pocket and finds twenty dollars.
"Wait a minute, I thought you said the guy gave you ten for puking on you," says the wife.
"He did," says the drunk.
"But he shit in my pants too."
#joke
A psychiatrist was conducting ...
A psychiatrist was conducting a group therapy session with four young mothers and their small children.
"You all have obsessions," he observed.
To the first mother, he said, "You are obsessed with eating. You've even named your daughter Candy."
He turned to the second Mom. "Your obsession is with money. Again, it manifests itself in your child's name, Penny."
He turns to the third Mom. "Your obsession is alcohol. This too manifests itself in your child's name, Brandy."
At this point, the fourth mother gets up, takes her little boy by the hand and whispers, "Come on, Dick, we're leaving."
#joke
A Chick With Long Legs
A man walks up to the bar with an ostrich behind him, and as he sits, the bartender asks for their order.
The man says, "I'll have a beer" and turns to the ostrich. "What's yours?" "I'll have a beer too" says the ostrich.
The bartender pours the beer and says "That will be $3.40 please," and the man reaches into his pocket and pays with the exact change for payment.
The next day, the man and the ostrich come again, and the man says "I'll have a beer," and the ostrich says "I'll have the same." Once again the man reaches into his pocket and pays with exact change.
This became a routine until late one evening, the two enter again. "The usual?" asks the bartender."Well, it's close to last call, so I'll have a large Scotch" says the man. "Same for me" says the ostrich. "That will be $7.20" says the bartender. Once again the man pulls exact change out of his pocket and places it on the bar.
The bartender can't hold back his curiosity any longer. "Excuse me, sir. How do you manage to always come up with the exact change out of your pocket every time?"
"Well," says the man, "several years ago I was cleaning the attic and I found this old lamp. When I rubbed it a Genie appeared and offered me two wishes. My first wish was that if I ever needed to pay for anything, I just put my hand in my pocket and the right amount of money will be there."
"That's brilliant!" says the bartender. "Most people would wish for a million dollars or something, but you'll always be as rich as you want for as long as you live!""That's right! Whether it's a gallon of milk, or a Rolls Royce, the exact money is always there," says the man.
"That's fantastic!" says the bartender. "You are a genius! ... Oh, one other thing sir, what's with the ostrich?"
The man replies, "Oh, my second wish was for a chick with long legs."