"I told the psychiatr...
"I told the psychiatrist that I was afraid of strangers talking about the founder of stoicism. He said I had zenophobia."
Assignment Difficulty
An elementary school teacher decides to pole the class on the difficulty of last night¡¯s homework assignment:
How many people were able to complete the assignment without parents help?
About 25% of the class raises their hands. How many people we able to complete the assignment with the help of a parent? About 70% of the class raises their hand. The teacher still notices about 5% of the class did not raise their hands.
She then calls out, "How many people had to help a parent complete your assignment?
#joke
Funny video of the day - Worst handball penalty ever?
one liner jokes

Q. What's the difference between an Puerto Rican and a computer?
A. You only have to punch information into a computer once.

Q. What do you call a field full of Puerto Rican?
A. A vacant lot.


#joke
Two boy scouts went on a natur...
Two boy scouts went on a nature hike in the hills picking hickory nuts.
Along the way, they filled their small pails and then started to fill their pockets and shirts.
When they could hold no more nuts, they started down the country road until they came across a cemetery. The boys decided that would be a good place to stop and rest and divide out the nuts.
The two boys sat in the shade of a large oak tree and unloaded their pockets and buckets by dumping all of the nuts in a large pile.
In the process, two of them rolled away and rested near the road. The boys then proceeded to divide out the nuts. "One for you. One for me. One for you. One for me."
As they were doing this, another boy was passing by and happened to hear them. He looked into the cemetery, but could not see the boys, because they were obscured by the tree. He hesitated a moment and then ran back to town.
"Father! Father!" he yelled as he entered his house. "The cemetery. Come quick!"
"What's the matter?" his father asked.
"No time to explain," the boy frantically panted. "Follow me!"
The boy and his father ran up the country road and stopped when they reached the cemetery. They stopped at the side of the road and all fell silent for a few moments. Then the father asked his son what was wrong.
"Do you hear that?" he whispered. Both people listened intently and heard the Scouts. "One for me. One for you. One for me. One for you..."
The boy then blurted out, "The devil and the Lord are dividing the souls!"
The father was skeptical but silent -- until a few moments later as the Scouts completed dividing out the nuts and one Scout said to the other, "Now, as soon as we get those two nuts down by the road, we'll have them all."
#joke
Like father like son....
Joey's teacher sent a note home to his Mother saying, "Joey seems to be a very bright boy, but spends too much of his time thinking about sex and girls."
The Mother wrote back the next day, "If you find a solution, please advise. I have the same problem with his Father."
A Collection Of Insults
A brief synopsis... When you're at a loss for words but want to tell someone that he or she is stupid, remember some these quips from our collection here at Aha! Jokes.
---
Never had a headcold in her life since diseases can't exist in a vacuum.
Next-day delivery in a nanosecond world. -- Van Jacobson
Nice house but not much furniture / nobody lives there.
Nine pence in the shilling.
Nine rooms; no furniture.
Nineteen cents short of a paradigm.
No charge in her synapses.
No coins in the old fountain.
No filter in the coffeemaker.
No grain in the silo.
No hands on the rudder/yoke.
No hay in the loft.
No one at the throttle.
No wind in her mind's windmills.
Not all his dogs are barking.
#joke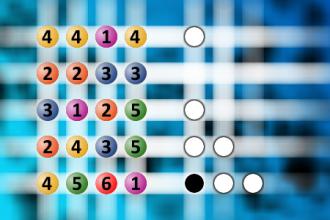 Which is a winning combination of digits?
The computer chose a secret code (sequence of 4 digits from 1 to 6). Your goal is to find that code. Black circles indicate the number of hits on the right spot. White circles indicate the number of hits on the wrong spot.
A grasshopper walks into a bar...
A grasshopper walks into a bar and the bartender says, 'Hey, we have a drink named after you!'
The grasshopper looks surprised and says, 'You have a drink named Steve?'
Chuck Norris once went skydivi...
Chuck Norris once went skydiving, but promised never to do it again. One Grand Canyon is enough.
Name plates
Three young women were hired by an insurance company on the same day.
A year later the boss said each of them was due for a promotion, and that each woman would get her own office with her name on the door.
One day one of the women came in and found to her surprise that the other women had already moved into their own offices.
Going to her boss's office, she asked when her own office would be provided.
He pulled back his chair from his desk and unzipped his fly. "See this?" he asked, "This is quality, and in this company, quality goes in before the name goes on."
Submitted by Curtis
Edited by Glaci
#joke
Mr. Clean is really Chuck Norr...
Mr. Clean is really Chuck Norris with a shaved head and an ear-ring.
Doing 3 knots!
An old retired sailor puts on his old uniform and goes down to the docks for old times sake.
He hires a prostitute, takes her up to a room and goes at it as best as he can for a guy his age.
After a couple of minutes he asks, "How am I doing?"
The prostitute replies, "Well sailor, you're doing about three knots."
"Three knots?" He asks. "What's that supposed to mean?"
She says, "You're knot hard, you're knot in and you're knot getting your money back."
Submitted by Calamjo
Edited by Curtis
#joke
Ted Alexandro: Future Wife
Im single. I often think about my future wife and how lax shes been about getting in touch with me.
Humor About Leprechauns
An aging man lived alone in Ireland. His only son was in Long Kesh Prison, and he didn't know anyone who would spade up his potato garden. The old man wrote to his son about it, and received this reply, "For HEAVENS SAKE, don't dig up that garden, that's where I buried the GUNS!!!!!" At 4 A.M. the next morning, a dozen British soldiers showed up and dug up the entire garden, but didn't find any guns. Confused, the man wrote to his son telling him what happened and asking him what to do next.
His son's reply was: "Just plant your potatoes."

A ventriloquist is telling Irish jokes in a pub, when an irate Irishman stands up : "You're making' out we're all dumb and stupid. I oughtta punch you in the nose."
"I'm sorry sir, I..."
"Not you," says the Irishman, "I'm talking to that little fella on your knee."



#joke