"To make sure cargo t...
"To make sure cargo trucks aren't too heavy, police operate on the principle that where there's a wheel there's a weigh."
The Death of Black Magic
An old man and woman were married for years even though they hated each other. When they had a confrontation, screams and yelling could be heard deep into the night. A constant statement was heard by the neighbors who feared the man the most. "When I die I will dig my way up and out of the grave to come back and haunt you for the rest of your life!"
They believed he practiced black magic and was responsible for missing cats and dogs, and strange sounds at all hours. He was feared and enjoyed the respect it garnished.
He died abruptly under strange circumstances and the funeral had a closed casket. After the burial, the wife went straight to the local bar and began to party as if there was no tomorrow. The gaiety of her actions were becoming extreme while her neighbors approached in a group to ask these questions: Are you not afraid? Concerned? Worried? that this man who practiced black magic and stated when he died he would dig his way up and out of the grave to come back and haunt you for the rest of your life?


The wife put down her drink and said..."let the old bastard dig. I had him buried upside down."
Joke of the Day, posted everyday on getfrank.co.nz - Click to see the past weeks worth right here...
#joke
Clearer instructions
I had unintentionally become the center of attraction at the supermarket this afternoon. I was standing in the queue to make payment. When it was my turn to pay, the cashier made the strangest request - he said to me, "Strip down, facing me."

Well, I needed the groceries, so I did as told. But not before I had made a mental note to file a complaint with the management.

There was some screaming and shrieking and I finally realized that he was referring to my credit card.

I have been debarred from entering the supermarket premises.

Don't you think we seniors deserve clearer instructions?
#joke
Code word...
There was an old priest who got sick of all the people in his parish who kept confessing adultery. One Sunday, from the pulpit, he said, "If I hear one more person confess to adultery, I'll quit!"
Well, everyone liked him, so they came up with a code word. Someone had commiteed adultery would say they had "fallen."
This seemed to satisfy the old priest and things went well, until the priest died at a ripe old age. About a week after the new priest arrived, he visited the Mayor of the town and seemed very concerned.
The priest said, "You have to do something about the sidewalk in town. When people come to the confessional, they keep talking about having fallen."
The Mayor started to laugh, realizing that no one had told the new priest about the code word.
Before the Mayor could explain, the priest shook an accusing finger at the Mayor and said, "I don't know what you're laughing about! Your wife fell three times this week!"
#joke
The Stained Clothes
The other day I was eating in an Italian restaurant when I accidentally spilled some spaghetti sauce on my favorite white sweater.
I wasn't too distressed, though, because Mr. Wong down on High Street has been doing my laundry for years, and I knew that he could remove just about any stain and get it out like it'd never been there.
So I took the sweater down to Wong's Laundry and dropped it off; Mr. Wong said he'd probably be able to have it cleaned by Thursday. So on Thursday afternoon after work I stopped by Wong's again.
Mr. Wong looked quite distressed when he saw me. He brought out the sweater and, apologizing profusely, explained that somehow this stain was beyond even his power to expunge.
And sure enough, though fainter than before, there was still a distinct red stain on the sweater. In an attempt to make up for his failure, Mr. Wong offered to send the sweater to his brother across town, who had been in the laundry business for an even longer time, and who might have a clue as to the method of removal of this extraordinarily persistent stain.
The elder Wong brother would rush it through at no extra charge, and should have it looking as white and clean as new by Friday. So on Friday I went back to Wong's to pick up my sweater, but when I arrived, Mr. Wong regretfully informed me that his brother, too, had failed to remove the red blotch. "No charge," said Wong, "but you must take sweater elsewhere to clean.
The Moral: ... Two Wongs cannot make a white."
13 Children
A man was in the hospital recovering from an operation when
a
nun walked into his room. She was there to cheer up the
sick
and lame. They start talking and she asks about his life.
He
talks about his wife and his 13 children.
"My, my," says the nun, "13 children, a good, proper
Catholic
family. God is very proud of you."
"I'm sorry Sister," he says, "I am not Catholic, I'm
Jewish."
"Jewish!" she replies, "You sex maniac you."
#joke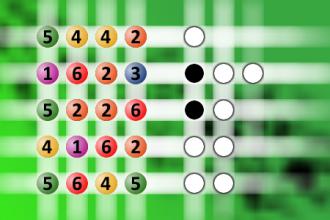 Which is a winning combination of digits?
The computer chose a secret code (sequence of 4 digits from 1 to 6). Your goal is to find that code. Black circles indicate the number of hits on the right spot. White circles indicate the number of hits on the wrong spot.
Pool
How do you make a pool table laugh?
Put your hand down its pocket and tickle its balls!
A grasshopper walks into a bar...
A grasshopper walks into a bar and the bartender says, 'Hey, we have a drink named after you!'
The grasshopper looks surprised and says, 'You have a drink named Steve?'
School Prayer Solution
As long as there are tests, there will be prayer in public schools.
Chuck Norris can do a wheelie ...
Chuck Norris can do a wheelie on a unicycle.
The old man approached a young...
The old man approached a young stranger in the post office and asked, "Sir, would you address this postcard for me?" The man gladly did so, and then offered to write a short note for the old fellow. Finally the stranger asked, "Now, is there anything else I can do for you?" The old man thought a moment and said, "Yes, at the end could you add, Please excuse the sloppy handwriting."
#joke
While the bar patron savored a...
While the bar patron savored a double martini, an attractive women sat down next to him. The bartender served her a glass of orange juice, and the man turned to her and said, "This is a special day. I'm celebrating."
"I'm celebrating, too," she replied, clinking glasses with him.
"What are you celebrating?" he asked.
"For years I've been trying to have a child," she answered, "Today my gynecologist told me I'm pregnant!"
"Congratulations," the man said, lifting his glass. "As it happens, I'm a chicken farmer, and for years all my hens were infertile. But today they're finally fertile."
"How did it happen?"
"I switched cocks."
"What a coincidence," she said, smiling.
#joke
A man awoke one evening to dis...
A man awoke one evening to discover prowlers in his storage shed. He immediately called 911, gave his address, to report the prowlers and possible burglary. The operator at the other end said "Are they in your house?" He said they were not, only in his storage shed in back of the house. The operator said there were no cars available at that time. He thanked the operator, hung up the phone and counted to 30 and called again. "I just called you about prowlers in my storage shed. Well you do not have to worry, as I just shot them all dead!" Within seconds there were 3 police cars, an ambulance and fire engine at the scene. After capturing the prowlers red-handed, the policeman asked the caller, "I thought you said you had shot them all!" The man answered, "I thought you said there were no police available!"
Getting to Heaven from the Post Office
A preacher, newly called to a small country town, needed to mail a letter. Passing a young boy on the street, the pastor asked where he could find the post office.
After getting his answer, the minister thanked the boy and said, "If you'll come to the community church this evening, you can hear me tell everyone how to get to heaven."
"I don't know, sir," the boy replied. "You don't even know how to get to the post office!"
From "The Book of Church Jokes," published by Barbour Publishing, Inc., Uhrichsville, Ohio. Copyright 2009. Used by permission of Barbour Publishing, Inc.

#joke