Falling Down
A man is fibbing away about how great things are in his country. Finally, he starts describing the tall buildings in his country.
"There is a building so tall, it took my friend Alex 72 hours to fall off it!"
"Oh, my God!" says his friend. "Surely he must have died!"
"Of course. He was without food or water for 3 days!"
#joke
Never Talk to the Parrot
Mrs. Peterson phoned the repairman because her dishwasher quit working. He couldn't accommodate her with an "after-hours" appointment and since she had to go to work, she told him, "I'll leave the key under the mat. Fix the dish washer, leave the bill on the counter, and I'll mail you a check. By the way, I have a large rotweiler inside named Killer; he won't bother you. I also have a parrot, and whatever you do, do not talk to the bird!"
Well, sure enough the dog, Killer, totally ignored the repairman, but the whole time he was there, the parrot cursed, yelled, screamed, and about drove him nuts.
As he was ready to leave, he couldn't resist saying, "You stupid bird, why don't you shut up!"

To which the bird replied, "Killer, get him!!!"
#joke
Fitness Program for Dog owners
Fitness Program for Dog owners

You've seen those ads on TV promising amazing results from all sorts of contraptions. Well, there's no need to invest in fancy equipment. If you have a dog, you have everything you need to get in shape now!!! The following exercises can be done anywhere, anytime.

Inner Thighs: Place the dogs favorite toy between thighs. Press tighter than the dog can pull. Do not attempt bare legged– dogs who favor shortcuts to success will just dig the toy out. You could be damaged.

Upper Body Strength: Lift the dog – off the couch, off the bed, out of the flowerbed. Repeat, repeat, repeat. As the dog ages, this exercise is reversed – onto the couch, onto the bed, into the car and so on.

Balance and Coordination, Exercise 1: Remove your puppy from unsuitable tight places. If they're too small for him, they're certainly too small for you. Do it anyway!

Balance and Coordination, Exercise 2: Practice not falling when your dog bounds across the full length of the room, sails through the air, and slams both front paws into the back of your knees.

Balance and Coordination, Exercise 3: (for use with multiple dogs) Remove all dogs from lap and answer the phone before it stops ringing.

Balance and Coordination, Exercise 4: (alternate) For older dogs, attempt to cross a room without tripping over the dog. Get off your couch without crushing any part of a sleeping elderly dog.

Upper Arms: Throw the ball. Throw the squeaky toy. Throw the Frisbee. Repeat until nauseous.

Upper Arms: (alternate): Tug the rope. Tug the pull toy. Tug the sock. Repeat until your shoulder is dislocated or the dog gives up (we all know which comes first).

Hand Coordination: Remove foreign object from dogs locked jaw. This exercise is especially popular with puppy owners. Repeat. Repeat. Repeat. Remember, this is a timed exercise. Movements must be quick and precise (think concert pianist) to prevent trips to the vet, which only offer the minimal exercise benefit of jaw firming clenches.

Calves: After the dog has worn out the rest of your body, hang a circular toy on your ankle and let the dog tug while you tug back. WARNING: This is feasible only for those with strong bones and small dogs. Have you taken your calcium supplement today?

Calves: (alternate): Run after dog – pick any reason, there are plenty. Dogs of any size can be used for this exercise. Greyhounds are inadvisable.

Neck Muscles: Attempt to outmanoeuvre the canine tongue headed for your ear, mouth, or eyeball. This is a lifelong fitness program. A dog is never too old or too feeble to "French Kiss" you when you least expect it.
#joke
1. Golden Retriever: The sun i...
1. Golden Retriever: The sun is shining the day is young,
we've got our whole lives ahead of us, and you're inside
worrying about a stupid burned out bulb?
2. Border Collie: Just one. And then I'll replace any wiring
that's not up to code.
3. Dachshund: You know I can't reach that stupid lamp!
4. Rottweiler: Make me.
5. Boxer: Who cares? I can still play with my squeaky toys in the dark.
6. Lab: Oh, me, me!!!!! Pleeeeeeeeeze let me change the
light bulb! Can I? Can I? Huh? Huh? Huh? Can I?
Pleeeeeeeeeze, please, please, please!
7. German Shepherd: I'll change it as soon as I've led these
people from the dark, check to make sure I haven't missed
any, and make just one more perimeter patrol to see that no
one has tried to take advantage of the situation.
8. Jack Russell Terrier: I'll just pop it in while I'm bouncing off the walls and furniture.
9. Old English Sheep Dog: Light bulb? I'm sorry, but I don't see a light bulb?
10. Cocker Spaniel: Why change it? I can still mess on the carpet in the dark.
11. Chihuahua: Yo quiero Taco Bulb.
12. Pointer: I see it, there it is, there it is, right there...
13. Greyhound: It isn't moving. Who cares?
14. Australian Shepherd: First, I'll put all the light bulbs in a little circle ...
15. Poodle: I'll just blow in the Border Collie's ear and he'll do it.
By the time he finishes rewiring the house, my nails will be dry.
The Cat's Answer: "Dogs do not change light bulbs. People change light bulbs.
So, the real question is: How long will it be before I can expect some light, some dinner, and a massage?"
ALL OF WHICH PROVES, ONCE AGAIN, THAT WHILE DOGS HAVE
MASTERS, CATS HAVE STAFF.
#joke
Blind man and his dog...
A blind man was out walking with his seeing-eye dog when suddenly the animal paused and wet the man's leg. Bending down, the blind man stretched out his hand and patted the dog's head.
Having watched what happened, a bystander said, "Why are you patting him? That dog just peed on your leg!"
"I know," said the blind man, "but I gotta find his head before I can kick his butt."
#joke
Who's the Father
The girl admitted under parental questioning that she was pregnant, but couldn't say who was responsible.
"All right !" bellowed her Mother, "you march yourself to your room, and don't come out until you can give us a definite answer."
Later that night her voice rang down the stairs.
"Hey Mom, I think I have an idea now."
"I should hope so !" the Mother responded.
"The very idea that any daughter of mine could get pregnant, let alone not know the father."
"Chill Mom."
the girl said.
"I got it narrowed down to the band or the football team."
#joke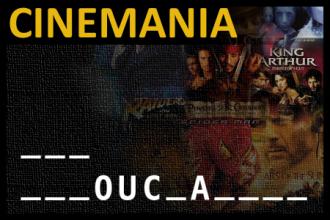 CINEMANIA: Guess the movie title
Film was made in 2011.
"I can't think of any...
"I can't think of any kayak brands, canoe?"
A grasshopper walks into a bar...
A grasshopper walks into a bar and the bartender says, 'Hey, we have a drink named after you!'
The grasshopper looks surprised and says, 'You have a drink named Steve?'
The show Survivor had the orig...
The show Survivor had the original premise of putting people on an island with Chuck Norris. There were no survivors, and nobody is brave enough to go to the island to retrieve the footage.
A Joke for Kids
Q: Why was Adam a famous runner?

A: Because he was first in the human race.
Deep Thoughts 04
One thing that makes me believe in UFOs is, sometimes I lose stuff.
It's amazing to me that one of the world's most feared diseases would be carried by one of the world's smallest animals: the real tiny dog.
Sometimes, when I drive across the desert in the middle of the night, with no other cars around, I start imagining: What if there were no civilization out there? No cities, no factories, no people? And then I think: No people or factories? Then who made this car? And this highway? And I get so confused I have to stick my head out the window into the driving rain - unless there's lightning, because I could get struck on the head by a bolt.
I guess more bad things have been done in the name of progress than any other. I myself have been guilty of this. When I was a teenager, I stole a car and drove it out into the desert and set it on fire. When the police showed up, I just shrugged and said, "Hey, progress." Boy, did I have a lot to learn.
I think the monkeys at the zoo should have to wear sunglasses so they can't hypnotize you.
The difference between a man and a boy is, a boy wants to grow up to be a fireman, but a man wants to grow up to be a giant monster fireman.
Love can sweep you off your feet and carry you along in a way you've never known before. But the ride always ends, and you end up feeling lonely and bitter. Wait. It's not love I'm describing. I'm thinking of a monorail.
I bet it was pretty hard to pick up girls if you had the Black Death.
#joke
A sweet little boy surprised h...
A sweet little boy surprised his grandmother one morning and brought her a cup of coffee. He made it himself and he was so proud. Anxiously, he waited to hear the verdict. The grandmother in all her life had never had such a bad cup of coffee. As she forced down the last sip, his grandmother noticed three of those little green army guys were in the bottom of the cup.
She asked, "Honey, why would three of your little army men be in the bottom of my cup?"
Her grandson replied, "You know grandma, it's like on TV. 'The best part of waking up is soldiers in your cup'."
#joke
Divorce Letter
Dear Wife:
I'm writing you this letter to tell you that I'm leaving you for good…!!! I've been a good man to you for seven years and I have nothing to show for it. These last two weeks have been hell. Your boss called to tell me that you had quit your job today and that was the last straw. Last week, you came home and didn't even notice that I had gotten a new hair cut, cooked your favorite meal and even wore a brand new pair of silk boxers. You came home and ate in two minutes, and went straight to sleep after watching all of your soaps. You don't tell me you love me anymore, you don't want sex anymore or anything. Either you're cheating on me or you don't love me anymore, whatever the case is, I'm gone.
Your EX-Husband
P.S. Don't try to find me. Your SISTER and I are moving away to West Virginia together! Have a great life!
Dear Ex-Husband:
Nothing has made my day more than receiving your letter. It's true that you and I have been married for seven years, although a good man is a far cry from what you've been. I watch my soaps so much because they drown out your constant whining and griping. Too bad that doesn't work. I did notice when you got a hair cut last week, the first thing that came to mind was "You look just like a girl!" but my mother raised me not to say anything if you can't say anything nice. And when you cooked my favorite meal, you must have gotten me confused with MY SISTER, because I stopped eating pork seven years ago. I turned away from you when you had those new silk boxers on because the price tag was still on them. I prayed that it was a coincidence that my sister had just borrowed fifty dollars from me that morning and your silk boxers were $49.99… After all of this, I still loved you and felt that we could work it out. So when I discovered that I had hit the lotto for ten million dollars, I quit my job and bought us two tickets to Jamaica. But when I got home you were gone. Everything happens for a reason I guess. I hope you have the fulfilling life you always wanted. My lawyer said with your letter that you wrote, you won't get a dime from me. So take care.
Signed: Rich As Hell and Freeeeeeeeeeee!
P.S. I don't know if I ever told you this but Carla, my sister, was born Carl. I hope that's not a problem
If you want a list of Chuck No...
If you want a list of Chuck Norris' enemies, just check the extinct species list.
Family of tomatoes...
A family of three tomatoes were walking downtown one day when the little baby tomato started lagging behind. The big father tomato walks back to the baby tomato, stomps on her, squashing her into a red paste, and says, "Ketchup!"
ID?
An Arkansas State trooper pulls over a pickup truck on I-40 and says to the driver, "Got any ID?"
The driver says," ' Bout what?"
Submitted by Curtis
Edited by Calamjo