A duck walks into a Dairy
A duck walks into a dairy and says
"Give me some chapstick, put it on my bill!"
But the cash register attendee doesn't speak English and cannot understand him.
He does, however, question whether his God is punishing him because as all people know, Ducks cannot speak, however, this hallucination must be punishment for a horrid misdeed.
The employee breaks down into tears and begins reciting prayer.
The duck, slightly miffed, walks out, pondering why he'd need chapstick anyway, since he has no lips... heh heh heh
#joke
"My father slept unde...
"My father slept under the bed, I think he was a little potty."
Funny video of the day - Best Fails of the Week 1 November 2013
Animal jokes-Dogs and masters
Two dogs were discussing their lives and their masters in general. The first dog whose owner was a speaker in the House of Parliament said: "My master is a speaker of the House, responsible for maintaining discipline in the House. When I bark consistently, he keeps repeating "'Please….please….silence please.' It's so funny."

The second dog said: "Your master at least speaks to you. Mine is an MP (Member of Parliament). He keeps barking like us dogs at every one including me. To add insult to injury, he has put a board on his gate 'Beware of dog.' Talk about his audacity.
#joke
Deaf Rover
What do you call a dog wearing ear muffs?
Anything you want, he can't hear you.
Executive recruiting...
One day while walking down the street a highly successful executive woman was tragically hit by a bus and died. Her soul arrived up in heaven where she was met at the pearly gates by St. Peter himself.
"Welcome to Heaven," said St. Peter. "Before you get settled in though, it seems we have a problem. You see, strangely enough, we've never once had an executive make it this far, and we're not really sure what to do with you."
"No problem, just let me in." said the woman.
"Well, I'd like to, but I have higher orders. What we're going to do is let you have a day in Hell and a day in Heaven and then you can choose whichever one you want, to spend an eternity in."
"Actually, I think I've made up my mind; I prefer to stay in Heaven", said the woman.
"Sorry, we have rules..."
And with that, St. Peter put the executive in an elevator and it went down-down-down to hell.
The doors opened and she found herself stepping out onto the putting green of a beautiful golf course. In the distance was a country club and standing in front of her were all her friends - fellow executives whom she had worked with, and they were all dressed in evening gowns and cheering for her.
They ran up and kissed her on both cheeks and they talked about old times. They played an excellent round of golf and at night went to the country club where she enjoyed an excellent steak and lobster dinner.
She met the Devil who was actually a really nice guy (kinda cute) and she had a great time telling jokes and dancing. She was having such a good time that before she knew it, it was time to leave. Everybody shook her hand and waved good bye as she got on the elevator. The elevator went up-up-up and opened back up at the Pearly Gates and she found St. Peter waiting for her.
"Now it's time to spend a day in Heaven," he said. So she spent the next 24 hours lounging around on clouds and playing the harp and singing. She had a great time and before she knew it her 24 hours were up and St. Peter came and got her.
"So, you've spent a day in Hell and you've spent a day in Heaven. Now you must choose your eternity," he said.
The woman paused for a second and then replied, "Well, I never thought I'd say this, I mean, Heaven has been really great and all, but I think I had a better time in Hell."
So St. Peter escorted her to the elevator and again she went down-down-down, back to Hell. When the doors of the elevator opened she found herself standing in a desolate wasteland covered in garbage and filth.
She saw her friends were dressed in rags and were picking up the garbage and putting it in sacks. The Devil came up to her and put his arm around her.
"I don't understand," stammered the woman, "yesterday I was here and there was a golf course and a country club and we ate lobster and we danced and had a great time. Now all there is, is a wasteland of garbage and all my friends look miserable."
The Devil looked at her and smiled. "Yesterday we were recruiting you. Today, you're STAFF."
#joke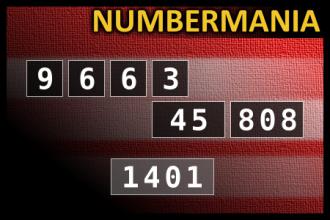 Calculate the number 1401
NUMBERMANIA: Calculate the number 1401 using numbers [9, 6, 6, 3, 45, 808] and basic arithmetic operations (+, -, *, /). Each of the numbers can be used only once.
Scary Collection 02
A Halloween joke
What do witches eat at Halloween?
Spooketti, halloweenies, devils food cake and booberry pie!
A vampire joke
What's Dracula's car called?
A mobile blood unit!
A werewolf joke
What do you call a hairy beast with clothes on?
A wear-wolf!
A witch joke
Why did the witch go over the mountain?
Because she couldn't go under it!
A skeleton joke
Why didn't the skeleton want to play football?
Because his heart wasn't in it!
A cannibal joke
Why was the cannibal looking peeky?
Because he had just eaten a Chinese dog!
A wizard joke
If a wizard was knocked out by Dracula in a fight what would he be?
Out for the count!
Chuck Norris has a pet kitten ...
Chuck Norris has a pet kitten - every night for a snack.
Kids in Church
Six-year-old Angie and her four-year-old brother Joel were sitting together in church. Joel giggled, sang, and talked out loud. Finally, his big sister had enough of his antics.
"You're not supposed to talk out loud in church."
"Why? Who's going to stop me?" Joel asked.
Angie pointed to the back of the church and said, "See those two men standing by the door? They're hushers."
#joke
A lady is walking down the str...
A lady is walking down the street to work and see's a parrot in a pet store. She stops to admire the bird. The parrot says to her, "hey lady, you are really ugly."
Well, the lady is furious! She storms past the store to her work.
On the way home she saw the same parrot in the window and the parrot upon seeing her says, "hey lady, you are really ugly."
She was incredibly ticked now. The next day on the way to work she saw the same parrot and once again it said, "hey lady, you are really ugly."
The lady was so furious that she stormed into the store and threatened to sue the store and have the bird killed. The store manager appologized profusely and promised the bird wouldn't say it again.
When the lady walked past the store after work the parrot said to her, "hey lady."
She paused and said," yes?"
The bird said, "you know."
#joke
Let him believe
One day in the Garden of Eden, Eve called out to God... "Lord, I have a problem!"
"What's the problem, Eve?"
"Lord, I know you've created me and have provided this beautiful garden and all of these wonderful animals, and that hilarious comedic snake, but I'm just not happy."
"Why is that, Eve?" came the reply from above.
"Lord, I am lonely. And I'm sick to death of apples."
"Well, Eve, in that case, I have a solution. I shall create a man for you."
"What's a 'man,' Lord?"
"This man will be a flawed creature, with aggressive tendencies, an enormous ego and an inability to empathize or listen to you properly. All in all, he'll give you a hard time.
But, he'll be bigger, faster and more muscular than you. He'll also need your advice to think properly. He'll be really good at fighting and kicking a ball about, hunting fleet-footed ruminants, and not altogether bad in the sack."
"Sounds great," says Eve, with an ironically raised eyebrow. "What's the catch, Lord?"
"Yeah, well.... you can have him on one condition."
"What's that, Lord?"
"You'll have to let him believe that I made him first."
Submitted by Calamjo
Edited by Yisman
#joke
Petroleum Jelly
One day while doing door-to-door market research, this guy knocks on a door and is greeted by a beautiful young housewife.
"Hello," he starts, "I'm doing some research for a petroleum jelly manufacturer. Have you ever used the product?"
"Yes. My husband and I use it during sex," she answers.
The researcher is taken aback. "Um, er, I admire you for your honesty," he continues. "Can you tell me exactly how you use it?"
"Sure, we put it on the doorknob so the kids can't get in."
#joke
Splenda sales are up because C...
Splenda sales are up because Chuck Norris has no Equal.
A man was on trial for selling...
A man was on trial for selling drugs, and a neighbor was called as a witness.
The defense attorney asked, "Did you ever get any cocaine or other drugs from the defendant?"
"No sir," answered the man.
"Did you ever get any from his wife?"
"No sir."
"Did you ever get any from his daughters?"
"Uh...excuse me sir," the witness said, "but we're still talking about drugs here, right?"
#joke