Twitter and politics
The Library of Congress has collaborated with Twitter to store every tweet ever posted in their archive of historical documents. Now you know why Congress is so busy.


The Library of Congress is home to some of the most important documents in history including the Declaration of Independence, the Constitution, and now it will also include tweets from Razorasher, who loves to share his homemade marshmallow recipe.


#joke
Q: Did you hear about the pers...
Q: Did you hear about the person who forgot to pay their exorcist?
A: They were repossessed.
The loan....
Before going to Europe on business, a man drove his Rolls-Royce to a downtown New York City bank and went in to ask for an immediate loan of $5,000.
The bank officer says the bank will need some kind of security for such a loan. So the businessman hands over the keys to a Rolls-Royce parked on the street in front of the bank. Everything checks out, and the bank agrees to accept the car as collateral for the loan. An employee drives the Rolls into the bank's underground garage and parks it there.
Two weeks later, the businessman returns, repays the $5,000 and the interest, which comes to $15.40. The loan officer says, "We are very happy to have had your business, and this transaction has worked out very nicely, but we are a little puzzled. While you were away, we checked you out and found that you are a multimillionaire. What puzzles us is: why would you bother to borrow $5,000?"
The man smiled. "Where else could I park my Rolls-Royce in Manhattan for two weeks and pay only $15.40?"
#joke
Having A Very Bad Day
You Know You're Having a Bad Day When...


Your horn sticks on the freeway behind 32 Hell's Angels motorcyclists.

You've been at work 3 hours before you notice that your fly is open or your blouse unbuttoned.

Your twin sister forgets your birthday.

Your birthday cake collapses from the weight of the candles.

You call the suicide prevention hotline and they put you on hold.

You have to sit down to brush your teeth in the morning.

Everyone avoids you the morning after the company office party.

Your income tax refund check bounces.

The bird singing outside your window is a vulture.

You wake up and your braces are stuck together.

Your blind date turns out to be your ex-wife/husband.

You put both contacts into the same eye.

Your mother approves of the person you're dating.

Your doctor tells you that you're allergic to chocolate.

You have to borrow from your Visa card to pay your Mastercard.

Nothing you own is actually paid for.

Everyone loves your driver's licence picture, but you think it looks awful.

The health inspector condems your office coffee maker.

You invite the peeping Tom in... and he says no.

The Gypsy fortune teller offers to refund your money when she sees your future.

People think that you're 40 and you're only 25.

When the doctor tells you are in fine health for someone twice your age.

You call your spouse and tell them that you'd like to eat out tonight and when you get home, your find a sandwich on the front porch.

You start to put on the clothes that you wore home from the party last night...... and there aren't any.

It costs more to fill up your car than it did to buy it.

five surgeons
Five surgeons are discussing who makes the best patients on the operating table.
The first surgeon says, "I like to see accountants on my operating table, because when you open them up, everything inside is numbered."
The second responds, "Yeah, but you should try electricians! Everything inside them is color coded."
The third surgeon says, "No, I really think librarians are the best; everything inside them is in alphabetical order."
The fourth surgeon chimes in: "You know, I like construction workers...those guys always understand when you have a few parts left over at the end, and when the job takes longer than you said it would."
But the fifth surgeon shut them all up when he observed: "You're all wrong. Politicians are the easiest to operate on. There's no guts, no heart, and no spine, and the head and butt are interchangeable."
#joke
"A summer is a mathem...
"A summer is a mathematician."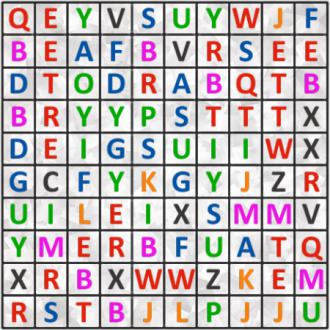 Find a famous person
Find the first and the last name of a famous person. Text may go in all 8 directions. Length of words in solution: 8,6.
The godfather
A Mafia Godfather finds out that his bookkeeper has cheated him out of $10 million bucks. His bookkeeper is deaf. That was the reason he got the job in the first place. It was assumed that a deaf bookkeeper would not hear anything that he might have to testify about in court.
When the Godfather goes to confront the bookkeeper about his missing $10 million, he brings along his attorney, who knows sign language. The Godfather tells the lawyer 'Ask him where the $10 million bucks he embezzled from me is'. The attorney, using sign language, asks the bookkeeper where the money is?
The bookkeeper signs back: 'I don't know what you are talking about'. The attorney tells the Godfather: 'He says he doesn't know what you're talking about'. The Godfather pulls out a pistol, puts it to the bookkeeper's temple and says, 'Ask him again'! The attorney signs to the bookkeeper: 'He'll kill you if you don't tell him'! The bookkeeper signs back: 'OK! OK! You win! The money is in a brown briefcase, buried behind the shed in my cousin Enzo's backyard in Queens'!
The Godfather asks the attorney: 'Well, what'd he say'? The attorney replies: 'He says you don't have the balls to pull the trigger'.
"Sweating bullets" is literall...
"Sweating bullets" is literally what happens when Chuck Norris gets too hot.
Church Bulletin Bloopers: Weddings and Babies
Irving Benson and Jessie Carter were married on October 24 in the church. So ends a friendship that began in their school days.
The Honeymooners are now having bile studies each Tuesday evening at 7:30 p.m.
The rosebud on the altar this morning is to announce the birth of David Alan Belzer, the sin of Rev. and Mrs. Julius Belzer.
Please join us as we show our support for Amy and Alan who are preparing for the girth of their first child.
Thursday at 5:00 pm, there will be a meeting of the Little Mothers Club. All ladies wishing to be "Little Mothers" will meet with the Pastor in his private study.
(For the group of ladies called Moms Who Care and pray for the children in school). When their meeting was cancelled one week: "There will be no Moms who care this week."
- Joke shared on Beliefnet's Religious Humor page
#joke
CAT DIARY, 7 entries
DAY 752 - My captors continue to taunt me with bizarre little dangling objects. They dine lavishly on fresh meat, while I am forced to eat dry cereal. The only thing that keeps me going is the hope of escape, and the mild satisfaction I get from ruining the occasional piece of furniture. Tomorrow I may eat another houseplant.
---------
DAY 761 - Today my attempt to kill my captors by weaving around their feet while they were walking almost succeeded, must try this at the top of the stairs. In an attempt to disgust and repulse these vile oppressors, I once again induced myself to vomit on their favorite chair...must try this on their bed.
---------
DAY 762 - Slept all day so that I could annoy my captors with sleep depriving, incessant pleas for food at ungodly hours of the night.
---------
DAY 765 - Decapitated a mouse and brought them the headless body, in attempt to make them aware of what I am capable of, and to try to strike fear into their hearts. They only cooed and condescended about what a good little cat I was...Hmmm. Not working according to plan.
---------
DAY 768 - I am finally aware of how sadistic they are. For no good reason I was chosen for the water torture. This time however it included a burning foamy chemical called "shampoo." What sick minds could invent such a liquid. My only
---------
DAY 771 - There was some sort of gathering of their accomplices. I was placed in solitary throughout the event. However, I could hear the noise and smell the foul odor of the glass tubes they call "beer." More importantly I overheard that my confinement was due to MY power of "allergies." Must learn what this is and how to use it to my advantage.
---------
DAY 774 - I am convinced the other captives are flunkies and maybe snitches. The dog is routinely released and seems more than happy to return. He is obviously a half-wit. The Bird on the other hand has got to be an informant. He has mastered their frightful tongue. (something akin to mole speak) and speaks with them regularly. I am certain he reports my every move. Due to his current placement in the metal room his safety is assured.
But I can wait; it is only a matter of time.
School Notes
These are real notes written from parents in a Mississippi School District. (Spellings have been left intact.)
My son is under a doctor's care and should not take P.E. today. Please execute him.
Please excuse Lisa for being absent. She was sick and I had her shot.
Dear School: Please ekscuse John being absent on Jan. 28, 29, 30, 31, 32, and also 33
Please excuse Roland from P.E. for a few days.Yesterday he fell out of a tree and misplaced his hip.
John has been absent because he had two teeth taken out of his face.
Chris will not be in school cus he has an acre in his side.
Please excuse Jimmy for being. It was his father's fault.
I kept Billie home because she had to go Christmas shopping because I don't know what size she wear.
Please excuse Jennifer for missing school yesterday. We forgot to get the Sunday paper off the porch, and when we found it Monday, we thought it was Sunday.
Maryann was absent December 11-16, because she had a fever, sore throat, headache and upset stomach. Her sister was also sick, fever and sore throat, her brother had a low grade fever and ached all over. I wasn't the best either, sore throat and fever. There must be something going around, her father even got hot last night.
There is no Ctrl button on Chu...
There is no Ctrl button on Chuck Norris' computer. Chuck Norris is always in control.
Gabriel Iglesias: Looking for a Pregnancy Test
I dont even have a clue as to where to find a pregnancy test. Im looking at all the aisles -- they dont have one that says oops.
Death Bed
A man lies on his deathbed, surrounded by his family: a weeping wife and four children. Three of the children are tall, good-looking and athletic; but the fourth and youngest is an ugly runt.
"Darling wife," the husband whispers, "assure me that the youngest child really is mine. I want to know the truth before I die, I will forgive you if-"
The wife gently interrupts him. "Yes, my dearest, absolutely, no question, I swear on my mother's grave that you are his father."
The man then dies, happy. The wife mutters under her breath: "Thank God he didn't ask about the other three."
#joke