Culture Shock
Two cups of yogurt walk into a bar. The bartender says, "We don't serve your kind in here." One cup of yogurt says, "Why not? We're cultured individuals."
"In a club filled wit...
"In a club filled with booze, I make the crowd cheer."
Funny video of the day - Best Fails of the Week 2 November 2013
Farting Competition
A man and his wife have gone to bed. After laying in bed for a few minutes the man cuts a fart. His wife rolls over and asks, "What in the world was that?"
The man says, "Touchdown, I'm ahead, seven to nothing."
A few minutes later the wife lets one loose. The man says to her, "What was that?"
She replies, "Touchdown, tie score."
The man lays there for about ten minutes trying to work one up. He tries so hard that he shits all over the bed.
The wife asks, "Now what in the world was that?" He replies, "Half time. Switch sides."
#joke
Short funny jokes-Old and bent
Pete, an old frustrated patient, at the hospital asks the doctor, "Doc, is there anything worse than being old and bent?"
The Doctor: replies, "Of course there there is - being young and broke."
Two cowboys are riding their h...
Two cowboys are riding their horses together on the prairie. They come upon a big pile of manure. The first cowboy goes to the second, "I will bet you a $1000 that I can eat all of this crap." The second cowboy agrees, so the first cowboy eats the entire pile and wins $1000.
The two cowboys ride on and after some time come across another pile of manure. This time the second cowboy bets the first that he too can eat the whole pile for $1000. The first cowboy agrees and the second cowboy eats the entire pile and wins the bet.
They ride on again. After a while the first cowboy says to the second, "Do you realize that we just ate a whole pile of manure for nothing?"
#joke
Trouble hearing....
A little old man starts having trouble hearing and goes to the doctor.....says. "Doc, I'm having problems hearing!"
Doctor says "Lets check this out." Looks into the man's ear with his flash light and says, "There's a foreign object in here." Takes his tweezers and pulls it out.......Doc says to the old man, "It's a suppository!!"
The old man takes a look, asks the Doc, "Can I use your phone?? Need to tell the wife that I know where I put that hearing aid!!"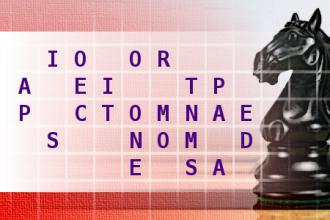 Chess Knight Move
Find the country and its capital city, using the move of a chess knight. First letter is S. Length of words in solution: 3,4,3,8,3,4.
The switch
Farmer Brown and his wife were working in the field one day about dusk.
As they were heading back to the house they saw a bunch of strange lights way out in the field.
Upon ariving Farmer Brown and his wife saw a spaceship landing. They were approached by two aliens.
The aliens said they were researching human sex life and wanted to know if they could partner switch.
After talking it over Farmer Brown and his wife agreed. The next morning the aliens left.
Farmer Brown was dying to ask his wife what happened. Finally he couldn't stand it anymore and broke down and asked her, "Well what happened?"
She replied, "It was the best sex I ever had!"
"Why?" asked Farmer Brown.
"Well when he took off his pants it wasn't but an inch long and as big around as my pinky, but then he reached up and turned his left ear and it grew as to 16 inches, then he turned his right ear and it got as big around as a sausage."
Farmer Brown said, "Well shit, no wonder that bitch was trying to rip my ears off!!"
Submitted by Glaci
Edited by Curtis
#joke
When Bruce Banner gets mad, he...
When Bruce Banner gets mad, he turns into the Hulk. When the Hulk gets mad, he turns into Chuck Norris.
Answering Machine Message 97
"Camptown Races":
I can't come to the telephone; doo-dah, doo-dah.
Leave your message when you hear the tone; oh, de doo-dah day.
Might be gone all night... Might be gone all day...
So leave a message when you hear the tone.
I'll call you back someday...
#joke
A chicken and an egg are lying...
A chicken and an egg are lying in bed.
The chicken is smoking a cigarette with a satisfied smile on its face.
The egg is frowning and looking a bit pissed off.
The egg mutters, to no one in particular, "Well, I guess we answered THAT question!"
Where is God?
A couple had two little boys who were always getting into trouble. Their parents knew that if any mischief occurred in their village, their sons were probably involved.
The boys' mother heard that an elder in town had been successful in disciplining children, so she asked if he would speak with her sons. The elder agreed, but asked to see them separately.
So, the mother sent her youngest son first, in the morning. The elder, a huge man with a booming voice, sat the boy down and asked him sternly, "Where is God?" The boy's mouth dropped open, but he made no response.So the elder repeated the question in an even sterner tone, "Where is God!!?" Again the wide-eyed boy made no attempt to answer.
The elder raised his voice and bellowed, "WHERE IS GOD!?" The boy screamed and bolted from the room, ran directly home and dove into a closet, slamming the door behind him.
When his older brother found him hiding, he asked, "What happened?"
The younger brother, gasping for breath, replied, "We are in BIG trouble this time. God is missing, and they think WE did it!"
#joke
If you spell Chuck Norris in S...
If you spell Chuck Norris in Scrabble, you win. Forever.
Will you marry me?
There were these two elderly people living in a Florida mobile home park. He was a widower and she a widow. They had known one another for a number of years. Now, one evening there was a community supper in the big activity center. These two were at the same table, across from one another. As the meal went on, he made a few admiring glances at her and finally gathered up his courage to ask her, "Will you marry me?"
After a dramatic pause and precisely six seconds of 'careful consideration,' she answered. "Yes. Yes, I will."
The meal ended and with a few more pleasant exchanges and they went to their respective places.
Next morning, he was troubled. "Did she say 'yes' or did she say 'no'?"
He couldn't remember. Try as he would, he just could not recall. Not even a faint memory. With trepidation, he went to the telephone and called her.
First, he explained to her that he didn't remember as well as he used to. Then he reviewed the lovely evening past. As he gained a little more courage, he then inquired of her, "When I asked if you would marry me, did you say 'Yes' or did you say 'No'?"
He was delighted to hear her say, "Why, I said, 'Yes, yes I will' and I meant it with all my heart."
Then she continued, "And I am so glad that you called, because I couldn't remember who had asked me."
#joke
Whiskey no worms
A man drinks a shot of whiskey every night before bed.
After years of this the wife wants him to quit, so she gets 2 shot glasses, filling 1 with water the other with whiskey.
She gets him to the table with the glasses and has his bait box there too.
She says "I want you to see this." She puts a worm in the water it swims around. She puts a worm in the whiskey and the worm dies.
She says "so what do you have to say about this experiment?"
He says "IF I DRINK WHISKEY I WON'T GET WORMS!"
#joke