Jokes of the day for Friday, 06 December 2013
Funny jokes, funny photo and funny video collected from the internet on Friday, 06 December 2013
Hilarious jokes-Fix the mailbox
Rosy said to her husband, "Tim, could you please fix the mailbox for me?"

Tim asked, "What happened to the mailbox?"

Rosy replied, "The post is beginning to rot. It needs a new post, but save the box."

Tim said, "All right, let me see what I can do."

When Tim walked to the end of the driveway, he realized that the post to the mailbox was indeed in bad shape. To free the box from the post, he pulled out all the nails except for one that had rust on it and just wouldn't come out. He wrapped his arms around the box in a bear hug and began trying to yank it off.

Just then a passerby, who noticed the entire episode, commented, "I tried that but it doesn't work. The bills just keep on coming!"
#joke
"Astral projection to...
"Astral projection to church is mass tranceportation."
Funny video of the day - Santa Fails Compilation
Jesus and Moses playing golf
Jesus and Moses were teeing off on a 149 yd par 3, with water hazard.
Jesus pulled out his wedge and hit his first ball into the water;
"I don't understand", he said, "I saw Arnold Palmer hit a wedge to the green on this same hole yesterday!"
Again he dropped a ball on the ground and repeated the shot with the same results....
Moses said,"Get a longer iron or you'll never make it across"
Jesus dropped another ball to the ground and repeated the swing dropping the third ball in the water short of the green.
"That was my last ball!" Jesus remarked as he walked across the water fishing for his lost balls.
A foursome approached the green and one man replied, "Who does he think he is, Jesus Christ?"
Moses replied, "He thinks he Arnold Palmer"
#joke
What Will The Neighbors Think?
Jack was living in Arizona during a heat wave when the following took place.
"It's just too hot to wear clothes today," complained Jack as he stepped out of the shower. "Honey, what do you think the neighbors would think if I mowed the lawn like this?"
"Probably that I married you for your money."
#joke
As horny as hell
A guy is horny a hell - but broke. He goes to a whorehouse with $5.00, and begs the Madame to give him whatever she can for it.
She says "I'm sorry, but that will only cover the rent for ten minutes, and none of my hookers work for free!"
The guy gets the room, but has nothing to fuck. He looks out on the ledge of the building and sees a pigeon.
Quietly, he opens the window, grabs the poor bird and just fucks the living shit out of it. Satisfied, he goes home.
Next week, he returns to the whorehouse, with his pay cheque. He says to the Madame, "I got lots of money now...give me a hooker!".
The Madame replies "All of them are busy now, why don't you go to the peep show and get yourself in the mood?".
The guy does, and is enjoying the show, when he turns to the guy next to him and says, "Hey, these chicks really know what they're doing huh?",
The guy responds, "Yeah, but you should have been here last week, there was this guy fucking a pigeon!"
#joke
Lottery
A wife comes in and yells, ''Honey, pack your clothes! I just won the lottery!''
Her husband yells back, ''Should I pack for the beach or for the mountains?''
The wife replies, ''I don't care! Just get the hell out!''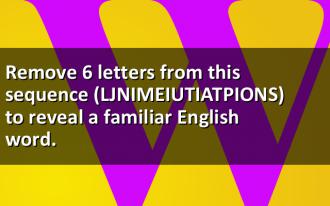 Remove 6 letters from this seq...
Remove 6 letters from this sequence (LJNIMEIUTIATPIONS) to reveal a familiar English word.
Two Elderly Gentlemen
Two elderly gentlemen, who had been without sex for several years, decided they needed to visit a cat-house for some tail..... When they arrived, the madam took one look at them and decided she wasn't going to waste any of her girls on these two old men.
So she used "blow-up" dolls instead. She put the dolls in each man's room and left them to their business. After the two men were finished, they started walking home and began to talking. The first man said, "I think the girl I had was dead. She never moved, talked or even groaned... how was it for you?"

The second man replied, "I think mine was a witch. When I nibbled on her breast..... she farted and flew out the window!"
#joke
When Chuck Norris was a child,...
When Chuck Norris was a child, he made his mother finish his vegetables.
Bless This Car
A rabbi, a priest and a minister have their houses of worship side by side, so they decide to carpool.
On the first day, the other two are shocked to see the pastor lay hands on the hood and pray silently.
"What are you doing?" the priest asks.
The pastor looks up. "I'm just dedicating the car to the Lord's service."
"Good idea! Be right back!" the priest exclaims, running into his church. He emerges with a bulb on a short stick, shaking water out of it onto the car.
The rabbi stares. "What are you doing?" he says.
"I'm consecrating it with holy water," the priest replies.
"Great idea!" the rabbi says, and runs into his synagogue's toolshed. He emerges with a hacksaw and takes off an inch of the tailpipe.
#joke
A Guy was staying in a fancy h...
A Guy was staying in a fancy hotel and was enjoying the pool when the manager told him quite bluntly to get out. When asked for the reason, the manager said, "Because you peed in the pool."
"Well," replied the swimmer, "lots of people do that."
"True," answered the manager, "but you did it from the diving board."
#joke
Finally, the good-natured boss...
Finally, the good-natured boss was compelled to call Smith into his office.
"It has not escaped my attention," he pointed out, "that every time there's a home game at the stadium, you have to take your aunt to the doctor."
"You know you're right, sir," exclaimed Smith, "I didn't realize it. You don't suppose she's faking, do you?"
Carlos Mencia: Super-Fence
You know what they said in California? I saw it on C-Span -- people we vote for -- this is what they said, I propose that we kick all of the illegal aliens out of this country. Then we build a super-fence so they cant get back in. And I went, Um, whos gonna build it?
Zen…
1. Do not walk behind me, for I may not lead. Do not walk ahead of me, for I may not follow. Do not walk beside me, either; just Get Out Of The Way and leave me alone.
2. The journey of a thousand miles begins with a broken fan belt and a flat tire.
3. It's always darkest before dawn. So if you're going to steal your neighbor's newspaper, that's the time to do it.
4. Don't be irreplaceable; if you can't be replaced, you can't be promoted.
5. No one is listening until you make a mistake.
6. Always remember you're unique, just like everyone else.
7. Never test the depth of the water with both feet.
8. It may be that your sole purpose in life is simply to serve as a warning to others.
9. It is far more impressive when others discover your good qualities without your help.
10. If you think nobody cares if you're alive, try missing a couple of car payments.
#joke