The other day I held...
"The other day I held the door open for a clown. I thought it was a nice jester."
Adult jokes-That kinda guy
Derek was tired of working at a logging venue for what seemed to be like an eternity. So he decides to go to town and have some serious fun. He goes to a Bed and Breakfast place asks the owner, "Where do I go if I want a little fun around here?"

The owner answered, "There ain't no women for miles, but if you want it real bad, we have a Chinese cook."

"Hey, I'm not that kinda guy!" said Derek, and went away.

A week went by, and Derek was back to the owner's cabin. He said, "Lets suppose I opted for the Chinese cook, how many people would have to know about it?"

The owner replied "Hmm... there's me, there's you, him, that's six in all, we need three to hold him down - he's not that kinda guy either!!"
#joke
Funny video of the day - Lake Michigan has turned into a sea of ice balls in Glen Arbor
Before going to Europe on busi...
Before going to Europe on business, a man drives his Rolls-Royce to a downtown New York City bank and asks for an immediate loan of $5,000. The loan officer, taken aback, requests collateral. "Well then, here are the keys to my Rolls-Royce," the man says. The loan officer promptly has the car driven into the bank's underground parking for safe keeping and gives the man the $5,000. Two weeks later, the man walks through the bank's doors and asks to settle up his loan and get his car back. "That will be $5,000 in principal, and $15.40 in interest," the loan officer says. The man writes out a check and starts to walk away. "Wait, sir," the loan officer says. "You are a millionaire. Why in the world would you need to borrow $5,000?" The man smiles, "Where else could I find a safer place to park my Rolls-Royce in Manhattan for two weeks and pay only $15.40?"
#joke
Walk on water....
Joe heard a rumor that his father, grandfather and great-grandfather had all walked on water on their 21st birthdays.
So, on his 21st birthday, Joe and his good friend Brian headed out to the lake. "If they did it, I can too!" he insisted.
When Joe and Brian arrived at the lake, they rented a boat and began paddling. When the got to the middle of the lake, Joe stepped off of the side of the boat... and damn near drowned.
Furious and somewhat shamed, he and Brian headed for home.
When Joe arrived back at the family farm, he asked his grandmother for an explanation. "Grandma, why can I not walk on water like my father, and his father, and his father before him?"
The feeble old grandmother took Joe by the hands, looked into his eyes, and explained, "That's because your father, grandfather, and great-grandfather were born in January... you were born in July, dear."
#joke
Pray for Me
One Sunday in a Midwest city a young child was acting up
during the morning worship hour.
The parents did their best to maintain some sense of order
in the pew but were losing the battle. Finally, the father
picked the little fellow up and walked sternly up the aisle
on his way out.
Just before reaching the safety of the foyer the little one
called loudly to the congregation, "Pray for me! Pray for me!"
#joke
Mimes
What's black and white and red all over?
Mimes in a chainsaw fight.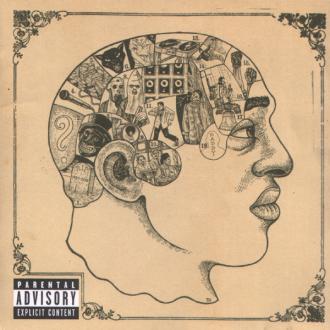 Guess the Band Name
Which musician band has an album with a cover as in the picture?
Knock Knock Collection 198
Knock Knock
Who's there?
Yachts!
Yachts who?
Yachts up, doc!
Knock Knock
Who's there?
Yah!
Yah who?
Ride em cowboy!
Knock Knock
Who's there?
Yehuda!
Yehuda who?
Yehuda dance all night!
Knock Knock
Who's there?
Yelp!
Yelp who?
Yelp me, my nose is stuck in the keyhole!
Knock Knock
Who's there?
Yoda!
Yoda who?
Yoda le lee whoo!
#joke
Chuck Norris once leaned again...
Chuck Norris once leaned against a tower in Pisa, Italy.
Moshe Reads an Arab Newspaper
A story is told of a Jewish man who was riding on the subway reading an Arab newspaper. A friend of his, who happened to be riding in the same subway car, noticed this strange phenomenon. Very upset, he approached the newspaper reader.
"Moshe, have you lost your mind? Why are you reading an Arab newspaper?"Moshe replied, "I used to read the Jewish newspaper, but what did I find? Jews being persecuted, Israel being attacked, Jews disappearing through assimilation and intermarriage, Jews living in poverty. So I switched to the Arab newspaper. Now what do I find? Jews own all the banks, Jews control the media, Jews are all rich and powerful, Jews rule the world. The news is so much better!"
#joke
The Perfect Man
The ...
The Perfect Man
The perfect man is gentle
Never cruel and never mean
He has a beautiful smile
And keeps his face so clean.
The perfect man loves children
And will raise them by your side
He will be a good father
And a good husband to his bride.
The perfect man loves cooking
Cleaning and vacuuming too
He'll do anything in his power
To convey his love to you.
The perfect man is sweet
Writing poetry from your name
He's a best friend to your mother
and kisses away your pain.
He will never make you cry
or batter you in any way
To hell with this stupid poem
The perfect man is gay.
#joke
Rebecca Corry: False Advertising
I dont believe anything I see on TV. There was that herbal shampoo commercial where the ladies were in the shower using the shampoo, and theyre having orgasms. I went to Costco and bought the family pack of that. I was in the shower all weekend. The shampoo does not cause orgasms -- the bottle does.
Chelsea Handler: AA Meetings
Have you ever been to an AA meeting? No wonder these people are alcoholics -- Ive never needed a drink more badly in my life.
Be My Valentine
A guy walks into a post office one day to see a middle-aged, balding man standing at the counter methodically placing "Love" stamps on bright pink envelopes with hearts all over them. He then takes out a perfume bottle and starts spraying scent all over them.
His curiosity getting the better of him, he goes up to the balding man and asks him what he is doing. The man says, "I'm sending out 1,000 Valentine cards signed, 'Guess who?'"
"But why?" asks the man.
"I'm a divorce lawyer," the man replies.
"Sweating bullets" is literall...
"Sweating bullets" is literally what happens when Chuck Norris gets too hot.