"'Volts' - the dance ...
"'Volts' - the dance you perform after an electric shock."
Adopted Turtle
Deep within a forest a little turtle began to climb a tree. After hours of effort he reached the top, jumped into the air waving his front legs and crashed to the ground. After recovering, he slowly climbed the tree again, jumped, and fell to the ground.
The turtle tried again and again while a couple of birds sitting on a branch watched his sad efforts. Finally, the female bird turned to her mate.
"Dear," she chirped, "I think it's time to tell him he's adopted."
#joke
Funny video of the day - Ukrainian Guy Lucky to Be Alive after Near-Miss with Tram
Sportsman spirit

During the game of cricket, Coach Rogers called aside little Dave and asked him, "Tell me Dave, you you understand the words co-operation and teamwork?"

Dave nodded in the affirmative.

The coach asked again, "Do you agree that what matters is whether we win or lose together as a team?'

Dave nodded in agreement.

Coach Rogers continued, "Then I am sure you would agree that when a batsman is given out, he shouldn't shout at or argue with the umpire, or call him names. Do you agree to that?"

Little Dave nodded in the affirmative again.

Coach Rogers went on, "And when I take you out of the game so another kid gets a chance to play too, it's not good sportsman-spirit to call your coach "a moron or

lunatic" is it?'

Dave shook his head 'No'.

"Good", said coach Rogers, "Now go over there and explain all that to your grandmother!"

#joke
Heaven or ???
A spiritualist who'd recently been widowed met a colleague and reported excitedly that she'd just received a message from her dead husband - asking her to send him a pack of cigarettes.
"The only thing is," she mused, "that I don't know where to send them."
"Why not?" asked her friend.
"Well, he didn't actually say that he was in Heaven - but I can't imagine he'd be in Hell."
"Hm," responded the friend. "Well, maybe I shouldn't bring this up, but. . . he didn't mention anything about including matches in the package, did he?"
#joke
Need A New Lawyer
Warning Signs that you Might Need a Different Lawyer


Your lawyer tells you that his last good case was of Budweiser.

When the prosecutors see your lawyer, they high-five each other.

Your lawyer picks the jury by playing "duck-duck-goose."

Your lawyer tells you that he has never told a lie.

A prison guard is shaving your head.

Blow-up dolls
Two elderly gentlemen, who had been without sex for several years, decided they needed to visit a cat-house for some tail..... When they arrived, the madam took one look at them and decided she wasn't going to waste any of her girls on these two old men.
So she used "blow-up" dolls instead. She put the dolls in each man's room and left them to their business.
After the two men were finished, they started for home and got to talking.
The first man said, "I think the girl I had was dead. She never moved, talked or even groaned... how was it for you?"
The second man replied, "I think mine was a witch."
The first man asked, "How's that?" "Well," said the second man, "when I nibbled on her breast.....she farted and flew out the window!"
#joke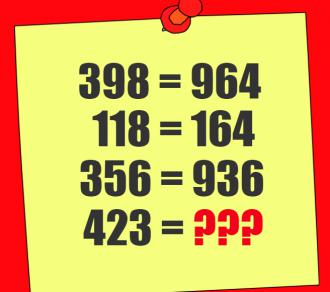 Guess the result of 423
If 398=964, 118=164 and 356=936 then 423=?
Loose Potatoes
If there were 4 potatoes in a room, which one would be the prostitute?
The one that's labeled "IDAHO"
As President Roosevelt said: "...
As President Roosevelt said: "We have nothing to fear but fear itself. And Chuck Norris."
Buckwheat
Buckwheat of the Little Rascals fame grew up, became a Muslim, and changed his name. He now goes by Kareem of Wheat.
Fear of Flying
There was a religious woman who had to do a lot of traveling for her business. Flying made her very nervous, so she always took her Bible along with her.
One time, she was sitting next to a man. When he saw her pull out her Bible, he gave a little chuckle and smirk and went back to what he was doing.
After awhile, he turned to her and asked, "You don't really believe all that stuff in there do you?"
The woman replied, "Of course I do. It is the Bible."
He said, "Well, what about that guy that was swallowed by that whale?"
She replied, "Oh, Jonah. Yes, I believe that, it is in the Bible."
He asked, "Well, how do you suppose he survived all that time inside the whale?"
The woman said, "Well, I don't really know. I guess when I get to heaven, I will ask him."
"What if he isn't in heaven?" the man asked sarcastically.
"Then you can ask him," replied the woman.
#joke
Knock Knock Collection 142
Knock Knock
Who's there?
Oscar!
Oscar who?
Oscar a silly question, get a silly answer!
Knock Knock
Who's there?
O'Shea!
O'Shea who?
O'Shea that's a sad story!
Knock Knock
Who's there?
Oslo!
Oslo who!
Oslo down, whats the hurry!
Knock Knock
Who's there?
Oswald!
Oswald who?
Oswald my chewing gum!
Knock Knock
Who's there?
Oswego!
Oswego who?
Oswego marching, marching home ...!
#joke
Before...
A sixth grade class is doing some spelling drills. The teacher asks Tommy if he can spell 'before.' He stands up and says, "Before, B-E-P-H-O-R."
The teacher says, "No, that's wrong. Can anyone else spell before?"
Another little boy stands up and says, "Before, B-E-F-O-O-R."
Again the teacher says, "No, that's wrong." The teacher asks, "Little Johnny, can you spell 'before'?"
Little Johnny stands up and says, "Before, B-E-F-O-R-E."
"Excellent Johnny, now can you use it in a sentence?"
Little Johnny says, "That's easy. Two plus two be fore."
#joke
------------------------------...
--------------------------------------------------------------------------------
How bout this one:
Kiwi bloke was on earth doing the Haka. Somewhere in space, Aliens were watching this unusual dance.
"Kamate, kamate, ka-ora, ka-ora......"
The Aliens were very interested and they wanted to see what would happen if they would take a part of his brain away without him even knowing. So with their alien technology they sent a laser beam down that hit the Kiwi's head and took a part of his brain away.
The Aliens then sat back to see what would happen.
"Ka-mate, ka-mate, ka-ora, ka-ora......."
What the??? The Aliens were amazed with what they were seeing. The Kiwi guy could operate with less than a full brain. So they decided to send the beam down and take another part of his brain. The Aliens watched on.
"Ka-mate, ka-mate, ka-ora, ka-ora......"
"WHAT!!!" the Aliens said to each other. "These Kiwis are very clever people even with half a brain. Let's see what happens if we take the rest of it away and leave him with no brain at all!"
So with a push of a button the Aliens sent the beam down and took away the final part of the Kiwi's brain.
"Now surely he won't know anything at all.He should be too dumb and stupid to do anything now?"
And sure enough, with no brain and no knowledge of anything at all as the Aliens watched on the bloke sang,
#joke