Typewriter
A husband and wife decided they needed to use "code" to indicate that they wanted to have sex without letting their children in on it. They decided on the word Typewriter.
One day the husband told his five year old daughter, "Go tell your mommy that daddy needs to type a letter".
The child told her mother what her dad said, and her mom responded, "Tell your daddy that he can't type a letter right now cause there is a red ribbon in the typewriter." The child went back to tell her father what mommy said.
A few days later the mom told the daughter, "Tell daddy that he can type that letter now."

The child told her father, returned to her mother and announced, "Daddy said never mind with the typewriter, he already wrote the letter by hand."
#joke
Chuck Norris can win tic-tac-t...
Chuck Norris can win tic-tac-toe in one move.
Q. How do you know when a woma...
Q. How do you know when a woman is going to say something smart?
A. It will start with "He said..."

Invisible...
A psychiatrist's secretary walked into his study and said, "There's a gentleman in the waiting room asking to see you. Claims he's invisible."
The psychiatrist responded, "Tell him I can't see him."
An Inferiority Complex
Private Milton went to psychiatrist and complained: "I have an inferiority complex."
"Nothing I can do for you", said the doc.
"In the Army privates don't have an inferiority complex... they're just inferior..."
---
An old man saw a very tired infantryman resting after a hard foot march. The man said with disdain: "When I was of your age I thought nothing of a ten-mile hike."
"Well, I don't think much of it either," replied the GI.
#joke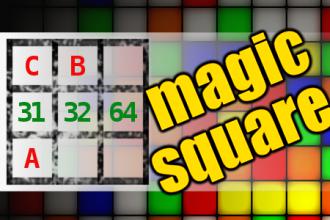 MAGIC SQUARE: Calculate A+B-C
The aim is to place the some numbers from the list (3, 21, 26, 27, 31, 32, 34, 37, 48, 64, 69, 74) into the empty squares and squares marked with A, B an C. Sum of each row and column should be equal. All the numbers of the magic square must be different. Find values for A, B, and C. Solution is A+B-C.
Ugly Drunk Driving
A policeman stops a motorist and asks, "Excuse me, Sir, have you been drinking?"
The motorist says, "Why -- do I got an ugly girl next to me?"
In the mirror
Joshina asks her husband Derek for money, so she can go and buy groceries from the local store.
She asks for 50 dollars but Derek tells her, "You out of your mind?". He then pulls her to the mirror, and says,"I'll show you something. This 50-dollar bill is mine and the one you see in the mirror is yours. Am I clear?"
Joshina says nothing and goes out.
That evening, Derek finds the kitchen full of groceries. Angered, he demands from his wife where did it all come from.
Joshina beckons him to the mirror & pulls her skirt up. She says, "The one in the mirror is yours. This one is for the grocer."
#joke
"What do you call a m...
"What do you call a musician who steals sheet music? A clef-to maniac."
How Many Deists?
Imam Mahdi Funny: Hey, Mahahaharaj.
Swami Mahahaharaj: Yes?
Imam Mahdi Funny: How many deists does it take to change a light bulb?
Swami Mahahaharaj: Hmm...I'm not sure. How many deists does it take to change a light bulb?
Swami Mahahaharaj: None. If the light bulb no longer interferes with the world, why bother interfering with the light bulb?
#joke
The Wailing Wall
A journalist assigned to the Jerusalem bureau takes an
apartment overlooking the Wailing Wall. Every day when she
looks out, she sees an old Jewish man praying vigorously. So,
the journalist goes down and introduces herself to the old
man.
She asks, "You come every day to the wall. How long have you
done that and what are you praying for?" The old man
replies, "I have come here to pray every day for 25 years. In
the morning I pray for world peace and then for the
brotherhood of man. I go home have a cup of tea and I come
back and pray for the eradication of illness and disease from
the earth."
The journalist is amazed. "How does it make you feel to come
here every day for 25 years and pray for these things?" she
asks.
The old man looks at her sadly. "Like I'm talking to a
wall."
#joke
Census...
Census Taker: 'How many children do you have?'
Woman: 'Four.'
Census Taker: 'May I have their names, please?'
Woman: 'Eenie, Meenie, Minie and George.'
Census Taker: 'Okay, that's fine. But may I ask why you named your fourth child George?'
Woman: 'Because we didn't want any Moe.'
#joke
Chuck Norris doesn't brush his...
Chuck Norris doesn't brush his teeth, he scares the plaque off each morning by snarling in the mirror.
Compassion With an Umbrella
A Western Buddhist woman was in India, studying with her teacher. She was riding with another woman friend in a rickshaw-like carriage, when they were attacked by a man on the street. In the end, the attacker only succeeded in frightening the women, but the Buddhist woman was quite upset by the event and told her teacher so. She asked him what she should have done - what would have been the appropriate, Buddhist response.
The teacher said very simply, "You should have very mindfully and with great compassion whacked the attacker over the head with your umbrella."
#joke
How do you sink an Australian ...
How do you sink an Australian submarine?
Knock on the window
Did you hear about the Australian shoplifter?
He was found crushed beneath the local supermarket.
An Australian was asked to donate to the church reroofing fund. So he gave some of the lead back
More to come!