"An instructor at an ...
"An instructor at an ice cream parlor is a sundae school teacher."
Private Grief
A man placed some flowers on the grave of his dearly departed mother and started back toward his car when his attention was diverted to another man kneeling at a grave. The man seemed to be praying with profound intensity and kept repeating, "Why did you have to die? Why did you have to die?"
The first man approached him and said, "Sir, I don't wish to interfere with your private grief, but this demonstration of pain is more than I've ever seen before. For whom do you mourn so deeply? A child? A parent?"
The mourner took a moment to collect himself, then replied, "My wife's first husband."
#joke
Hilarious jokes-Learning Spanish
An Englishman went to Spain on a fishing trip. He hired a Spanish guide to help him find the best fishing spots. Since the Englishman was learning Spanish, he asked the guide to speak to him in Spanish and to correct any mistakes of usage. They were hiking on a mountain trail when a very large, purple and blue fly crossed their path. The Englishmen pointed at the insect with his fishing rod, and said, "Mira el mosca!" The guide, sensing a teaching opportunity, replied, "No, senor, 'la mosca'… es feminina."

The Englishman looked at him, then back at the fly, and then said, "Good heavens… you must have incredibly good eyesight."
#joke
It was snowing heavily and blo...
It was snowing heavily and blowing to the point that visibility was almost zero when the little Antartian got off work. She made her way to her car and wondered how she was going to make it home. She sat in her car while it warmed up and thought about her situation.
She finally remembered her daddy's advice that if she got caught in a blizzard; she should wait for a snowplow to come by and follow it. That way she would not get stuck in a snowdrift. This made her feel much better and sure enough in a little while a snowplow went by and she started to follow it. As she follows the snow plow she was feeling very smug as they continued and she was not having any problem with the blizzard conditions.
After quite sometime had passed she was somewhat surprised when the snow plow stopped and the driver got out and came back to her car and signaled for her to roll down her window. The snowplow driver wanted to know if she was all right as she had been following him for a long time. She said that she was fine and told him of her daddy's advice to follow a snowplow when caught in a blizzard.
The driver replied that it was OK with him and she could continue if she wanted but he was done with the Wal-Mart parking lot and was going over to K-Mart next.
#joke
Wash the dog...
A young boy, about eight years old, was at the corner grocery picking out a large size box of laundry detergent. The grocer walked over and trying to be friendly, asked the boy if he had a lot of laundry to do.
"Nope, no laundry," the boy said, "I'm going to wash my dog." "But, you shouldn't use this to wash your dog. It's very powerful and if you wash your dog in this, he'll get sick. In fact, it might even kill him."
But, the boy was not to be stopped and carried the detergent to the counter and paid for it, even as the grocer still tried to talk him out of washing his dog.
About a week later, the boy was back in the store to buy some candy. The grocer asked the boy how his dog was doing.
"Oh, he died," the boy said.
The grocer, trying not to be an "I-told-you-so" said he was sorry the dog died, but added, "I tried to tell you not to use that detergent on your dog."
"Well, the boy replied, "I don't think it was the detergent that killed him."
"Oh? What was it then?"
"I think it was the spin cycle!"
#joke
Dream
I hope that I live long enough to shoot my age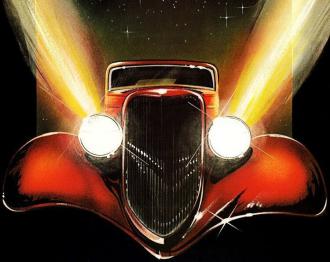 Guess the Band Name
Which musician band has an album with a cover as in the picture?
engineer goes to hel
An engineer dies and reports to the pearly gates. St. Peter checks his dossier and says, "Ah, you're an engineer--you're in the wrong place."
So the engineer reports to the gates of hell and is let in. Pretty soon, the engineer gets dissatisfied with the level of comfort in hell, and starts designing and building improvements. After a while, they've got air conditioning and flush toilets and escalators, and the engineer is a pretty popular guy. One day God calls Satan up on the telephone and says with a sneer, "So, how's it going down there in hell?"
Satan replies, "Hey, things are going great. We've got air conditioning and flush toilets and escalators, and there's no telling what this engineer is going to come up with next."
God replies, "What??? You've got an engineer? That's a mistake! He should never have gotten down there; send him up here."
Satan says, "No way. I like having an engineer on the staff, and I'm keeping him."
God says, "Send him back up here or I'll sue."
Satan laughs uproariously and answers, "Yeah, right. And just where are YOU going to get a lawyer?"
Wedding Dress
A little girl at a wedding asked, "Mommy, why do brides always wear white?"
"Because they're happy," the mom replied.
Halfway through the wedding, the girl whispered, "Mommy, if brides wear white because they're happy, then why do grooms wear black?"
Chuck Norris' pulse is measure...
Chuck Norris' pulse is measured on the richter scale.
Moses on His Walkie Talkie
Nine year old Joey was asked by his mother what he had learned at Sunday school.
"Well, Mom, our teacher told us how God sent Moses behind enemy lines on a rescue mission to lead the Israelites out of Egypt.
"When he got to the Red Sea, he had his engineers build a pontoon bridge and all the people walked across safely.
"Then he used his walkie-talkie to radio headquarters for reinforcements. They sent bombers to blow up the bridge and all the Israelites were saved."
"Now, Joey, is that really what your teacher taught you?" his mother asked.
"Well, no. But if I told it the way the teacher did, you'd never believe it!"
#joke
Whenever John wanted to have s...
Whenever John wanted to have sex he would say to Mary "Lets do some laundry, honey".

Well one day Mary felt horny so she said to John "Honey, how about doing some laundry?"

John replied "No thanks honey, I only had a small load so I did it by hand.
The Jewish Boy and the Muslim Boy
David, a Jewish boy, and Ali, a Muslim boy, are having a conversation.
Ali: I'm getting operated on tomorrow.
David: Oh? What are they going to do?
Ali: Circumcise me!
David: I had that done when I was just a few days old.
Ali: Did it hurt?
David: I couldn't walk for a year!
#joke
Wealthy Investors
A wealthy investor walked into a bank and said to the bank manager, "I would like to speak with Mr. Reginald Jones, who I understand is a tried and trusted employee of yours."
The banker said, "Yes he certainly was trusted. And he will be tried as soon as we catch him."
#joke