Really funny jokes-Perfect fit
I was a salesman at one of the big departmental stores in Bombay. One day, a lady walked in and asked me to help her select a sky blue shirt that she wanted to gift her husband. When I asked her about the size, she seemed to be at a loss for a while, then suddenly she was cheerful, and holding up her arms, she formed a circle with her thumbs and forefingers.

"I am not sure about the size, but his neck fits perfectly between by hands!"
#joke
Herd of cows...
A young man visiting a dude ranch wanted to be "macho," so he went out walking with one of the hired hands. As they were walking through the barnyard, the visitor tried starting a conversation: "Say, look at that big bunch of cows."
The hired hand replied, "Not 'bunch,' but 'herd.' "
"Heard what?"
"Herd of cows."
"Sure, I've heard of cows. There's a big bunch of 'em right over there."
#joke
Rattlesnake vs. Flaccid...
What do a rattlesnake and a soft penis have in common?
You can't f**k with either one.
"Have you ever tried ...
"Have you ever tried to eat a clock? It's very time consuming."
Smart Cat
A man absolutely hated his wife's cat and decided to get rid of him one day by driving him 20 blocks from his home and leaving him at the park.
As he was getting home, the cat was walking up the driveway.
The next day he decided to drive the cat 40 blocks away. He put the beast out and headed home.
Driving back up his driveway, there was the cat!
He kept taking the cat further and further and the cat would always beat him home. At last he decided to drive a few miles away, turn right, then left, past the bridge, then right again and another right until he reached what he thought was a safe distance from his home and left the cat there.
Hours later the man calls home to his wife: "Jen, is the cat there?"
"Yes", the wife answers, "why do you ask?"
Frustrated, the man answered, "Put that son of a bitch on the phone, I'm lost and need directions!"
#joke
Signs You Have a Han
1. You'd rather have a pencil driven through your retina than be exposed to sunlight.
2. Trying to gain control of the situation, you continue to tell your room to "stay still."
3. Looking at yourself in the mirror induces the same reaction as chugging a glass of fresh paint. 4. You're convinced that chirping birds are Satan's pets.
5. You set aside an entire morning to spend some quality time with your toilet.
6. You replaced the traditional praying on your knees with the more feasible praying in a fetal position.
7. The bathroom reminds you of a carnival barker shouting, "Step right up and give it whirl!" 8. All day long your motto is, "Never again."
9. You could purchase a new bike just by recycling the bottles around your bed.
10. Your natural response to "Good morning," is "Shut up!"
#joke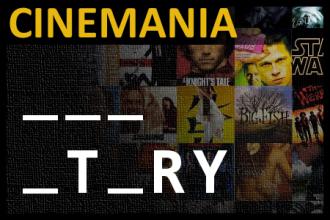 CINEMANIA: Guess the movie title
Film was made in 1995.
Chuck Norris is suing Myspace ...
Chuck Norris is suing Myspace for taking the name of what he calls everything around you.
A drunk was staggering down th...
A drunk was staggering down the main street of town. Somehow, he managed to make it up the stairs to the cathedral and into the building, where he crashed from pew to pew. He finally made his way to a side aisle and into a confessional. A priest had been observing the man's sorry progress. Figuring the fellow was in need of some assistance, he proceeded to enter his side of the confessional. His attention was rewarded only by a lengthy silence. Finally he asked, "May I help you, my son?" "I dunno." came the drunk's voice from behind the partition. "You got any toilet paper on your side?"
#joke
Soldier Stands Guard
A new soldier was on sentry duty at the main gate. His orders were clear. No car was to enter unless it had a special sticker on the windshield. A big Army car came up with a general seated in the back. The sentry said, "Halt, who goes there?"
The chauffeur, a corporal, says, "General Wheeler."
"I'm sorry, I can't let you through. You've got to have a sticker on the windshield."
The general said, "Drive on!"
The sentry said, "Hold it! You really can't come through. I have orders to shoot if you try driving in without a sticker."
The general repeated, "I'm telling you, son, drive on!"
The sentry walked up to the rear window and said, "General, I'm new at this. Do I shoot you or the the driver?"
#joke
A Recently Spotted Bumper Sticker:
Where am I going and why am I in this handbasket?
Pupil: Please Miss, would you...
Pupil: Please Miss, would you punish someone for something they didn't do?
Teacher: No, Of course not!!
Pupil: Oh good, Because i haven't done my homework!!!
A woman was out golfing one da...
A woman was out golfing one day when she hit her ball into the woods. She went into the woods to look for it and found a frog in a trap.
The frog said to her, "If you release me from this trap, I will grant you 3 wishes."
The woman freed the frog and the frog said, "Thank you, but I failed to mention that there was a condition to your wishes - that whatever you wish for, your husband will get 10 times more or better!"
The woman said, "That would be okay," and for her first wish, she wanted to be the most beautiful woman in the world.
The frog warrned her, "You do realize that this wish will also make your husband the most handsome man in the world, an Adonis, that women will flock to."
The woman replied, "That will be okay because I will be the most beautiful woman and he will only have eyes for me."
So, KAZAM - she's the most beautiful woman in the world!
For her second wish, she wanted to be the richest woman in the world.
The frog said, "That will make your husband the richest man in the world, and he will be ten times richer than you."
The woman said, "That will be okay because what is mine is his and what is his is mine."
So, KAZAM she's the richest woman in the world!
The frog inquired about her third wish, and she answered, "I'd like a mild heart attack."
#joke
Entrance Exam
A Christian, a Muslim and a Buddhist die and arrive at the Gate of Heaven. An angel (or deva) stops them and asks, "Why do you come here? Can you tell me the reasons why you are allowed to enter Heaven?"
The Christian replies, "My ancestors disobeyed God, and I sinned all my life: I killed, I lied, I cheated my wife and I was greedy. However, Jesus died for me and all my sins are forgiven. So I deserve to enter Heaven."
"OK," replies the Angel. "Sounds good, but I must give you an entrance examination before you can enter." The Christian promptly agrees and the Angel asks him: "How do you spell God?" It is an easy question, and the Christian passes through the Gate.
Next came the Muslim, who says, "I did not do any especially good or evil things during my life but I was very devout. I prayed to God five times a day. So, I too should enter Heaven." The Angel replies, "It sounds OK to me, but I have to give you a test also. How do you spell Allah?" The Muslim passes the test and enters Heaven.
Finally, it is the Buddhist's turn. He tells the Angel, "I've done all the good things in my life and I followed Buddha's five precepts: I never killed, I donated to charities, I meditated every day, and I never cheated my boss nor my customers." The Angel replies, "That is very good, but there are no exceptions. You must pass the entrance test also in order to get in." Thinking that the test should be simple, the Buddhist happily agrees.
The Angel then asks him: "How do you spell Avalokitesvara Bodhisattva?"
#joke
Really funny jokes-Museum of Natural History
Some tourists in the Chicago Museum of Natural History are marveling at the dinosaur bones. One of them asks the guard,"Can you tell me how old the dinosaur bones are?"
The guard replies, "They are three million, four years, and six months old."
"That's an awfully exact number," says the tourist. "How do you know their age so precisely?"
The guard answers, "Well, the dinosaur bones were three million years old when I started working here, and that was four and a half years ago!"
#joke
Church Etiquette
A Sunday school teacher asked her little children, as they were on the way to church service,
"And why is it necessary to be quiet in church?"
One bright little girl replied, "Because people are sleeping."