Some great things about getting older...
Finally you can eat dinner at 4:00
Your investment in health insurance is finally beginning to pay off.
Kidnappers are not very interested in you.
It's harder and harder for sexual harassment charges to stick.
If you've never smoked you can start now and it won't have time to hurt you.
People no longer view you as a hypochondriac.
Your secrets are safe with your friends because they can't remember them either.
Your supply of brain cells is finally down to a manageable size.
Your eyes won't get much worse.
Adult diapers are actually kind of convenient.
Things you buy now won't wear out.
No one expects you to run into a burning building.
You don't need the shingles with the 30 year guarantee.
There is no need to spend money for a psychic to see your future.
There's nothing left to learn the hard way.
Your joints are more accurate than the National Weather Service.
Protecting your eyes during a solar eclipse isn't as important as it used to be.
Buying cheap tires and not rotating them makes economic sense.
You don't have to learn the name of the new UPS man.
No one thinks you're cheap because you don't buy a half a cow to freeze.
You may never have to vacuum under the bed again.
Taking the shortest magazine subscription is economically defensible.
You don't have to bother planting perennials.
In a hostage situation you are likely to be released first
#joke
"Why are all business...
"Why are all businessmen fat? Must be all the inflation."
Funny video of the day - Best Fails of the Week 3 February 2014
Nude Running
A woman was having an affair while her husband was at work. One day she was in bed with her boyfriend when, to her horror, she heard her husband's car pull into the driveway.
"Oh My God - Hurry! Grab your clothes," she yelled to her lover. "And jump out the window. My husband's home early!"
"I can't jump out the window!" came the strangled reply from beneath the sheets. "It's raining out there!"
"If my husband catches us in here, he'll kill us both!" she replied.
"He's got a very quick temper and a very large gun! The rain is the least of your problems!"
So the boyfriend scoots out of bed, grabs his clothes and jumps out the window!
As he began running down the street in the pouring rain, he quickly discovered he had run right into the middle of the town's annual marathon.
He started running along beside the others about 300 of them.
Being naked, with his clothes tucked under his arm, he tried to "blend in" as best he could.
It wasn't that effective!
After a little while, a small group of runners, who had been studying him with some curiosity, jogged closer.
"Do you always run in the nude?" one asked.
"Oh yes" he replied, gasping in air. "It feels so wonderfully free having the air blow over all your skin while you're running."
Another runner moved alongside. "Do you always run carrying your clothes under your arm?"
"Oh, yes" our friend answered breathlessly. "That way I can get dressed right at the end of the run and get in my car to go home!"
Then a third runner cast his eyes a little lower and queried. "Do you always wear a condom when you run?"
"Only if it's raining."
#joke
School Collection 03
When a teacher closes his eyes, why should it remind him of an empty classroom?
Because there are no pupils to see!
Why did the teacher put the lights on?
Because the class was so dim!
A history joke
How did Vikings communicate?
By norse code!
A math joke
Teacher: How much is half of 8?
Pupil: Up and down or across?
Teacher: What do you mean?
Pupil: Well, up and down makes a 3 or across the middle leaves a 0!
A history joke
What is a forum?
Two-um plus two-um!
#joke
Write this one down
Knock, knock
Who's there?
You ever hear the joke about the broken pencil?
You ever hear the joke about the broken pencil who?
Nevermind, it's pointless.
Complicated name
One early morning, Rehan's wife died after a long illness. Rehan called for an ambulance from the funeral service. He said: "My wife is no more. She died this morning."

The operator said, "I am sorry to hear that. I will arrange to send an ambulance right away. And what is the name of the street, sir?"

Rehan replied, "It's Chincholi Bunder road."

The Operator asked: "Err….. will you spell it for me, sir? "

Rehan replied, "No I will just haul her down to your place."
#joke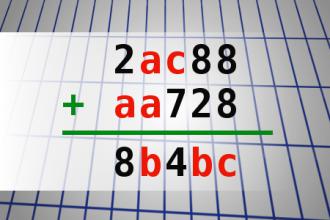 Find number abc
If 2ac88 + aa728 = 8b4bc find number abc. Multiple solutions may exist.
CEO -- Chief Embezzlement Offi...
CEO -- Chief Embezzlement Officer.
CFO -- Corporate Fraud Officer.
BULL MARKET -- A random market movement causing an investor to mistake himself for a financial genius.
VALUE INVESTING -- The art of buying low and selling lower.
P/E RATIO -- The percentage of investors wetting their pants as the
market keeps crashing.
BROKER -- What my broker has made me.
STANDARD & POOR -- Your life in a nutshell.
STOCK ANALYST -- Idiot who just downgraded your stock.
STOCK SPLIT -- When your ex-wife and her lawyer split your assets
equally between themselves.
FINANCIAL PLANNER -- A guy whose phone has been disconnected.
MARKET CORRECTION -- The day after you buy stocks.
CASH FLOW-- The movement your money makes as it disappears down the toilet.
YAHOO -- What you yell after selling it to some poor sucker for $240 per share.
WINDOWS -- What you jump out of when you're the sucker who bought
Yahoo @ $240 per share.
INSTITUTIONAL INVESTOR -- Past year investor who's now locked up in a nuthouse.
PROFIT -- An archaic word no longer in use.
When ghosts go camping, they s...
When ghosts go camping, they sit around the fire and tell Chuck Norris stories.
A Roll Of The Dice
Two bored casino dealers were waiting at the craps tables for players when a gorgeous blonde lady wearing a huge fur coat walked in and asked if she could bet twenty thousand dollars on a single roll of the dice.
The dealers said yes and were happy to oblige.
She then said, "I hope you don't mind, but I'll feel much luckier if I take off my coat." With that, she took off her coat and was wearing a skin-tight Wonder-woman outfit!
The men looked her up and down as she leaned over the table, rolled the dice, and yelled, "Come on baby, come on!"
She then jumped up and down, hugging each of the casino dealers while yelling "YES, I WIN! I CAN'T BELIEVE IT, I WIN!!" With that, she picked up her winnings and quickly left.
The dealers stood there staring at each other dumbfounded, until one finally asked the other, "What the heck did she roll anyway?"
The second dealer answered, "I don't know. I thought you were paying attention!"
A Yogi Walked into a Pizza Parlor…
What did the Yogi say when he walked into the Zen Pizza Parlor?
"Make me one with everything."
When the Yogi got the pizza, he gave the proprietor a $20 bill. The proprietor pocketed the bill. The Yogi said "Don't I get change?"
The proprietor said, "Change must come from within."

#joke
Bank Robber Stealing
The following is supposedly a true story. To be included, besides being true, the story is most likely strange, weird, surprising, or funny.
LOS ANGELES TIMES, December 9:
A man walked into a branch of the Antelope Valley Bank and handed a teller a note demanding money. The man had one hand in his pocket, as if holding a gun, so the teller began handing over the contents of her cash drawer.
When she had forked over $7,000 the robber said, "That's enough" and walked out the door. It's hard to find a bank robber who knows when he's had enough.
God and Eve in the Garden
One day in the Garden of Eden, Eve calls out to God...
"Lord, I have a problem!"
"What's the problem, Eve?"
"Lord, I know you've created me and have provided this
beautiful garden and all of these wonderful animals, and that
hilarious comedic snake, but I'm just not happy."
"Why is that, Eve?" came the reply from above.
"Lord, I am lonely. And I'm sick to death of apples."
"Well, Eve, in that case, I have a solution. I shall create
a man for you."
"What's a 'man,' Lord?"
"This man will be a flawed creature, with many bad traits.
He'll lie,>cheat, and be vainglorious; all in all, he'll give
you a hard time. But, he'll be bigger, faster, and will like
to hunt and kill things. He will look silly aroused, but
since you've been complaining, I'll create him in such in a
way that he will satisfy your ah, physical needs. He'll be
witless and will revel in childish things like fighting and
kicking a ball about. He won't be too smart, so he'll also
need your advise to think properly.
"Sounds great," says Eve, with an ironically raised eyebrow.
"What's the catch, Lord?"
"Yeah, well.... you can have him on one condition."
"What's that, Lord?"
"As I said, he'll be proud, arrogant, and self-admiring . .
. So you'll have to let him believe that I made him first . .
. So, just remember . . . it's our secret . . . Woman to
woman."
#joke
Pete Holmes: I Love New York
There are so many people in this city, so much happening, that its impossible to tell if your apartment is haunted. Think about that, thats true. Cause you can hear anything, at any hour -- theres always something to blame it on.