Have a great time for
Christmas
, check out our latest
Christmas jokes of 2022
on:
Christmas jokes collection
"I tried hard to get ...
"I tried hard to get into vexillology, but, in the end, had to flag it away."
Husband wanted
A lonely 70-year-old widow decided that it was time to marry again. She put an ad in the local newspaper that read: "Husband wanted! Must be in my age group, must not beat me, must not run around on me and must still be good in bed. All applicants please apply in person."
The following day, she heard the doorbell. Much to her dismay, she opened the door to see a gray-haired gentleman sitting in a wheelchair. He had no arms or legs.
"You're not really asking me to consider you, are you?" the widow asked: "Just look at you -- you have no legs!"
The old gent smiled: "Therefore, I cannot run around on you!"
"You don't have any arms either!" she snorted.
Again, the old man smiled: "Therefore, I can never beat you!"
She raised an eyebrow and asked intently: "Are you still good in bed?"
The old man leaned back, beamed a big smile and said: "I rang the doorbell, didn't I?"
#joke
Funny video of the day - You've Been Taking Off Your T-shirt Wrong
Angry boy
The angry boy tells the girl after a night of passionate love-making, "My name is Rob, and not Billy, or Andrew or Jack or Ron or Jeremy or any of the other names you've been screaming all night!"

The girl replies, "Hey, I wasn't screaming out anybody else's name during our intercourse. I was just thinking of baby names, if I were to get pregnant.
#joke
A man with a bag of Lays potat...
A man with a bag of Lays potato chips taunted Chuck Norris: "Betcha can't eat just one!" Chuck Norris ate the chips, the bag, and the man.
A sweet little boy surprised h...
A sweet little boy surprised his grandmother one morning and brought her a cup of coffee. He made it himself and was so proud. He anxiously waited to hear the verdict on the quality of the coffee. The grandmother had never in her life had such a bad cup of coffee, and as she forced down the last sip she noticed three of those little green army guys in the bottom of the cup.
She asked, "Honey, why would three little green army guys be in the bottom of my cup?"
Her grandson replied, "You know grandma, it's like on TV, 'The best part of waking up is soldiers in your cup.'"
#joke
Drinking again...
A guy decides to take off work early from work and go drinking. He stays in the bar until it closes at 2 a.m. By then, he is extremely drunk.
When he gets back to his house, he doesn't want to wake anyone up, so he takes off his shoes and starts tiptoeing up the stairs.
Halfway up the stairs, he loses his balance, falls over backwards, and lands flat on his rear end.
That wouldn't have been so bad, except that he had a couple of empty pint bottles in his back pockets and they broke, carving up his rear end terribly. But he was so drunk he didn't know he was hurt.
A few minutes later, as he was undressing, he saw some blood. He checked himself out in the mirror and, sure enough, his rear end is cut up something terrible. He repaired the damage as best he could under the circumstances and went to bed.
The next morning, his head was hurting and his rear was hurting, and he was lying under the covers trying to think up a good story, when his wife came into the bedroom.
"Well, you really tied one on last night," she said. "Where'd you go?"
"I worked late," he said, "and I stopped off for a couple of beers."
"A couple of beers? That's a laugh!" she replied. "You were plastered last night, and you know it! Where'd you go?"
"What makes you so sure I got drunk last night, anyway?"
"Well," she replied, "my first big clue was when I got up this morning and found a bunch of band-aids stuck to the mirror."
FLEX WORDLE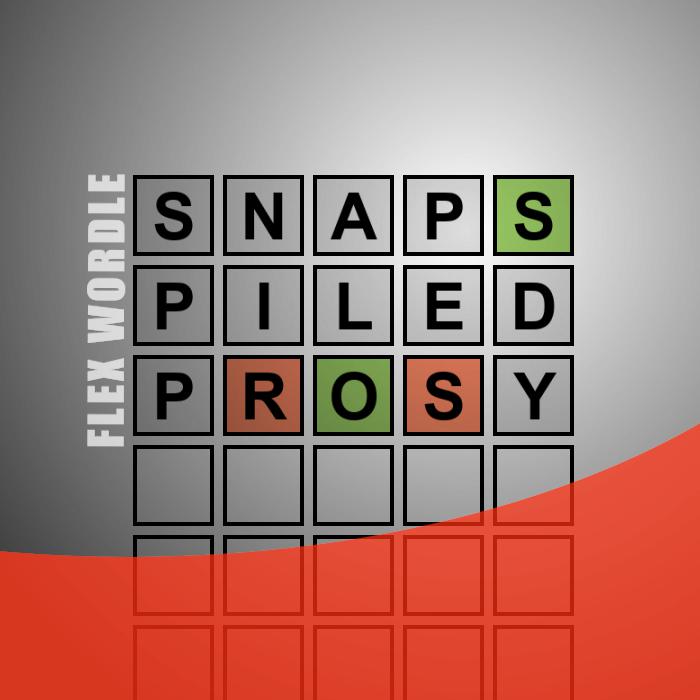 Guess the
WORDLE
in 3 tries. After each guess, the color of the tiles will change to show how close your guess was to the solution.
Obviously Nuts
A guy goes to the psychiatrist only wearing shorts made of Glad wrap.
The psychiatrist says, "Well, I can clearly see you're nuts."
100 pound pig
Mike Mooney A Yankee was driving through the south when he decided he wanted to buy a pig. He stopped at a pig farm and told the farmer he wanted to buy a 100 pound pig.
The farmer nodded, walked out into the sty, bent over and picked up a pig by its tail with his teeth. The farmer said, "This one will go a little over a 100".
Astonished the Yankee said, "Who are you trying to fool? You can't weigh a pig that way".
The farmer laughed and called to his young son, "Boy, come over here and weigh that pig for this man".
The boy obliged by bending over and picking up the pig by its tail with his teeth. Turning to his father the boy said, " This here pig weighs about 100 pounds".
The Yankee was having no part of this so in order to convince him the farmer told his son to go to the house and get his mother so she could weigh the pig. After a short delay the son returned and said, "Ma says she will be right down after she's finished weighing the mailman".
#joke
Dating Hints For Men
Dating hints for gentlemen
There are lots of ways to ruin a date. Here are a few things NOT to say on a date...
I really don't like this restaurant that much, but I wanted to use this 2-for-1 coupon before it expired.
I refuse to get cable. That's how they keep tabs on you.
I used to come here all the time with my ex.
Could you excuse me? My cat gets lonely if he doesn't hear my voice on the answering machine every hour.
I really feel that I've grown in the past few years. Used to be I wouldn't have given someone like you a second look.
It's been tough, but I've come to accept that most people I date just won't be as smart as I am.
#joke
A Puzzle for Darwin
On the sixth day, God created the platypus. And God said: Let's see the evolutionists try and figure this one out.
Helicopter Flying Lessons
A blonde went to a flight school insisting she wanted to
learn to fly.
As all the planes were currently in use, the owner agreed to
instruct her by radio on how to pilot the solo helicopter.
He took her out, showed her how to start it and gave her the
basics, and sent her on her way. After she climbed 1000
feet, she radioed in. "I'm doing great! I love it! The view
is so beautiful, and I'm starting to get the hang of this."
After 2000 feet, she radioed again, saying how easy it was
to fly. The instructor watched her climb over 3000 feet, and
was beginning to worry that she hadn't radioed in.
A few minutes later, he watched in horror as she crashed
about half a mile away. He ran over and pulled her from the
wreckage.
When he asked what happened, she said, "I don't know!
Everything was going fine, but as I got higher, I was
starting to get cold. I can barely remember anything after I
turned off the big fan!"
A husband and wife at a hotel ...
A husband and wife at a hotel asked for a 6am alarm call. On the stroke of 6, the phone rang and a voice said: "This is your wake-up call." The guest said thanks and put the phone down. A minute later the phone rang again and the voice said: "This is your wake-up call." Annoyed, the husband said: "You phoned only a minute ago." "I know," replied the receptionist, "but there are two of you."
#joke
John Pinette: Ice Skating
Ice skating is now on my list of things in life I never care if I do again. Its like an anti-bucket list -- it rhymes with bucket, I can tell you that much.
Probing questions....
Why is it that if someone tells you that there are 1 billion stars in the universe, you will believe it, but if someone tells you a wall has wet paint, you will have to touch it to be sure?
If Fed Ex and UPS were to merge, would they call it FedUPs?
Are Lipton Tea employees allowed to take coffee breaks?
What hair color do they put on the drivers licenses of bald men?
Why do they put pictures of criminals up in the Post Office? What are we supposed to do, write to them? Why don't they just put their pictures on the postage stamps so the mailmen could look for them while they delivered the mail?
How much deeper would oceans be if sponges didn't live there?
If it's true that we are here to help others, then what exactly are the others here for?
You never really learn to swear until you learn to drive.
No one ever says 'It's only a game,' when their team is winning.
Ever wonder what the speed of lightning would be if it didn't zigzag?
#joke