Five Pounds of Fat
Q: How do you make five pounds of fat look good to a man?
A: Put a nipple on it.
Knock-Knock
Who's there?<...
Knock-Knock
Who's there?
Dwayne.
Dwayne who?
Dwayne the tub I'm dwowning!
"The new drive-thru r...
"The new drive-thru restaurant for golfers insisted on putting greens in all their courses."
Broke bicycle
Little Pamela watched as her mother welcomed Aunt Dorris into the living room. Little Pamela asked her aunt if she would like to go to the backyard to see her bicycle.

Aunt Dorris agreed and they went to the backyard where a brand new bicycle was parked.

Aunt Dorris, "Wow, that's a beautiful bicycle! Can you ride it?"

"Of course I can ride it!" said Little Pamela, and then added sadly, "but it's broke."

Aunt Dorris looked again at the bicycle and it seemed absolutely ok to her.

So she asked her, "It looks fine to me. What's wrong with it?"

Little Pamela said, "Its strange. Whenever I ride it, it falls down!"
#joke
A Bible story....
A father was reading Bible stories to his young son.
He read, "The man named Lot was warned to take his wife and flee out of the city. But his wife looked back and was turned to salt."
His son asked, "What happened to the flea?"
Stay Over One Night
A hindu priest, rabbi and a lawyer were driving down the road, when the car breaks down. Fortunately finding a farmhouse nearby, the farmer informed them that he had only one spare room, and that it had only two twin beds.
They were welcome to it, but one of them had to sleep in the barn. After much discussion, the hindu volunteered to go to the barn. A few moments later, a knock on the bedroom door, and the hidu explained that there was a cow in the barn, and cows are sacred and he could not possibly sleep in the barn with a cow.
Annoyed, the rabbi volunteered. A few moments later, a knock on the door. The rabbi explained that there was a pig in the barn and that he, being very orthodox, could not possibly spend the evening in the barn with the origin of pork.
Finally the lawyer said that he would go to the barn. A few moments later there was a knock on the door. It was the cow and the pig!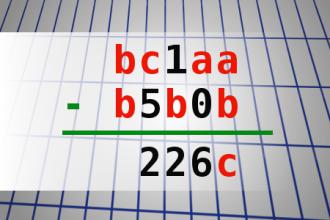 Find number abc
If bc1aa - b5b0b = 226c find number abc. Multiple solutions may exist.
Our Stupid Apartments On Fire!
Two blondes realize that their apartment is on fire and go out onto the balcony.
"Help, help!" yells one of the blondes.
"Help us, help us!" yells the other.
"Maybe it would help if we yelled together," said the first blonde.
"Good idea," said the other.
"Together, together!"
Whale
A little girl was talking to her teacher about whales. The teacher said it was physically impossible for a whale to swallow a human because even though it was a very large mammal its throat was very small.
The little girl stated that Jonah was swallowed by a whale.
Irritated, the teacher reiterated that a whale could not swallow a human; it was physically impossible.
The little girl said, "When I get to heaven I will ask Jonah."
The teacher asked, "What if Jonah went to hell?"

The little girl replied, "Then you ask him."
#joke
When Chuck Norris gives you th...
When Chuck Norris gives you the finger, he's telling you how many seconds you have left to live.
Feels great...
A fellow wakes up one morning, singing and whistling to himself, "I feel great, just great". Goes down to greet his wife, and tells her, "I feel great, honey!"
She replies,. "Well you look terrible"!
He shakes his head and starts out to work thinking, "She's probably in a bad mood, can't appreciate my good feelings". Meets his best friend, Joe and says, "Joe, I feel great".
Joe looks at him and says "Jeez, you really look terrible"! At this point the fellow is becoming worried and wonders, "Maybe I've got some unusual disease or something." He quickly calls his physician and heads on over for an emergency consult. He tells the physician, "Doc, I feel great, but everyone is telling me I look terrible."
The physician replies, "Well, you do look terrible. Let me look this up." The physician consults his handbook (Merck, of course) and leafing through the pages mutters to himself: "Feels great, looks great, no that's not you". "Feels terrible, looks terrible, no that's not you". "Feels great, looks terrible...Yes that's you... "It says here you're a vagina!"
#joke
An Englishman wanted to become...
An Englishman wanted to become an Irishman, so he visited a doctor to find out how to go about this. "Well" said the doctor, "this is a very delicate operation and there is a lot that can go wrong. I will have to remove half your brain". "That's OK" said the Englishman. "I've always wanted to be Irish and I'm prepared to take the risk".
The operation went ahead but the Englishman woke to find a look of horror on the face of the doctor. "I'm so terribly sorry!!" the doctor said. "Instead of removing half the brain, I've taken the whole brain out". The patient replied, "No worries, mate!!"
Chuck Norris can skip water on...
Chuck Norris can skip water on a rock.
Possible IBM Acronyms
IBM: It's Being Mended
IBM: Inmense Ball of Muck
IBM: I Believe in Memorex
IBM: It's Better than Macintosh!
IBM: Idiots Built Me
IBM: Intense Bowel Movement
IBM: Inferior But Marketable?
IBM: I've Been Mislead
IBM: It's Better Manually
IBM: Infinitly Better Macintosh
IBM: Indefinitly Boggled Machine
IBM: I Bought a Mac
IBM: I Blame Microsoft.
IBM: I Bought Macintosh
IBM: I'll Buy Macintosh
IBM: I've Been Moved
IBM: I've Been Mugged
IBM: Incontinent Bowel Movement
IBM: Identical Blue Men
IBM: Idiotic Bit Masher
IBM: Idiots Become Managers
IBM: Incompatible Business Machines
IBM: Incredibly Boring Machine
IBM: Infernal Bloody Monopoly
IBM: Institute of Black Magic
IBM: Internal Beaurocratic Mess
IBM: International Brotherhood of Magicians
IBM: Intolerant of Beards and Mustaches
IBM: It'll Be Messy
IBM: It's Backwards, Man
IBM: Itty Bitty Machines
IBM: Itty Bitty Morons
IBM: It Barely Moves
IBM: I Buy Mainframes
IBM compatible - IBM contemptible
#joke
A Collection Of Insults
A brief synopsis... When you're at a loss for words but want to tell someone that he or she is stupid, remember some these quips from our collection here at Aha! Jokes.
---
Missing a layer of insulation in his attic.
Monorail doesn't go all the way to Tomorrowland.
Mooring lines don't reach the dock.
More marbles in a spray-paint can than brains in his head.
Mouth is in gear, brain is in neutral.
Moves his lips to pretend he's reading.
Must have ignored a knock-down pitch.
Nearly on a higher plane, but lost his boarding pass.
Needs another brain to make half-wit.
Needs both hands to wipe his behind.
Needs front end alignment.
Needs his disk checked/reformatted.
Needs his sleeves lengthened by a couple of feet so they can be tied in the back.
Network constantly loses packets.
Neurons are firing non-sequentially.
#joke
Join us on WhatsApp