But officer...
A police officer in a small town stopped a motorist who was speeding down Main Street.
"But officer." the man began, "I can explain".
"Just be quiet," snapped the officer. "I'm going to let you cool your heels in jail until the chief gets back..."
"But officer, I just wanted to say...."
"And I said to keep quiet! You're going to jail!"
A few hours later the officer looked in on his prisoner and said, "Lucky for you that the chief is at his daughter's wedding. He'll be in a good mood when he gets back."
"Don't count on it," answered the fellow in the cell. "I'm the groom."
#joke
Ponderings Collection 07
Why is there an expiry date on my sour cream container?
Why do we park on driveways and drive on parkways?
Why do we send cargo by ship, and shipments by car?
Why call it a building if it's already been built?
Why do kamikazee pilots wear helmets?
How do you know when it's time to tune your bagpipes?
Is it true that cannibals don't eat clowns because they taste funny?
Does 'virgin wool' come from sheep the shepherd hasn't caught yet?
If the front of your car says 'DODGE', do you really need a horn?
What do sheep count when they can't get to sleep?
#joke
Australian Kiss
What's an Australian kiss?
It's a French kiss down under.
"The new drive-thru r...
"The new drive-thru restaurant for golfers insisted on putting greens in all their courses."
Broke bicycle
Little Pamela watched as her mother welcomed Aunt Dorris into the living room. Little Pamela asked her aunt if she would like to go to the backyard to see her bicycle.

Aunt Dorris agreed and they went to the backyard where a brand new bicycle was parked.

Aunt Dorris, "Wow, that's a beautiful bicycle! Can you ride it?"

"Of course I can ride it!" said Little Pamela, and then added sadly, "but it's broke."

Aunt Dorris looked again at the bicycle and it seemed absolutely ok to her.

So she asked her, "It looks fine to me. What's wrong with it?"

Little Pamela said, "Its strange. Whenever I ride it, it falls down!"
#joke
Medication
A distraught senior citizen phoned her doctor's office. "Is it true," she wanted to know, "that the medication you prescribed To me has to be taken for the rest of my life?"
"Yes, I'm afraid so," the doctor told her.


There was a moment of silence before the senior lady replied, "I'm wondering, then, just how serious is my condition because this prescription is marked 'NO REFILLS'."
FLEX WORDLE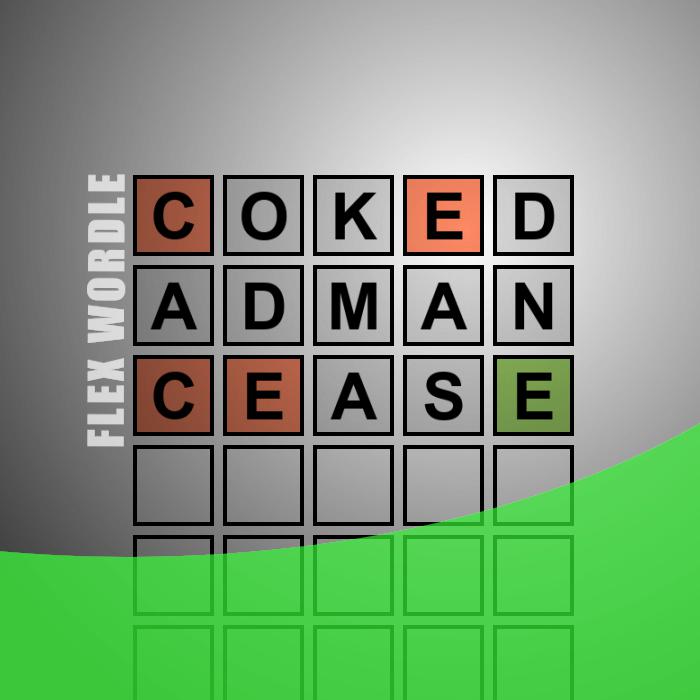 Guess the
WORDLE
in 3 tries. After each guess, the color of the tiles will change to show how close your guess was to the solution.
Grocery bag
What is the difference between Michael Jackson and a grocery bag?
One is made of plastic and is dangerous for children to play with.... the other is used to carry groceries.
Chuck Norris destroyed the per...
Chuck Norris destroyed the periodic table, because Chuck Norris only recognizes the element of surprise.
A Yogi Goes to the Dentist...
Did you hear about the Hindu yogi who was having a filling put in a tooth? When the dentist asked him if he wanted novocaine, the yogi said, "No. I can transcend dental medication."
Osama Bin Laden'
One day Osama Bin Laden is thinking: What should I blow up first? Then Osama Bin Laden said: "I have decided! bring the servent girl and tell her to get on her kneesand tell her to sacrifice her self!"
The ocean was once fresh water...
The ocean was once fresh water but Chuck Norris likes his shrimp salty.
An engineer dies and reports t...
An engineer dies and reports to the pearly gates. St. Peter checks his dossier and says, "Ah, you're an engineer -- you're in the wrong place."
So the engineer reports to the gates of hell and is let in. Pretty soon, the engineer gets dissatisfied with the level of comfort in hell, and starts designing and building improvements. After a while, they've got air conditioning and flush toilets and escalators, and the engineer is a pretty popular guy.
One day God calls Satan up on the telephone and says with a sneer, "So, how's it going down there in hell?"
Satan replies, "Hey, things are going great. We've got air conditioning and flush toilets and escalators, and there's no telling what this engineer is going to come up with next."
God replies, "What??? You've got an engineer? That's a mistake -- he should never have gotten down there, send him up here."
Satan says, "No way! I like having an engineer on the staff, and I'm keeping him."
God says, "Send him back up here, or I'll sue."
Satan laughs uproariously and answers, "Yeah, right. And just where are you going to get a lawyer?"
Forgetful...
The man looked a little worried when the doctor came in to administer his annual physical, so the first thing the doctor did was to ask whether anything was troubling him.
"Well, to tell the truth, Doc, yes," answered the patient. "You see, I seem to be getting forgetful. I'm never sure I can remember where I put the car, or whether I answered a letter, or where I'm going, or what it is I'm going to do once I get there -- if I get there. So, I really need your help. What can I do?"
The doctor mused for a moment, then answered in his kindest tone, "Pay me in advance."
Join us on WhatsApp