"My fear of planes ha...
"My fear of planes has taken off."
Trouble Sleeping
The woman seated herself in the psychiatrists office. "What seems to be the problem?" the doctor asked.
"Well, I, uh," she stammered. "I think I, uh, might be a nymphomaniac."
"I see," he said. "I can help you, but I must advise you that my fee is $80 an hour."
"That's not bad," she replied. "How much for all night?"
Funny video of the day - Best Fails of the Week 1 May 2014
Priest Donald
Priest Donald was feeling upbeat after conducting a charged up revival meeting, and decided to take a walk.
He saw a woman of the night leaning against the lamp-post. Priest Donald said in a powerful voice, "Woman, I prayed for you last night."
"Well, you could have had me if you had come here," she said seductively. "I was standing right here all night long."
#joke
Amish carriage....
While driving in Pennsylvania, a family caught up to an Amish carriage.
The owner of the carriage obviously had a sense of humor because attached to the back of the carriage was a hand-painted sign that read, "Energy efficient vehicle. Runs on oats and grass. CAUTION: Do not step on exhaust."
#joke
The New Viagra
The makers of Viagra are announcing that they have developed
a pill to increase vaginal wetness in females. The new pill
will be called Niagra.
Five Men and Light Bulbs
Q: How many men does it take to screw in a light bulb?
A: Five: one to actually do the screwing and four others to brag that they did.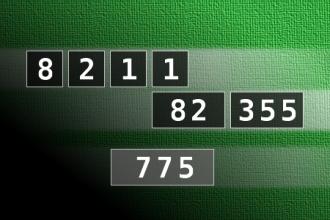 Calculate the number 775
NUMBERMANIA: Calculate the number 775 using numbers [8, 2, 1, 1, 82, 355] and basic arithmetic operations (+, -, *, /). Each of the numbers can be used only once.
When Arnold says "I'll be back...
When Arnold says "I'll be back" in the Terminator movie it is implied that he's going to ask Chuck Norris for help.
Men who are bald at front of t...
Men who are bald at front of their heads are good thinkers. Men who are bald at the back of their heads are good lovers. Men who are bald at front and back think they are good lovers.
Answering Machine Message 214

I'm only here in spirit at the moment, but if you'll leave your name and number, I will get back to you as soon as I'm here in person.


Computer Movers
Dick and Dirk are employed in a computer hardware store as movers.
One day both of them are asked to move some computers. Dick being energetic that day doesn't feel the computer to be heavy at all. At the same time he sees that Dirk is struggling very hard to lift his computer.
At this Dick says, "What Dirk, my comp has 500 MB HardDisk and yours has just 250, even then you cannot lift it ???"
At this Dirk thinks for a while and replies, "Thats right, but my HardDisk is full and yours is empty"
#joke
I Own The Fastest Car
A man goes out and buys the best car available in the US or Europe, a 2001 Turbo BeepBeep. It is the best and most expensive car in the world, and it runs him $500,000. He takes it out for a spin and, while doing so, stops for a red light. An old man on a moped, both looking about 90 years old, pulls up next to him.
The old man looks over the sleek, shiny surface of the car and asks "What kind of car ya got there, sonny?".
The dude replies "A 2001 Turbo BeepBeep. They cost $500,000."
"That's a lotta money!" says the old man, shocked. "Why does it cost so much?"
"Cause this car can do up to 320 miles an hour!" states the cool dude proudly.
The old man asks "Can I take a look inside?"
"Sure" replies the owner.
So the old man pokes his head in the window and looks around. Leaning back on his moped, the old man says "That's a pretty nice car, alright!"
Just then the light changes, so the guy decides to show the old man what his car can do. He floors it, and within 30 seconds the speedometer reads 320. Suddenly, the guy notices a dot in his rear view mirror. It seems to be getting closer!
Whhhoooooooooossssshhhhhh! Something whips by him! Going maybe three times as fast!
The guy wonders "what on earth could be going faster than my Turbo BeepBeeP?" Then, ahead of him, he sees a dot coming toward him.
Whooooooooooosh! Goes by again! And, it almost looked like the old man on the moped! Couldn't be thinks the guy. How could a moped outrun a Turbo BeepBeep? Again, he sees a dot in his rearview mirror!
WhoooooooshhhhhhhhKa-BbbbblaMMMMM! It plows into the back of his car, demolishing the rear end.
The guy jumps out and discovers it is the old man! Of course, the moped and the old man are hurting for certain. The guy runs up to the dying old man and asks "You're hurt bad! Is there anything I can do for you?"
The old man replies "Yeah. Unhook my suspenders from the side-view mirror on your car!"
#joke
Adam Strays
When Adam stayed out very late for a few nights, Eve became upset. "You're running around with other women," she told her mate.
"Eve, honey, you're being unreasonable," Adam responded. "You know you're the only woman on earth."
The quarrel continued until Adam fell asleep, only to be awakened by a strange pain in the chest. It was his darling Eve poking him rather vigorously about the torso.
"What do you think you're doing?" Adam demanded.
"Counting your ribs," said Eve.
#joke
Chuck Norris' pulse is measure...
Chuck Norris' pulse is measured on the richter scale.
Four women were chatting in th...
Four women were chatting in the locker room of their health club, when one of them mentioned the fact that while there were numerous terms for male masturbation, i.e. jerking off, spanking the monkey, slappin' the salami and so on, there weren't any common terms for female masturbation.
"I've always called it 'jilling off'," said one of the women.
"But that's just a feminization of 'jacking off,'" said the first.
"You're right," said another. "We don't seem to have any slang terms of our own for it."
The fourth woman snorted. "After fourteen years of marriage, there's only one thing I call it."
"What's that?"
"Finishing the job."
#joke