"An embrace at a nudi...
"An embrace at a n*dist colony is a bare hug."
Funny video of the day - #Top5 Insane POV
Are you kidding?
Reaching the end of a job interview, the Human Resources Person asked a young Engineer fresh out of MIT, "And what starting salary were you looking for?"
The Engineer said, "In the neighborhood of $125,000 a year, depending on the benefits package."
The interviewer said, "Well, what would you say to a package of 5 weeks vacation, 14 paid holidays, full medical and dental, a company matching retirement fund for 50% of your salary, and a company car leased every 2 years -- say, a red Corvette?"
The Engineer sat up straight and said, "Wow! Are you kidding?"
And the interviewer replied, "Yeah, but you started it."
#joke
Can I Smell Somethin
A guy goes into a bar and seats himself next to a hot looking woman. After a few drinks he musters the courage to talk to her. After a few more drinks and a little conversation he leans over to the woman and asks, "Can I smell your Pussy?"
The woman is outraged and answers with a stern, "Of course not!"
The drunk man replies......."
Oh, then it must be your feet."
#joke
What do you call a mushroom...
What do you call a mushroom that goes into a bar and buys drinks for everyone all night long?
Fungi to be around!
As the plane was flying low ov...
As the plane was flying low over some hills near Athens, a lady asked the stewardess: "What's that stuff on those hills?"


"Just snow," replied the stewardess.


"That's what I thought," said the lady, "but this fellow in front of me said it was Greece."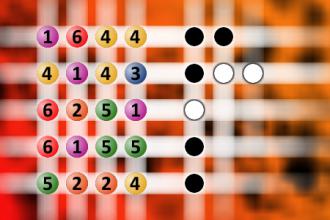 Find the right combination
The computer chose a secret code (sequence of 4 digits from 1 to 6). Your goal is to find that code. Black circles indicate the number of hits on the right spot. White circles indicate the number of hits on the wrong spot.
Rollin Down
The better part of you must have rolled down your daddy's leg.
Magic Window
Two guys are sitting at a bar.
"You know why I love this bar?" asks the first one.
"No," says the second guy. "Why do you love this bar?"
The first guy points at the window, which is six stories above the ground. "It has a magic window," he says. "You jump out of that window, and you can fly."
The second guy just shakes his head. "Shut up."
"No," says the first guy. "It really is a magic window. I'll prove it to you."
So the first guy gets down from his bar stool, runs at the window, jumps out of it, and flies. He flies around the building twice, up and down, and finally comes back in. He walks to his barstool, and takes a sip of his drink. "See?" he says.
The first guy looks confused. He looks at his drink. "I must be drunk," he says.
"Still don't believe me?" asks the second guy. "I'll show you again." He gets down from his stool, runs and jumps out of the window again. This time he performs some impressive aerial acrobatics, spins, flips, dives. When he finally comes back in, the second guy is staring at him, slack-jawed.
"Wow," says the second guy. "A magic window." He gets off his barstool, takes a running jump out of the window, and promptly plummets to his death. The first guy starts laughing.
The bartender comes over to the first guy with a stern look on his face. "Superman, you're a real asshole when you're drunk."
#joke
Most people put their pants on...
Most people put their pants on one leg at a time, Chuck Norris does both legs at once.
Where is God?
A couple had two little boys who were always getting into trouble. Their parents knew that if any mischief occurred in their village, their sons were probably involved.
The boys' mother heard that an elder in town had been successful in disciplining children, so she asked if he would speak with her sons. The elder agreed, but asked to see them separately.
So, the mother sent her youngest son first, in the morning. The elder, a huge man with a booming voice, sat the boy down and asked him sternly, "Where is God?" The boy's mouth dropped open, but he made no response.So the elder repeated the question in an even sterner tone, "Where is God!!?" Again the wide-eyed boy made no attempt to answer.
The elder raised his voice and bellowed, "WHERE IS GOD!?" The boy screamed and bolted from the room, ran directly home and dove into a closet, slamming the door behind him.
When his older brother found him hiding, he asked, "What happened?"
The younger brother, gasping for breath, replied, "We are in BIG trouble this time. God is missing, and they think WE did it!"
#joke
Biblical Theme Songs
Noah: "Raindrops Keep Falling on My Head"
Adam and Eve: "Strangers in Paradise"
Lazarus: "The Second Time Around"
Esther: "I Feel Pretty"
Job: "I've Got a Right to Sing the Blues"
Moses: "The Wanderer"
Jezebel: "The Lady is a Tramp"
Samson: "Hair"Salome: "I Could Have Danced All Night"
Daniel: "The Lion Sleeps Tonight"
Esau: "Born To Be Wild"
Shadrach, Meshach, and Abednego: "Great Balls of Fire!"
The Three Kings: "When You Wish Upon a Star"
Jonah: "Got a Whale of a Tale"
Elijah: "Up, Up, and Away"
Methuselah: "Stayin' Alive"
Nebuchadnezzar: "Crazy"
#joke
Chuck Norris hears sign langua...
Chuck Norris hears sign language.
Daniel Tosh: God Does Not Hate Gay People
God does not hate gay people. Hes just mad because they found a loophole in His system.
A lawyer died and arrived at t...
A lawyer died and arrived at the pearly gates. To his dismay, there were thousands of people ahead of him in line to see St. Peter. To his surprise, St. Peter left his desk at the gate and came down the long line to where the lawyer was, and greeted him warmly.
Then St. Peter and one of his assistants took the lawyer by the hands and guided him up to the front of the line, and into a comfortable chair by his desk.
The lawyer said, "I don't mind all this attention, but what makes me so special?"
St. Peter replied, "Well, I've added up all the hours for which you billed your clients, and by my calculation you must be about 193 years old!"
Chuck Norris doesn't call the ...
Chuck Norris doesn't call the wrong number. You answer the wrong phone.
Join us on WhatsApp