Two old timers were talking af...
Two old timers were talking after church one day and the one asks the other, "So tell me brother, what did you think of the soul food this morning?" The other replies, "The food was excellent but the service sucked!"
"What do hedgehogs ea...
"What do hedgehogs eat for breakfast? Prickled eggs."
Funny video of the day - Best Fails
Mud bath
An elderly man goes into his doctor's office for an annual physical. After a while, the doctor comes out and says: "I'm sorry, Bill, but we have discovered you have a condition that only allows you another six weeks to live."
"But Doctor," Bill replies, "I feel great. I haven't felt better in years. This just can't be true. Isn't there anything I can do?"
After a moment, the doctor says: "Well, you might start going down the street to that new health spa to take a mud bath every day."
"And that will cure me?" Bill asks excitedly.
"No," replies the doctor: "but it will get you used to the dirt."
Fun Things To Do In An Elevato...
Fun Things To Do In An Elevator:
1. Crack open your briefcase or purse, and while peering inside ask: "Got enough air in there?"
2. Grimace painfully while smacking your forehead and muttering: "Shut up, all of you just shut UP!"
3. Whistle the first seven notes of "It's a Small World" incessantly.
4. Sell Girl Scout cookies.
5. On a long ride, sway side to side at the natural frequency of the elevator.
6. Greet everyone getting on the elevator with a warm handshake and ask them to call you Admiral
7. When at least 8 people have boarded, moan from the back: "Oh, not now, motion sickness!"
8. Meow occasionally.
9. Wear a puppet on your hand and talk to other passengers "through" it.
10. Draw a little square on the floor with chalk and announce to the other passengers that this is your "personal space."
#joke
Wrong way....
As a older man was driving down the freeway, his car phone rang. Answering, he heard his wife's voice urgently warning him, "Herman, I just heard on the news that there's a car going the wrong way on route 290. Please be careful!"
"Hell," said Herman, "It's not just one car. It's hundreds of them !!!"
#joke
Answering Machine Message 136

I'm unable to take your call in person because I'm having an out-of-the-body experience. In fact I'm standing right behind you and I can hear everything you say. But leave me a message anyway to help me reconnect when I get back.


FLEX WORDLE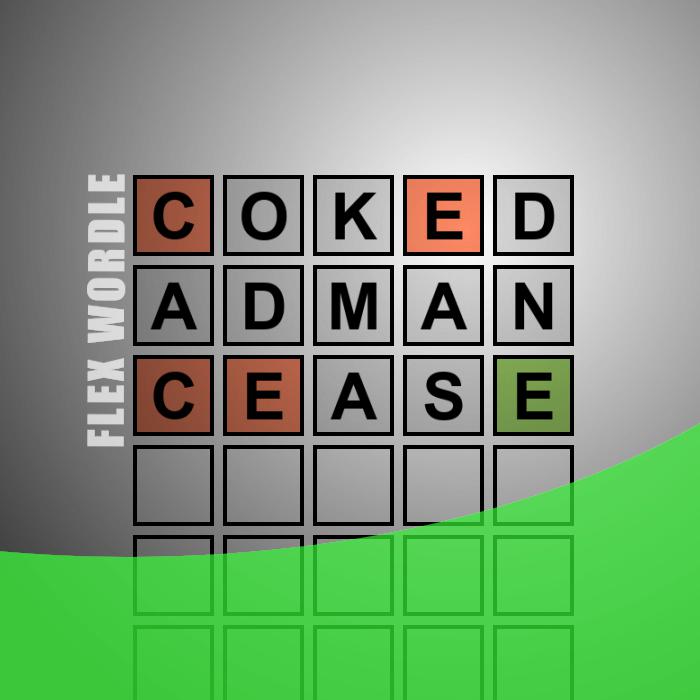 Guess the
WORDLE
in 3 tries. After each guess, the color of the tiles will change to show how close your guess was to the solution.
If she went out with me
A man had been out in the back woods for weeks, cutting logs. He was a bit scruffy and didn't smell very good. Finally he needed a break and came in to town for a few beers.
In the bar, he saw the local jock of the town's football team. He was bragging about his girlfriend and how she was lucky to have him for a boyfriend.
The lumberjack, after drinking six bottles of beer, was heard to say, "Buddy, if she went out with me, she'd never go out with you ever again."
To which the local jock replied, "Hey buddy, if she went out with you, she'd never go out with ANYONE ever again."
N*dist Colony
How can you tell there's a blind man in a n*dist colony?
It isn't hard!
As the plane was flying low ov...
As the plane was flying low over some hills near Athens, a lady asked the stewardess: "What's that stuff on those hills?"


"Just snow," replied the stewardess.


"That's what I thought," said the lady, "but this fellow in front of me said it was Greece."


If Chuck Norris gave a mouse a...
If Chuck Norris gave a mouse a cookie, it would probably ask for some milk. Then Chuck Norris would roundhouse kick that ungrateful little rodent so hard, it would lose it's appetite for cookies. Permanently.
Todd Barry: Summer School
I never understood the concept of summer school. The teachers going to go up there and go, OK, class, you know that subject you couldnt grasp in nine months? Were going to whip it out in six weeks.
Chuck Norris brushes his teeth...
Chuck Norris brushes his teeth with a mixture of iron shavings, industrial paint remover, and wood-grain alcohol.
Two babies lies in the birth section
Baby 1: I'm a boy.
Baby 2: prove it.
Baby 1: Not in front of the nurse.
Baby 2: Okay The nurse leaves
Baby 2: Prove it.
Baby 1: Look, blue socks...
Two very elderly men were havi...
Two very elderly men were having a conversation about sex.
Elmer says, "Yessir, I did it three times last night with a 30 year old!"
Leon replies, "You're kidding! I can't even manage to do it once! What's your secret?"
To which Elmer said, "Well, the secret is to eat lots of whole-wheat bread. I'm not kidding!"
So the second old man rushed to the store.
The clerk asks the old man, "May I help you?'
"Yes, I'd like four loaves of whole-wheat bread, please," said Leon.
"That's a lot of bread! It's sure to get hard before you're done!" the clerk remarked.
Leon replies, "Damn! Does everyone know about this except me?"
#joke
Church Bulletin Bloopers: Peace and Pancakes
Our youth basketball team is back in action Wednesday at 8 PM in the recreation hall. Come out and watch us kill Christ the King.
Ladies, don't forget the rummage sale. It's a chance to get rid of those things not worth keeping around the house. Don't forget your husbands.
The peacemaking meeting scheduled for today has been cancelled due to a conflict.
The Lutheran men's group will meet at 6 pm. Steak, mashed potatoes, green beans, bread, and dessert will be served for a nominal feel.
Ladies Bible Study will be held Thursday morning at 10. All ladies are invited to lunch in the Fellowship Hall after the B.S. is done.
This afternoon, there will be a meeting in the south and north ends of the church. Children will be baptized at both ends.
Tuesday at 4:00 pm there will be an ice cream social. All ladies giving milk will please come early.
Bertha Belch, a missionary from Africa, will be speaking tonight at Calvary Methodist. Come hear Bertha Belch all the way from Africa.
The pastor would appreciate it if the ladies of the congregation would lend him their electric girdles for the pancake breakfast next Sunday.
Due to weather conditions, there will not be any "Women Worth Watching" this week.
The church is glad to have with us today as our guest minister the Rev. Shirley Green, who has Mrs. Green with him. After the service, we request that all remain in the sanctuary for the Hanging of the Greens.
Don't miss this Saturday's exhibit by Christian Martian Arts.
- Joke shared on Beliefnet's Religious Humor page
#joke
Join us on WhatsApp