There is a fellow who is talki...
There is a fellow who is talking to his buddy and says, "I don't know what to get my wife for her birthday. She has everything, and besides, she can afford to buy anything she wants. I'm stumped." His buddy says, "I have an idea. Why don't you make up a certificate that says she can have two hours of great sex, any way she wants it. She'll probably be thrilled!" The first fellow does just that. The next day, his buddy asks, "Well, did you take my suggestion? How did it turn out?" "She loved it. She jumped up, thanked me, kissed me on the mouth, and ran out the door yelling, 'I'll see you in two hours!'"
#joke
Duct Tape & Onwards
An old man is sitting on his porch when he sees a young boy walking down the street dragging something behind him. He calls out to the boy, "Hey son, what you got there?" to which the boy replies, "It's duct tape, I'm gonna go catch me some ducks." The old man laughs and he calls out, "You fool, you can't catch ducks with duct tape!" The little boy laughs and continues on his way, returning a few short hours later, and behind him, he is dragging 8 ducks, all wrapped up in the duct tape. The old man can't believe his eyes.
The next day, the old man is sitting on his porch again and along comes the little boy dragging something behind him. When the old man asks what he's got this time, the boy replies, "It's a spool of chicken wire, I'm going to catch some chickens in it." Well the old man begins to laugh quite hard, telling the boy, "You fool, you can't catch chickens with chicken wire." The boy laughs himself, and says back, "That's what you said about the duct tape," and he continues on his way, with the old man laughing like crazy. A few hours later the old man is surprised to see the boy coming back, and even more shocked to see that behind him he is dragging 10 chickens, all tangled up in the chicken wire, he can't believe his eyes again.
The next day, the old man is sitting there wondering what the little boy will be up to next, and sure enough he sees him coming down the street with something in his hand. He calls out to the boy, "Hey son, what you go there today?
" The boy responds, "It's a pussy willow." The man then replies, "Hang on son, I'll get my hat!"
#joke
"A German vegetarian ...
"A German vegetarian drives a Volks Vegan."
Q: What do you call a woman wh...
Q: What do you call a woman who knows where her husband is 24 hours a day/seven days a week?
A: A widow.
Was it a ghost?
There was this party in the woods and, all of a sudden there was a downpour of rain and thunder. These two young men ran for about 10 minutes in the pouring rain, and finally reached their car just as the rain let up. They jumped in the car, started it up and headed down the road, laughing and, of course, still drinking one beer after the other.
All of a sudden an old man's face appeared outside the passenger window, and he tapped lightly on the window! The man on the passenger side screamed out, "Eeeeeeekkk! Look at my window!!! There's an old guy's face there!" (Was this a ghost?!?!?!)
This old man kept knocking, so the driver said, "Well, open the window a little and ask him what he wants!"
So the passenger rolled his window down part way and said, scared out of his wits, "What do you want???"
The old man softly replied, "Do you have any tobacco?"
The passenger, terrified, looked at the driver and said, "He wants tobacco!"
"Well, offer him a cigarette! HURRY!!" the driver replies.
So he fumbles around with the pack and hands the old man a cigarette and yells, "Step on it!!!" rolling up the window in terror.
Now going about 80 miles an hour, they calm down, and they start laughing again, and the passenger says, "What do you think about that?"
The driver says, "I don't know. How could that be? I was going pretty fast."
Then all of a sudden AGAIN there is a knock, and there is the old man again.
"Aaaaaaaaaaaaah, there he is again!" the passenger yells.
"Well, see what he wants now!" yells back the driver.
He rolls down the window a little ways and shakily says, "Yes?"
"Do you have a light?" the old man quietly asks.
The passenger throws a lighter out the window at him and rolls up the window and yells, "STEP ON IT!"
They are now going about 100 miles an hour and still guzzling beer, trying to forget what they had just seen and heard, when all of a sudden again there is more knocking!
"OH MY GOD! HE'S BACK!"
He rolls down the window and screams out, "WHAT DO YOU WANT?" in stark fear.
The old man replies, "You want some help getting out of the mud?"
Go Give Us A Donation
Traffic was backed up for miles, the police were going car to car. When they got to my car I asked the officer what was going on.
He said "It's Al Gore. He's up there threatening to set himself on fire! We are going car to car collecting donations."
"Donations!" I said, "How much you got so far?"
He said "about ten gallons."
#joke
FLEX WORDLE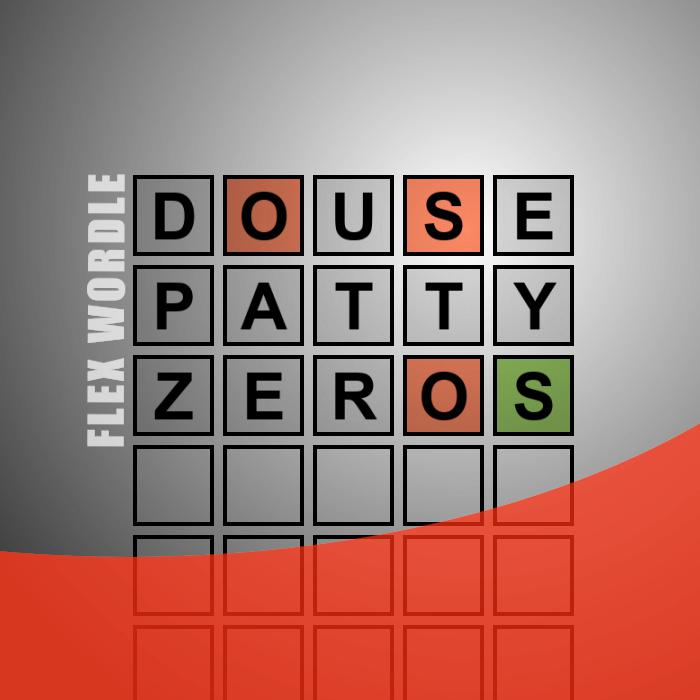 Guess the
WORDLE
in 3 tries. After each guess, the color of the tiles will change to show how close your guess was to the solution.
Bra & Hat
What did the bra say to the hat?
"You go on ahead, while I give these two a lift."
Chuck Norris, who had grown ti...
Chuck Norris, who had grown tired of easy victories in fights, once fought himself to the death and won.
Patton Oswalt: Romantic Comedies
Every romantic comedy should just be called, Trying to F**k.
Anger versus Exasperation
A young girl who was writing a paper for school came to her father and asked, "Dad, what is the difference between anger and exasperation?"
The father replied, "It is mostly a matter of degree. Let me show you what I mean."
With that the father went to the telephone and dialed a number at random. To the man who answered the phone, he said, "Hello, is Melvin there?"
The man answered, "There is no one living here named Melvin. Why don't you learn to look up numbers before you dial".
"See," said the father to his daughter. "That man was not a bit happy with our call. He was probably very busy with something and we annoyed him. Now watch…."
The father dialed the number again. "Hello, is Melvin there?" asked the father.
"Now look here!" came the heated reply. "You just called this number and I told you that there is no Melvin here! You've got lot of guts calling again!" The receiver slammed down hard.
The father turned to his daughter and said, "You see, that was anger. Now I'll show you what exasperation means."
He dialed the same number, and when a violent voice roared, "Hello!"
The father calmly said, "Hello, this is Melvin. Have there been any calls for me?"
#joke
A man got really drunk one nig...
A man got really drunk one night in his local pub. The barman refused to serve him any more alcohol and told him he should be heading home. The man thought this was a good idea so he stood up to leave but fell over straight away. He tried to stand up again but only fell over again. He thought if only he could get outside and get some fresh air he'd be grand. So he crawled outside then tried to stand up and fell over again. In the end after falling over lots more he decided to crawl home. When he got back to his house he pulled himself up using the door handle but as soon as he let go he fell over again. He had to crawl up the stairs and managed to fall over onto the bed and fell asleep. When he finally woke up the next morning his wife asked him what he was doing at the pub last night. He denied it but she said, "I know you were there..." he maintained his innocence until "...the barman rang to say you forgot your wheelchair again...."
#joke
Hiring An Accountant
Kowalski, fresh out of accounting school, went to a interview for a good paying job. The company boss asked various questions about him and his education, but then asked him, "What is three times seven?"
"Twenty-two," Kowalski replied.
After he left, he double-checked it on his calculator (he knew he should have taken it to the interview!) and realized he wouldn't get the job.
About two weeks later, he got a letter that said he was hired for the job! He was not one to look a gift horse in the mouth, but was still very curious.
The next day, Kowalski went in and asked why he got the job, even though he got such a simple question wrong. The boss shrugged and said, "Well, you were the closest."
#joke
Join us on WhatsApp