"I refuse to work wit...
"I refuse to work with compost, it's degrading."
Obviously inebriated?
A Highway Patrolman waited outside a popular bar, hoping for a bust.
At closing time everyone come out and he spotted his potential quarry. The man was so obviously inebriated that he could barely walk. He stumbled around the parking lot for a few minutes, looking for his car.
After trying his keys on five other cars, he finally found his own vehicle. He sat in the car a good ten minutes, as the other patrons left. He turned his lights on, then off, wipers on, then off. He started to pull forward into the grass, then stopped.
Finally, when he was the last car, he pulled out onto the road and started to drive away.
The patrolman, waiting for this, turned on his lights and pulled the man over. He administered the breathalyzer test, and to his great surprise, the man blew a 0.00.
The patrolman was dumbfounded. "This equipment must be broken!" he exclaimed.
"I doubt it," said the man, "Tonight I am the designated decoy!"
#joke
Architect Programmer
If architects had to work like programmers . . .
Dear Mr. Architect,
Please design and build me a house. I am not quite sure of what I need, so you should use your discretion.
My house should have between two and forty-five bedrooms. Just make sure the plans are such that the bedrooms can be easily added or deleted. When you bring the blueprints to me, I will make the final decision of what I want. Also, bring me the cost breakdown for each configuration so that I can arbitrarily pick one.
Keep in mind that the house I ultimately choose must cost less than the one I am currently living in. Make sure, however, that you correct all the deficiencies that exist in my current house (the floor of my kitchen vibrates when I walk across it, and the walls don't have nearly enough insulation in them).
As you design, also keep in mind that I want to keep yearly maintenance costs as low as possible. This should mean the incorporation of extra-cost features like aluminum, vinyl, or composite siding. (If you choose not to specify aluminum, be prepared to explain your decision in detail.)
Please take care that modern design practices and the latest materials are used in construction of the house, as I want it to be a showplace for the most up-to-date ideas and methods. Be alerted, however, that kitchen should be designed to accommodate, among other things, my 1952 Gibson refrigerator.
To insure that you are building the correct house for our entire family, make that you contact each of our children, and also our in-laws. My mother-in-law will have very strong feelings about how the house should be designed, since she visits us at least once a year. Make sure that you weigh all of thses options carefully and come to the right decision. I, however, retain the right to overrule any choices that you make.
Please don't bother me with small details right now. Your job is to develop the overall plans for the house: get the big picture. At this time, for example, it is not appropriate to be choosing the color of the carpet. However, keep in mind that my wife likes blue.
Also, do not worry at this time about acquiring the resources to build the house itself. Your first priority is to develop detailed plans and specifications. Once I approve these plans, however, I would expect the house to be under roof within 48 hours.
While you are designing this house specifically for me, keep in mind that sooner or later I will have to sell it to someone else. It therefore should have appeal to a wide variety of potential buyers. Please make sure before you finalize the plans that there is a consensus of the population in my area that they like the features this house has.
I advise you to run up and look at my neighbor's house he constructed last year. We like it a great deal. It has many features that we would also like in our new home, particularily the 75-foot swimming pool. With careful engineering, I believe that you can design this into our new house without impacting the final cost.
Please prepare a complete set of blueprints. It is not necessary at this time to do the real design, since they will be used only for construction bids. Be advised, however, that you will be held accountable for any increase of construction costs as a result of later design changes.
You must be thrilled to be working on as an interesting project as this! To be able to use the latest techniques and materials and to be given such freedom in your designs is something that can't happen very often. Contact me as soon as possible with your complete ideas and plans.
PS: My wife has just told me that she disagrees with many of the instructions I've given you in this letter. As architect, it is your responsibility to resolve these differences. I have tried in the past and have been unable to accomplish this. If you can't handle this responsibility, I will have to find another architect.
PPS: Perhaps what I need is not a house at all, but a travel trailer. Please advise me as soon as possible if this is the case.
#joke
Soft and wet
What goes in hard and dry and comes out wet and soft? Chewing gum
Holding It In
Q: What do you call someone who doesn't fart in public?
A: A private tooter.
Yo momma so stupid it took her...
Yo momma so stupid it took her two hours to watch 60 Minutes.
FLEX WORDLE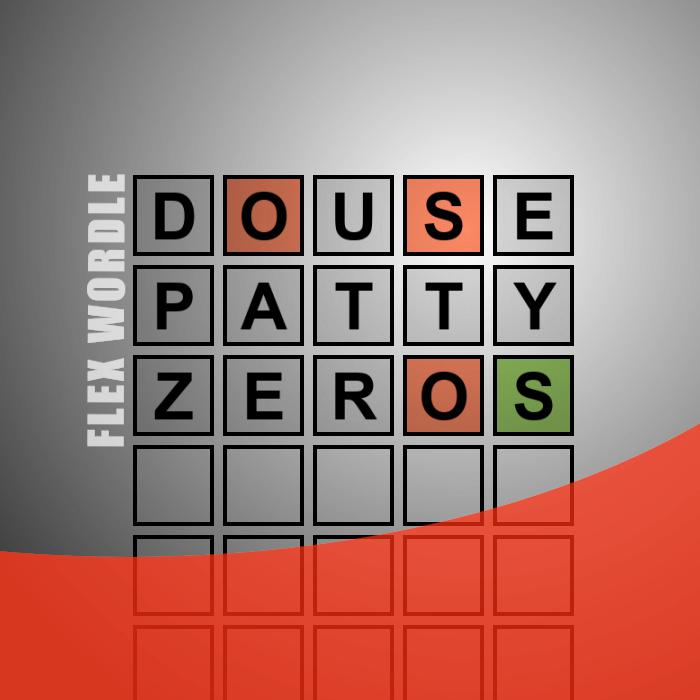 Guess the
WORDLE
in 3 tries. After each guess, the color of the tiles will change to show how close your guess was to the solution.
Why White?
A fresh-faced lad on the eve of his wedding night asks his mother, "Mom, why are wedding dresses white?"
The mother looks at her son and replies, "Son, this shows the town that your bride is pure."
The son thanks his mom, and then seeks his father opinion, "Dad, why are wedding dresses white?"
The father looks at his son in surprise and says, "Son, all household appliances come in white."
#joke
An obnoxious drunk stumbles in...
An obnoxious drunk stumbles into the front door of a bar and orders a drink, the bartender says,
"No way, buddy, you're too drunk."
A few minutes later, the drunk comes in though the bathroom. Again he slurs, "Give me a drink," and the bartender says, "No, man, I told you last time -- you're too drunk"
Five minutes later the guy comes in though the back door and orders a drink, again the bartender says, "You're too drunk"
The drunk scratches his head and says "Dang, I must be. The last two places said the same thing."
#joke
Dating a Nun
Did you hear about the guy who tried to date a nun?
He wanted to take her to the county fair, but she declined on account of she had taken a vow abstaining from Carnival pleasures.
- Joke shared by Beliefnet member BeerLover
Chuck Norris feels that brass ...
Chuck Norris feels that brass knuckles should be allowed in the fight to cure diabetes.
I Am Napoleon
Late one night at the insane asylum, one inmate shouted, "I am Napoleon!"
Another patient asked, "How do you know?"
The first inmate said, "Because God told me!"
Just then, a voice from another room shouted, "I did NOT!"
my dad
Two small boys, not yet old enough to be in school, were overheard talking at the zoo one day.
"My name is Billy. What's yours?"
asked the first boy.
"Tommy," replied the second.
"My Daddy's an accountant. What does your Daddy do for a living?"
asked Billy. Tommy replied, "My Daddy's a lawyer."
"Honest?"
asked Billy.
"No, just the regular kind", replied Tommy.
Church Every Sunday?
Son: "Dad, did you go to Church when you were little?"
Dad: "Yes son, every single Sunday."
Son: "I thought so. Bet it won't do me any good either."
An American and a Japanese wer...
An American and a Japanese were sitting on the plane on the way to LA When
the American turned to the Japanese and asked, "What kind of -ese are you?"
The Japanese confused, replied, "Sorry but I don't understand what you
mean."
The American repeated, "What kind of -ese are you?"
Again, the Japanese was confused over he question.
The American, now irritated, then yelled, "What kind of -ese are you
.... Are you a Chinese, Japanese, Vietnamese!, etc......??? "
The Japanese then replied, "Oh, I am a Japanese."
A while later the Japanese turned to the American and asked What kind Of
'key' was he.
The American, frustrated, yelled, "What do you mean what kind of -kee'am
I?!"
The Japanese said, "Are you a Yankee, donkee, or monkee?"
LESSON III: "NEVER INSULT ANYONE"
#joke
Join us on WhatsApp