Yo momma so fat when she regis...
Yo momma so fat when she registered for MySpace there was no space left.
"My friend brought me...
"My friend brought me a Swedish cake. I later discovered it was Stollen."
Funny video of the day - BMW jump from Viru Rally, Estonia
What's the good thing about ha...
What's the good thing about having Altzeimer's?
You get to meet new people every day!
Embarrassing Compulsion...
A man walked into a bar and ordered a glass of white wine. He took a sip of the wine, then tossed the remainder into the bartender's face. Before the bartender could recover from the surprise, the man began weeping.
"I'm sorry," he said. "I'm really sorry. I keep doing that to bartenders. I can't tell you how embarrassing it is to have a compulsion like this."
Far from being angry, the bartender was sympathetic. Before long, he was suggesting that the man see an analyst about his problem.
"I happen to have the name of a psychoanalyst," the bartender said. "My brother and my wife have both been treated by him, and they say he's as good as they get."
Six months later, the man was back.
"Did you do what I suggested?" the bartender asked, serving a glass of white wine.
"I certainly did," the man said. "I've been seeing the psychoanalyst twice a week." He took a sip of the wine, then he threw the remainder into the bartender's face.
The flustered bartender wiped his face with a towel. "The doctor doesn't seem to be doing you any good," he sputtered.
"On the contrary," the man claimed, "he's done me world of good."
"But you threw the wine in my face again!" the bartender exclaimed.
"Yes," the man replied. "But it doesn't embarrass me anymore."
Strange Headline News
The following is supposedly a true story. To be included, besides being true, the story is most likely strange, weird, surprising, or funny.
A bird dropped a snake over a California power station, short-circuiting a line and causing a two-hour blackout.
---
A Creighton University (Nebraska) Law School senior, told she wouldn't graduate because of a failing grade on a final exam, sued her professor, claiming he flunked her because she is "politically incorrect."
---
Biloxi, Mississippi, jurors acquitted a woman of drug charges, then passed the hat to collect $55 to pay her bus fare home to Texas.
---
A man allegedly held up 18 New York businesses after casing the places while filling out job or rental applications. The spree ended after he accidentally signed his real name on one of the forms, police said.
---
Harlan County, Nebraska, Assessor Floyd Schippert was unopposed in the Democratic primary, and just to be sure, he entered -- and won -- the Republican primary also.
---
Willie Turner wasn't running for the Dendron, Virginia, Town Council. He didn't even vote. But he won with five write-in votes.
---
A Hollywood, California man is accused of renting cars, selling them, then stealing them back for return to the rental companies.
---
Corpus Christi, Texas, police said it was a hit-and-gallop accident: A man crashed his truck into the back of a car, then fled on the horse he was pulling in the trailer.
#joke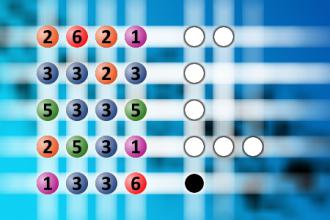 Which is a winning combination of digits?
The computer chose a secret code (sequence of 4 digits from 1 to 6). Your goal is to find that code. Black circles indicate the number of hits on the right spot. White circles indicate the number of hits on the wrong spot.
The Umbrella
A 90-year-old man said to his doctor, "I've never felt better. I have an 18-year-old bride who is pregnant with my child. What do you think about that?"
The doctor considered his question for a minute and then said, "I have an elderly friend who is a hunter and never misses a season. One day when he was going out in a bit of a hurry, he accidentally picked up his umbrella instead of his gun. When he got to the Creek, he saw a beaver sitting beside the stream. He raised his umbrella and went, 'bang, bang' and the beaver fell dead. What do you think of that?"
The 90-year-old said, "I'd say somebody else shot that beaver."
The doctor replied, "My point exactly."
Langauge
Someone mistakenly leaves the cages open in the reptile house at the Bronx Zoo and there are snakes slithering all over the place.
Frantically, the keeper tries everything, but he can't get them back in their cages. Finally he says, "Quick, call a lawyer!"
"A lawyer? Why??"
"We need someone who speaks their langauge!"
What a mess!
Have you heard about the elephant with diarrhea?
It's all over town!
Submitted by Glaci
Edited by Curtis
Do Cats Go to Heaven?
A cat dies and goes to Heaven. God meets him at the gate and says, "You have been a good cat all of these years. Anything you desire is yours, all you have to do is ask."
The cats says, "Well, I lived all my life with a poor family on a farm and had to sleep on hardwood floors."
God says, "Say no more." And instantly, a fluffy pillow appears.
A few days later, 6 mice are killed in a tragic accident and they go to Heaven. God meets them at the gate with the same offer that He made the cat. The mice said, "All our lives we've had to run. Cats, dogs and even women with brooms have chased us. If we could only have a pair of roller skates, we wouldn't have to run anymore."
God says, "Say no more." And instantly, each mouse is fitted with a beautiful pair of tiny roller skates.
About a week later, God decides to check and see how the cat is doing. The cat is sound asleep on his new pillow. God gently wakes him and asks, "How are you doing? Are you happy here?"
The cat yawns and stretches and says, "Oh, I've never been happier in my life. And those Meals on Wheels you've been sending over are the best!"
#joke
Chuck Norris can delete the Re...
Chuck Norris can delete the Recycling Bin.
A Little Cannibalism Humor, Folks
Did you hear the one about the cannibal who passed his brother in the jungle the other day?