State Puns
Q: Mississippi gave Missouri a New Jersey, so what did Delaware?
A: I don't know, Alaska.
Funny video of the day - Heavy Metal Construction Worker
"A mosquito is the ol...
"A mosquito is the oldest known skin-diver."
Obsessions
A psychiatrist was conducting a group therapy session with four young mothers and their small children. "You all have obsessions," he observed.
To the first mother, he said, "You are obsessed with eating. You've even named your daughter Candy."
He turned to the second Mom. "Your obsession is money. Again, it manifests itself in your child's name, Penny,"
He turned to the third Mom. "Your obsession is alcohol. Again, it manifests itself in your child's name, Brandy."
At this point, the fourth mother got up, took her little boy by the hand and whispered, "Come on, Dick, let's go".
#joke
Q. What has two circles on eit...
Q. What has two circles on either end, and is high in the middle?
A. Ohio
The new lawyer...
Joe grew up in a small town, then moved away to attend college and law school. He decided to come back to the small town because he could be a big man in this small town. He really wanted to impress everyone.
He opened his new law office, but business was very slow at first. One day, he saw a man coming up the sidewalk. He decided to make a big impression on this new client when he arrived.
As the man came to the door, Joe picked up the phone. He motioned the man in, all the while talking...
"No. Absolutely not. You tell those clowns in New York that I won't settle this case for less than one million..."
"Yes. The Appeals Court has agreed to hear that case next week. I'll be handling the primary argument and the other members of my team will provide support..."
"Okay. Tell the DA that I'll meet with him next week to discuss the details..."
This sort of thing went on for almost 5 minutes. All the while the man sat patiently as Joe rattled instructions.
Finally, Joe put down the phone and turned to the man.
"I'm sorry for the delay, but as you can see, I'm very busy. What can I do for you?"
The man replied "I'm from the phone company...I came to hook up your phone."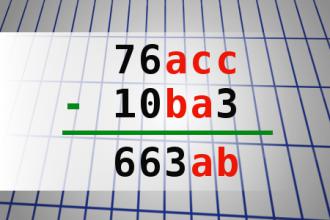 Find number abc
If 76acc - 10ba3 = 663ab find number abc. Multiple solutions may exist.
Caring For Floppy Disks
ORIGAMI
Art of paper folding. In order to obtain a nice and effectiveness result, put the floppy in the disk drive after folding it several times in different directions. With a little luck, you should be able to get it jammed. Now, ask yourself. How can your disk get damaged if you can't even get it out of the drive?
SMOKE
Use cigarettes or anything that could be burnt. When you are smoking, blow directly to your disk. In that way, you will be able to destroy it soon, and if you are lucky, damage the drive as well.
PIRANHAS
If you don't have any at home, you can use a stapler, a clip, or simply write down on the disk label with a hard point pencil or pen. This wonderful method of "caring" for disks also often gives you a pretty bite-like design on the remaining pieces of the disk.
MAGNETS
They are wonderful. You can find them in the telephone, in some paper weights, and stuck on the frige door. If you can't find any, you can leave the floppies on the printer or on your display for a while, making sure that they are on.
MAIL
Put a disk in an envelope and don't write any warning on it; then mail it to someone, and that's all.
MAGIC TOUCH
Touch your floppy. As much as you can. If you have marmelade or butter in your fingers, better. Your floppy will acknowledge it.
DON'T USE ANY ENVELOPE
Archive them wihtout their envelope, piled under a lot of papers and manuals.
DON'T MAKE BACKUPS
Of course, if you don't have any security copy, you won't have to worry about how to destroy them once you have lost the original.
SUPREME STUPIDITY
It is the best way of destroying floppies. If you practice it regularly, you'll find new methods to add to this list.
#joke
Jewish Dilemma
Definition of a Jewish dilemma:
Someone yelling, "Free ham!"
Can't touch this
Chuck Norris can touch MC Hammer.
Boyfriend 4.0
Last year, many women upgraded their BOYFRIEND 3.1 to
BOYFRIEND PLUS 1.0
(marketing name: FIANCE 1.0) and then further upgraded
FIANCE 1.0 to
HUSBAND 1.0. They found that 1.0 is a memory hogger and
incompatible to
many other programs in their lives. HUSBAND 1.0 includes
plug-ins such
as MOTHER-IN-LAW, BROTHER-IN-LAW, and ANNOYING LOSER FRIENDS
although
market research has clearly shown that they are unnecessary
and
unwanted.
The upcoming BOYFRIEND 4.0 will change all that. Created by
leading
experts in the field and based upon years of research and
classroom
lectures, it includes the best of the old features, such as
the HANDYMAN
FUNCTION, and includes many new functions such as the
OPTIONAL
COMMITMENT FEATURE. Other immature functions, such as BEER
GUZZLING and
CAT CALLING have been removed, though they can still be
found on FRATBOY
1.1
BOYFRIEND 4.0 will include:
- An AUTOMATIC REMINDER BUTTON AND PAY ATTENTION FEATURE (so
I don't
have to repeat myself)
- MINIMIZE BUTTON
- SHUTDOWN FEATURE
- SHOPPING FUNCTION
- A BACK-UP ENERGY SUPPLY, so it won't fall asleep after sex
- A LAUNDRY, COOKING, & HOUSECLEANING FUNCTION
- DIAPER-CHANGING FUNCTION, for the more advanced users
- A SELF DESTRUCT SEQUENCE, so once it's uninstalled it
won't come back
- A MONOGAMY FEATURE
- AUTOMATIC OVERRIDE that kicks in right before they're
about to say
ANYTHING even remotely stupid
Nun Sees A Naked Man
A nun and a priest were traveling across the desert and realized halfway across that the camel they were using for transportation was about to die. They set up a make-shift camp, hoping someone would come to their rescue, but to no avail. Soon the camel died.
After several days of not being rescued, they agreed that they were not going to be rescued. They prayed a lot (of course), and they discussed their predicament in great depth. Finally the priest said to the nun, "you know sister, I am about to die, and there's always been one thing I've wanted here on earth--to see a woman naked. Would you mind taking off your clothes so I can look at you?"
The nun thought about his request for several seconds and then agreed to take off her clothes. As she was doing so, she remarked, "well, Father, now that I think about it, I've never seen a man naked, either. Would you mind taking off your clothes, too?"
With little hesitation, the priest also stripped. Suddenly the nun exclaimed, "Father! What is that little thing hanging between your legs?"
The priest patiently answered, "That, my child, is a gift from God. If I put it in you, it creates a new life."
"Well," responded the nun, "forget about me. Stick it in the camel!"
#joke
How To Please a Woman
A group of girlfriends are on vacation when they see a 5- story
hotel with a sign that reads: "For Women Only." Since they are
without their boyfriends and husbands, they decide to go in.
The bouncer, a very attractive guy, explains to them how it
works. "We have 5 floors. Go up floor-by-floor, and once you
find what you are looking for, you can stay there. It's easy to
decide since each floor has a sign telling you what's inside."
So they start going up and on the first floor the sign reads:
"All the men on this floor are short and plain." The friends
laugh and without hesitation move on to the next floor.
The sign on the second floor reads: "All the men here are short
and handsome." Still, this isn't good enough, so the friends
continue on up.
They reach the third floor and the sign reads: "All the men here
are tall and plain." They still want to do better, and so,
knowing there are still two floors left, they continued on up.
On the fourth floor, the sign is perfect: "All the men here are
tall and handsome." The women get all excited and are going in
when they realize that there is still one floor left. Wondering
what they are missing, they head on up to the fifth floor.
There they find a sign that reads: "There are no men here. This
floor was built only to prove that there is no way to please a
woman."
#joke
Christopher Titus: Terror Alert Level
Osamas dead. Why is the terror alert elevated or imminent? Why not chill? Cant I just fly, keep my shoes on and avoid X-ray-fueled testicular cancer?