Yo mama so fat the bears have ...
Yo mama so fat the bears have to hide their food from her when she goes camping.
"Do birds know where ...
"Do birds know where they're going when they fly south for the winter or do they just wing it every time?"
Funny video of the day - Cat tries to get out of box... fail
Please stand up....
One day a college professor of Psychology was greeting his new college class. He stood up in front of the class and said, "Would everyone who thinks he or she is stupid please stand up?"
After a minute or so of silence, a young man stood up.
"Well, good morning. So, you actually think you're a moron?" the professor asked.
The kid replied, "No sir, I just didn't want to see you standing there all by yourself."
#joke
English lovers
An elderly Frenchman was slowly walking down a countryside lane, admiring the beautiful spring day, when over a hedgerow he spotted a young couple, naked, making love in a field.
Getting over his initial shock he said to himself,
'Ah ze young love, ze springtime, ze air, ze flowers. C'est magnifique!' and continued to watch, remembering good times.
Suddenly he drew in a gasp and said,
'Mais... Sacre bleu!! Ze woman - she is dead!' and he hurried along as fast as he could to the town to tell Albert, the police chief.
He came, out of breath, to the police station and shouted,
'Albert... Albert zere is zis man zis woman .. . naked in Farmer Gaston's field making love.'
The police chief smiled and said;
'Come, come, Henri, you are not so old to not remember ze young love, ze springtime, ze air, ze flowers. Ah, L'amour! Zis is okay.'
'Mais non! You do not understand - ze woman she is dead!'
Hearing this Albert leapt from his seat and rushed out of the station and, the police car being serviced, he ran down to the field, confirmed Henri's story, and ran all the way back nonstop to call the doctor.
'Pierre, Pierre... this is Albert. I was in Gaston's field... zere is a young couple naked 'aving sex.'
To which Pierre replied,
'Albert, I am a man of science. You must remember, it is spring, ze air, ze flowers. Ah, Uamour! Zis is very natural.'
Albert, still out of breath gasped in reply,
'Non, you do not understand. Ze woman, she is dead!'
Hearing this Pierre shouted,
'Mon dieu!' grabbed his black medicine bag, stuffed in his thermometer, stethoscope, and other tools and jumped in the car and drove like a madman down to Gaston's field.
Upon getting there he gave the couple a full medical exam and drove back to Henri and Albert, who were waiting at the station. He got there, went inside, and smiled patiently at the two French-men and said,
'Ah, mes amis, do not worry. Ze woman, she is not dead. She is English.'
The Bar
A guy walked into a bar... OUCH!
We Could Have Been Here Sooner
An elderly couple were killed in an accident and found themselves being given a tour of heaven by Saint Peter. "Here is your oceanside condo, over there are the tennis courts, swimming pool, and two golf courses. If you need any refreshments, just stop by any of the many bars located throughout the area."
"Heck, Gloria," the old man hissed when Saint Peter walked off, "we could have been here ten years ago if you hadn't heard about all that stupid oat bran, wheat germ, and low-fat diets!"
#joke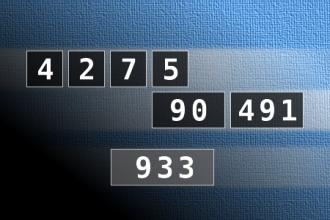 Calculate the number 933
NUMBERMANIA: Calculate the number 933 using numbers [4, 2, 7, 5, 90, 491] and basic arithmetic operations (+, -, *, /). Each of the numbers can be used only once.
Learning From Teachers
Eight-year-old Sally brought her report card home from school. Her marks were good...mostly A's and a couple of B's.
However, her teacher had written across the bottom: "Sally is a smart little girl, but she has one fault. She talks too much in school. I have an idea I am going to try, which I think may break her of the habit."

Sally's dad signed her report card, putting a note on the back: "Please let me know if your idea works on Sally because I would like to try it out on her mother."
#joke
HOW TO KEEP A HEALTHY LEVEL OF...
HOW TO KEEP A HEALTHY LEVEL OF INSANITY AND DRIVE OTHER PEOPLE INSANE
Submitted by Jonalee Echols from Bullard Texas.
1. Page yourself over the intercom. Don't disguise your voice.
2. Find out where your boss shops and buy exactly the same outfits. Always wear them one day after your boss does. This is especially effective if your boss is the opposite gender.
3. Put mosquito netting around your cubicle.
4. Every time someone asks you to do something, ask if they want fries with that.
5. Put your garbage can on your desk and label it "IN."
6. When driving colleagues around, insist on keeping your car's windshield wipers running during all weather conditions to keep 'em tuned up.
7. Reply to everything someone says with, "That's what you think."
8. Highlight irrelevant information in scientific papers, then cc them to your boss.
9. Finish all your sentences with "in accordance with the prophecy."
10. At lunchtime, sit in your parked car and point a hair dryer at passing cars to see if they slow down.
11. Specify that your drive-thru order is "to go."
12. Go to a poetry recital and ask why the poems don't rhyme.
#joke
Rory Scovel: Strip Club
Some friends wanted to go to a strip club. I said, No thanks, its not for me; I dont really enjoy doing it. They said, Well at this strip club you can touch the girls while they dance on you. And I said, Then lets go do that.
Magic Window
Two guys are sitting at a bar.
"You know why I love this bar?" asks the first one.
"No," says the second guy. "Why do you love this bar?"
The first guy points at the window, which is six stories above the ground. "It has a magic window," he says. "You jump out of that window, and you can fly."
The second guy just shakes his head. "Shut up."
"No," says the first guy. "It really is a magic window. I'll prove it to you."
So the first guy gets down from his bar stool, runs at the window, jumps out of it, and flies. He flies around the building twice, up and down, and finally comes back in. He walks to his barstool, and takes a sip of his drink. "See?" he says.
The first guy looks confused. He looks at his drink. "I must be drunk," he says.
"Still don't believe me?" asks the second guy. "I'll show you again." He gets down from his stool, runs and jumps out of the window again. This time he performs some impressive aerial acrobatics, spins, flips, dives. When he finally comes back in, the second guy is staring at him, slack-jawed.
"Wow," says the second guy. "A magic window." He gets off his barstool, takes a running jump out of the window, and promptly plummets to his death. The first guy starts laughing.
The bartender comes over to the first guy with a stern look on his face. "Superman, you're a real asshole when you're drunk."
#joke
Fifty Ways To Be Annoying In Computer Labs
1. Log on, wait a sec, then get a frightened look on your face and scream "Oh my God! They've found me!" and bolt.
2. Laugh uncontrollably for about 3 minutes & then suddenly stop and look suspiciously at everyone who looks at you.
3. When your computer is turned off, complain to the monitor on duty that you can't get the it to work. After he/she's turned it on, wait 5 minutes, turn it off again, and repeat the process for a good half hour.
4. Type frantically, often stopping to look at the person next to you evily.
5. Before anyone else is in the lab, connect each computer to a different screen than the one it's set up with.
6. Write a program that plays the "Smurfs" theme song and play it at the highest volume possible over & over again.
7. Work normally for a while. Suddenly look amazingly startled by something on the screen and crawl underneath the desk.
8. Ask the person next to you if they know how to tap into top-secret Pentagon files.
9. Use Interactive Send to make passes at people you don't know.
10. Make a small ritual sacrifice to the computer before you turn it on.
11. Bring a chainsaw, but don't use it. If anyone asks why you have it, say "Just in case..." mysteriously.
12. Type on VAX for a while. Suddenly start cursing for 3 minutes at everything bad about your life. Then stop and continue typing.
13. Enter the lab, undress, and start staring at other people as if they're crazy while typing.
14. Light candles in a pentagram around your terminal before starting.
15. Ask around for a spare disk. Offer $2. Keep asking until someone agrees. Then, pull a disk out of your fly and say, "Oops, I forgot."
16. Every time you press Return and there is processing time required, pray "Ohpleaseohpleaseohpleaseohplease," and scream "YES!" when it finishes.
17. "DISK FIGHT!!!"
18. Start making out with the person at the terminal next to you (It helps if you know them, but this is also a great way to make new friends).
19. Put a straw in your mouth and put your hands in your pockets. Type by hitting the keys with the straw.
20. If you're sitting in a swivel chair, spin around singing "The Lion Sleeps Tonight" whenever there is processing time required.
21. Draw a pictue of a woman (or man) on a piece of paper, tape it to your monitor. Try to seduce it. Act like it hates you and then complain loudly that women (men) are worthless.
22. Try to stick a Ninetendo cartridge into the 3 1/2 disk drive. When it doesn't work, get the supervisor.
23. When you are on an IBM, and when you turn it on, ask loudly where the smiling Apple face is.
24. Print out the complete works of Shakespeare, then when its all done (two days later) say that all you wanted was one line.
25. Sit and stare at the screen, biting your nails noisily. After doing this for a while, spit them out at the feet of the person next to you.
26. Stare at the screen, grind your teeth, stop, look at the person next to you, grinding. Repeat procedure, making sure you never provoke the person enough to let them blow up, as this releases tension, and it is far more effective to let them linger.
27. If you have long hair, take a typing break, look for split ends, cut them and deposit them on your neighbor's keyboard as you leave.
28. Put a large, gold-framed portrait of the British Royal Family on your desk and loudly proclaim that it inspires you.
29. Come to the lab wearing several layers of socks. Remove shoes and place them of top of the monitor. Remove socks layer by layer and drape them around the monitor. Exclaim sudden haiku about the aesthetic beauty of cotton on plastic.
30. Take the keyboard and sit under the computer. Type up your paper like this. Then go to the lab supervisor and complain about the bad working conditions.
31. Laugh hysterically, shout "You will all perish in flames!!!" and continue working.
32. Bring some dry ice & make it look like your computer is smoking.
33. Assign a musical note to every key (ie. the Delete key is A Flat, the B key is F sharp, etc.). Whenever you hit a key, hum its note loudly. Write an entire paper this way.
34. Attempt to eat your computer's mouse.
35. Borrow someone else's keyboard by reaching over, saying "Excuse me, mind if I borrow this for a sec?", unplugging the keyboard & taking it.
36. Bring in a bunch of magnets and have fun.
37. When doing calculations, pull out an abacus and say that sometimes the old ways are best.
38. Play Pong for hours on the most powerful computer in the lab.
39. Make a loud noise of hitting the same key over and over again until you see that your neighbor is noticing (You can hit the space bar so your fill isn't affected). Then look at your neighbor's keyboard. Hit his/her delete key several times, erasing an entire word. While you do this, ask: "Does *your* delete key work?" Shake your head, and resume hitting the space bar on your keyboard. Keep doing this until you've deleted about a page of your neighbor's document. Then, suddenly exclaim: "Well, whaddya know? I've been hitting the space bar this whole time. No wonder it wasn't deleting! Ha!" Print out your document and leave.
40. Remove your disk from the drive and hide it. Go to the lab monitor and complain that your computer ate your disk. (For special effects, put some Elmer's Glue on or around the disk drive. Claim that the computer is drooling.)
41. Stare at the person's next to your's screen, look really puzzled, burst out laughing, and say "You did that?" loudly. Keep laughing, grab your stuff and leave, howling as you go.
42. Point at the screen. Chant in a made up language while making elaborate hand gestures for a minute or two. Press return or the mouse, then leap back and yell "COVEEEEERRRRRR!" peek up from under the table, walk back to the computer and say. "Oh, good. It worked this time," and calmly start to type again.
43. Keep looking at invisible bugs and trying to swat them.
44. See who's online. Send a total stranger a talk request. Talk to them like you've known them all your lives. Hangup before they get a chance to figure out you're a total stranger.
45. Bring an small tape player with a tape of really absurd sound effects. Pretend it's the computer and look really lost.
46. Pull out a pencil. Start writing on the screen. Complain that the lead doesn't work.
47. Come into the computer lab wearing several endangered species of flowers in your hair. Smile incessantly. Type a sentence, then laugh happily, exclaim "You're such a marvel!!", and kiss the screen. Repeat this after every sentence. As your ecstasy mounts, also hug the keyboard. Finally, hug your neighbor, then the computer assistant, and walk out.
48. Run into the computer lab, shout "Armageddon is here!!!!!", then calmly sit down and begin to type.
49. Quietly walk into the computer lab with a Black and Decker chainsaw, rev that baby up, and then walk up to the nearest person and say, "Give me that computer or you'll be feeding my pet crocodile for the next week".
50. Two words: Tesla Coil.
#joke
Artie Lange: Bad at Drugs
I was bad at doing drugs. I didnt do drugs properly. For instance, Im the only guy who ever got really fat on cocaine.
The Police Academy
Three guys, a Polish guy, a Jewish guy and an Italian guy
sign up for the police academy. The Jewish guy goes in first
and the Captain says to him, "We have to ask you one question
before we admit you in to the academy, Who killed Jesus?"
The Jewish guy says "The Romans did it."
The Captain says, "Right, you're admitted."
The Italian guy goes in next. The Captain asks him the same
thing. "We have to ask you one question first before you're
admitted to the Police Academy. Who killed Jesus?"
The Italian guy says "The Romans did it."
The Captain says, "Right, you're admitted."
The Polish guy goes in and the Captain repeats the question.
The Polish guy says "Gee, I don't know." The Captain tells
him to go home and think about it for a week and come back
and tell him.
The Polish guy goes home and his wife asked him how his
first day went at the academy, and he says to her, "You won't
believe it! My first day on the job and they assigned me to
a murder case!"
#joke