NASA put a bunch of cows into ...
NASA put a bunch of cows into orbit. They call it the herd shot round the world.
Funny video of the day - Amazing Brewery Trick!
"As the carburettor c...
"As the carburettor chuckled to the air filter, 'I guess the choke's on me!'"
Credit Cards
Abe and Esther are flying to Australia for a two week vacation to celebrate their 40th anniversary.
Suddenly, over the public address system, the Captain announces, "Ladies and Gentlemen, I am afraid I have some very bad news. Our engines have ceased functioning and we will attempt an emergency landing.
Luckily, I see an uncharted island below us and we should be able to land on the beach. However, the odds are that we may never be rescued and will have to live on the island for the rest of our lives!"
Thanks to the skill of the flight crew, the plane lands safely on the island. An hour later Abe turns to his wife and asks, "Esther, did we pay our $5,000 PBS pledge check yet?"
No, sweetheart," she responds.
Abe, still shaken from the crash landing, then asks, "Esther, did we pay our American Express card yet?"
"Oh, no! I'm sorry. I forgot to send the check," she says.
"One last thing, Esther. Did you remember to send checks for the Visa and MasterCard this month?" he asks.
"Oh, forgive me, Abie," begged Esther. "I didn't send that one, either."
Abe grabs her and gives her the biggest kiss in 40 years.
Esther pulls away and asks him, "What was that for?"
Abe answers, "They'll find us!"
#joke
Auctions and golf...
A wife and husband both talked in their sleep. She loved auctions; his hobby was golf.
The other night, as they slept, the golfer yelled, "Fore!"
His wife yelled back, "Four and a quarter !"
Ultra Dumb People 01
The incredibly dumb
AT&T fired President John Walter after nine months, saying he lacked intellectual leadership". He received a $26 million severance package. Perhaps it's not Walter who's lacking intelligence.
Police in Oakland, California spent two hours attempting to subdue a gunman who had barricaded himself inside his home. After firing ten tear gas canisters, officers discovered that the man was standing beside them, shouting please to come out and give himself up.
An Illinois man pretending to have a gun kidnapped a motorist and forced him to drive to two different automated teller machines. The kidnapper then proceeded to withdraw money from his own bank accounts.
A 9-year-old boy in Manassas, Virginia received a one-day suspension under his elementary school's drug policy last week - for Certs! Joey Hoeffer allegedly told a classmate that the mints would make him "jump higher."
A student in Belle, West Virginia was suspended for three days for giving a classmate a cough drop. School principal Forest Mann reiterated the school's "zero-tolerance" policy...not to be confused with the "zero-intelligence" policy.
Fire investigators on Maui have determined the cause of a blaze that destroyed a $127,000 home last month - a short in the homeowner's newly installed fire prevention alarm system. "This is even worse than last year," said the distraught homeowner, "when someone broke in and stole my new security system..."
#joke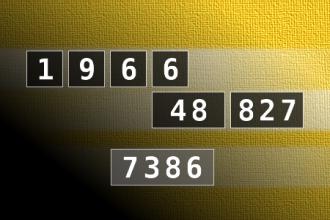 Calculate the number 7386
NUMBERMANIA: Calculate the number 7386 using numbers [1, 9, 6, 6, 48, 827] and basic arithmetic operations (+, -, *, /). Each of the numbers can be used only once.
Donation
The crumbling, old church building needed remodeling, so the
preacher made
an impassioned appeal, looking directly at the richest man
in town. At the end of the message, the rich man stood up and
announced, "Pastor, I will contribute $1,000."
Just then, plaster fell from the ceiling and struck the rich
man on the
shoulder. He promptly stood again and shouted, "Pastor, I
will increase my
donation to $5,000."
Before he could sit back down, plaster fell on him again,
and again he virtually screamed, "Pastor, I will double my
last pledge."
He sat down, and an larger chunk of plaster fell hitting him
on the head.
He stood once more and hollered, "Pastor, I will give
$20,000!"
This prompted a deacon to shout, "Hit him again, Lord! Hit
him again!"
#joke
HOW TO KEEP A HEALTHY LEVEL OF...
HOW TO KEEP A HEALTHY LEVEL OF INSANITY AND DRIVE OTHER PEOPLE INSANE
Submitted by Jonalee Echols from Bullard Texas.
1. Page yourself over the intercom. Don't disguise your voice.
2. Find out where your boss shops and buy exactly the same outfits. Always wear them one day after your boss does. This is especially effective if your boss is the opposite gender.
3. Put mosquito netting around your cubicle.
4. Every time someone asks you to do something, ask if they want fries with that.
5. Put your garbage can on your desk and label it "IN."
6. When driving colleagues around, insist on keeping your car's windshield wipers running during all weather conditions to keep 'em tuned up.
7. Reply to everything someone says with, "That's what you think."
8. Highlight irrelevant information in scientific papers, then cc them to your boss.
9. Finish all your sentences with "in accordance with the prophecy."
10. At lunchtime, sit in your parked car and point a hair dryer at passing cars to see if they slow down.
11. Specify that your drive-thru order is "to go."
12. Go to a poetry recital and ask why the poems don't rhyme.
#joke
Jimmy Carr: Why Men Use Viagra
The reason old men use Viagra is not because theyre impotent. Its because old women are so very ugly.
Demetri Martin: Rock, Paper, Scissors
I like rock, paper, scissors -- two-thirds. Rock breaks scissors: these scissors are bent, theyre destroyed, I cant cut stuff -- I lose. Scissor cuts paper: this is strips, this is not even paper, this can take me forever to put this back together -- you got me. Paper covers rock: rock is fine, no structural damage to rock. Rock can break through paper at any point, just say the word. Paper sucks. It should be rock, dynamite with a cuttable wick, scissors.
#joke
Neverland search
Police raided the Neverland ranch of Michael Jackson again.
He was reported to be so upset, he dangled himself over a balcony.
When Chuck Norris was a child,...
When Chuck Norris was a child, he made his mother finish his vegetables.
The Laws Of Golf
LAW 1: No matter how bad your last shot was, the worst is yet to come. This law does not expire on the 18th hole, since it has the supernatural tendency to extend over the course of a tournament, a summer and, eventually, a lifetime.
LAW 2: Your best round of golf will be followed almost immediately by your worst round ever. The probability of the latter increases with the number of people you tell about the former.
LAW 3: Brand new golf balls are water-magnetic. Though this cannot be proven in the lab, it is a known fact that the more expensive the golf ball, the greater its attraction to water.
LAW 4: Golf balls never bounce off of trees back into play. If one does, the tree is breaking a law of the universe and should be cut down.
LAW 5: No matter what causes a golfer to muff a shot, all his playing partners must solemnly chant "You looked up," or invoke the wrath of the universe.
LAW 6: The higher a golfer's handicap, the more qualified he deems himself as an instructor.
LAW 7: Every par-three hole in the world has a secret desire to humiliate golfers. The shorter the hole, the greater its desire.
LAW 8: Topping a 3-iron is the most painful torture known to man.
LAW 9: Palm trees eat golf balls.
LAW 10: Sand is alive. If it isn't, how do you explain the way it works against you?
LAW 11: Golf carts always run out of juice at the farthest point from the clubhouse.
LAW 12: A golfer hitting into your group will always be bigger than anyone in your group. Likewise, a group you accidentally hit into will consist of a football player, a professional wrestler, a convicted murderer and an IRS agent -- or some similar combination.
LAW 13: All 3-woods are demon-possessed.
LAW 14: Golf balls from the same "sleeve" tend to follow one another, particularly out of bounds or into the water (See Law three).
LAW 15: A severe slice is a thing of awesome power and beauty.
LAW 16: "Nice lag" can usually be translated to "lousy putt." Similarly, "tough break" can usually be translated "way to miss an easy one, sucker."
LAW 17: The person you would most hate to lose to will always be the one who beats you.
LAW 18: The last three holes of a round will automatically adjust your score to what it really should be.
LAW 19: Golf should be given up at least twice per month.
LAW 20: All vows taken on a golf course shall be valid only until the sunset.
#joke