"What does a king eat...
"What does a king eat while on his throne? Soup of the dais."
Which broker...
After reading the morning headlines about the recent stock market downturn, a high-powered executive trying to impress a client in his office, flipped on his intercom switch and barked to his secretary, "Miss Hunter, get my broker!"
The client was impressed until he heard the secretary's clear voice saying, "Yes, Sir, stock or pawn?"
#joke
Funny video of the day - Fire extinguisher ride fail
You Might Be A Redneck If 70
You might be a reneck if...
You've ever given a set of Tupperware ice tea glasses as a wedding present.
Your dungarees expose more than half of your crack in the back because the weight of your pocket knife.
Your idea of heaven involves two shotguns and a keg of beer.
You picket your horses on your lawn so you won't have to mow it.
You're wearing a camoflauge jacket and dipping in your driver's license pic.
You stop to flirt with the person running the drive through at McDonalds.
You save old kitchen appliances for target practice.
You save old kitchen appliances for children's Christmas presents.
You get up EARLY on Saturday to go yard sale shopping for entertainment.
Your gun cabinet takes up half your living room.
NASA put a bunch of cows into ...
NASA put a bunch of cows into orbit. They call it the herd shot round the world.
Credit Cards
Abe and Esther are flying to Australia for a two week vacation to celebrate their 40th anniversary.
Suddenly, over the public address system, the Captain announces, "Ladies and Gentlemen, I am afraid I have some very bad news. Our engines have ceased functioning and we will attempt an emergency landing.
Luckily, I see an uncharted island below us and we should be able to land on the beach. However, the odds are that we may never be rescued and will have to live on the island for the rest of our lives!"
Thanks to the skill of the flight crew, the plane lands safely on the island. An hour later Abe turns to his wife and asks, "Esther, did we pay our $5,000 PBS pledge check yet?"
No, sweetheart," she responds.
Abe, still shaken from the crash landing, then asks, "Esther, did we pay our American Express card yet?"
"Oh, no! I'm sorry. I forgot to send the check," she says.
"One last thing, Esther. Did you remember to send checks for the Visa and MasterCard this month?" he asks.
"Oh, forgive me, Abie," begged Esther. "I didn't send that one, either."
Abe grabs her and gives her the biggest kiss in 40 years.
Esther pulls away and asks him, "What was that for?"
Abe answers, "They'll find us!"
#joke
FLEX WORDLE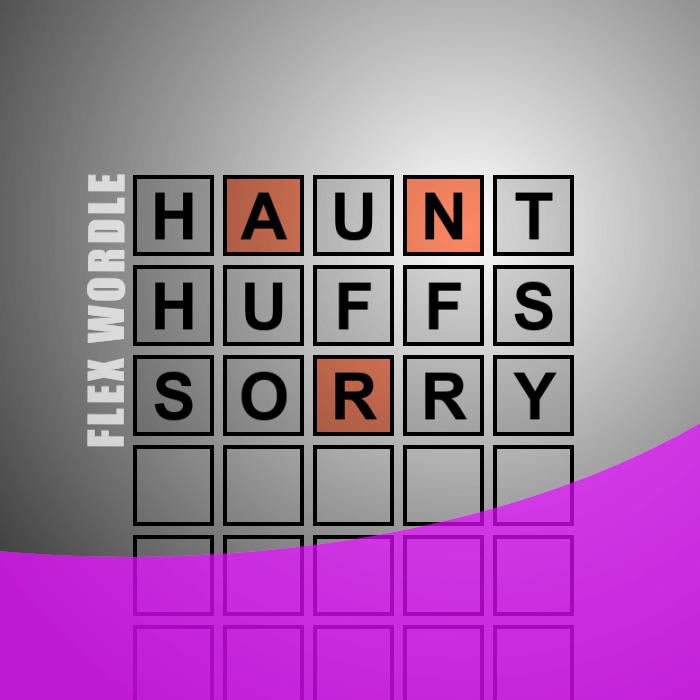 Guess the
WORDLE
in 3 tries. After each guess, the color of the tiles will change to show how close your guess was to the solution.
ID?
An Arkansas State trooper pulls over a pickup truck on I-40 and says to the driver, "Got any ID?"
The driver says," ' Bout what?"
Submitted by Curtis
Edited by Calamjo
Life cycle of software
The Life Cycle of Software
Programmer produces code he believes is bug-free.
Product is tested. 20 bugs are found.
Programmer fixes 10 of the bugs and explains to the testing department that the other 10 aren't really bugs.
Testing department finds that five of the fixes didn't work and discovers 15 new bugs.
See 3.
See 4.
See 5.
See 6.
See 7.
See 8.
Due to marketing pressure and an extremely pre-mature product announcement based on over-optimistic programming schedule, the product is released.
Users find 137 new bugs.
Original programmer, having cashed his royalty check, is nowhere to be found.
Newly-assembled programming team fixes almost all of the 137 bugs, but introduce 456 new ones.
Original programmer sends underpaid testing department a postcard from Fiji. Entire testing department quits.
Company is bought in a hostile takeover by competitor using profits from their latest release, which had 783 bugs.
New CEO is brought in by board of directors. He hires programmer to redo program from scratch.
Programmer produces code he believes is bug-free.
See step 2
#joke
Potatoes!
One night there was three fugitives escaping from jail. One was blonde, one was brunette and the other was a red-head. They had the police hot on their trail and quickly thinking the brunette points out an old, abandoned factory perfect for hiding in. When all three were inside the red-head, quickly thinking said they should all hid in old potatoe sacks in the corner as they could hear the police approaching the factory. They all got in their little potatoe sacks and barely a minute later the police came crashing through the door. They looked at the sacks and said 'Hmm maybe they are hiding in these' The officer kicks the Red-head's sack and she makes whimpering noises. 'Hmm just puppies in that sack' The officer kicks the Brunette's sack and she makes mewing noises. 'Hmm just kittens in that sack' He says. He finally kicks the blonde's sack and he hears....
'POTATOES POTATOES!'
John Mulaney: Women Friends
I think that women can be friends with each other, but I think it can be tricky sometimes when you try and force women to hang out with each other. You could never put together a heist of women. Like Oceans 11 with women wouldnt work cause two would keep breaking off to talk sh*t about the other nine.
#joke
One day, a guy went into a sto...
One day, a guy went into a store, just browsing.
He suddenly saw a statue of a rat made of bronze, and thought that it was interesting. He decided to buy it, and so he did.
The guy walked out of the store, carrying the statue in his arms. Suddenly some rats started following him.
He shrugged it off, and continued on his way.
As he walked along, more and more rats started following him, until all the rats in the city were behind him.
He suddenly realized that it was the statue that was doing this.
He headed towards the bay that resided next to the city, and threw the statue in. The rats followed, not caring about their immediate deaths.
The guy ran back to the store, and when he reached it, the store owner said, "No refunds".
The guy shook his head, and said, "No, no, I was wondering if you had any statues like the one I bought, only, shaped like a lawyer."