This is the true story of Geor...
This is the true story of George Phillips of Meridian, Mississippi, who was going to bed when his wife told him that he'd left the light on in the shed. George opened the door to go turn off the light but saw there were people in the shed in the process of stealing things.
He immediately phoned the police, who asked, "Is someone in your house?" and George said, "No," and explained the situation. Then they explained that all patrols were busy, and that he should simply lock his door and an officer would be there when available.
George said, "Okay," hung up, counted to 30, and phoned the police again.
"Hello, I just called you a few seconds ago because there were people in my shed. Well, you don't have to worry about them now because I've just shot them all."
Then he hung up. Within five minutes three squad cars, an Armed Response unit, and an ambulance showed up. Of course, the police caught the burglars red-handed.
One of the policemen said to George, "I thought you said that you'd shot them!"
George said, "I thought you said there was nobody available!"
#joke
If you love something....
If you love something, set it free.
If it comes back, it will always be yours.
If it doesn't come back, it was never yours to begin with.
But, if it just sits in your living room, messes up your stuff, eats your food, uses your telephone, takes your money, and doesn't appear to realize you set it free...
You either married it or gave birth to it.
#joke
Moron
Why did the moron throw the butter out the window?
He wanted to see a butterfly.
"What does a king eat...
"What does a king eat while on his throne? Soup of the dais."
Hunting With A Wife
A hunter visited another hunter and was given a tour of his home. Ibn the den was a stuffed lion. The visiting hunter asked, "when did you bag him?"
The host said, "that was three years ago, when I went hunting with my wife."
"What's he stuffed with," asked the visiting hunter.
"My wife."
#joke
Business one-liners 04
A good scapegoat is hard to find.
A good slogan can stop analysis for fifty years.
A good solution can be successfully applied to almost any problem.
A lack of leadership is no substitute for inaction.
A little ambiguity never hurt anyone.
A little humility is arrogance.
A little inaccuracy saves a world of explanation.
A little ignorance can go a long way.
A man of quality does not fear a woman seeking equality.
A man should be greater than some of his parts.
#joke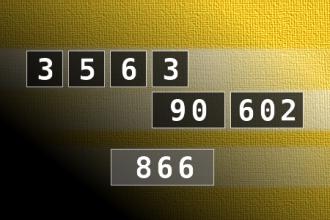 Calculate the number 866
NUMBERMANIA: Calculate the number 866 using numbers [3, 5, 6, 3, 90, 602] and basic arithmetic operations (+, -, *, /). Each of the numbers can be used only once.
Growing penis
When the man first noticed that his penis was growing longer, he was delighted.
But several weeks and several inches later, he became concerned and went to see a urologist.
While his wife waited outside, the physician examined him and explained that, thought rare his condition could be corrected by minor surgery.
The patient's wife anxiously rushed up to the doctor after the examination and was told of the diagnosis and the need for surgery.
"How long will he be on crutches?" she asked.
"Crutches???" the doctor asked.
"Well, yes," the woman said "You are going to lengthen his legs, aren't you?"
John Caparulo: Airport Security Inspection
I had my dog in one of those kennel carrier things, you know those boxes... They made me take the dog out of the carrier, so they could inspect it for explosives. Who bombs a f**king puppy? Really, who does that? Bin Laden would be like, Youre a dick, dude. I cant believe you -- thats too far.
A dietitian was once addressin...
A dietitian was once addressing a large audience in Chicago:
"The material we put into our stomachs is enough to have killed most of us sitting here, years ago. Red meat is awful. Soft drinks erode your stomach lining. Chinese food is loaded with MSG. Vegetables can be disastrous, and none of us realizes the long-term harm caused by the germs in our drinking water.
"But there is one thing that is the most dangerous of all and we all have eaten or will eat it. Can anyone here tell me what food it is that causes the most grief and suffering for years after eating it?"
A 75-year-old man in the front row stood up and said, "Wedding cake."
#joke
Knock Knock Collection 097
Knock Knock
Who's there?
Isaiah!
Isaiah who?
Isaiah nothing till you open this door!
Knock Knock
Who's there?
Istvan!
Istvan who?
Istvan to be alone!
Knock Knock
Who's there?
Italy!
Italy who?
Italy be a big job!
Knock Knock
Who's there?
Ivan!
Ivan who?
Ivan enormous snake in my pocket!
Knock Knock
Who's there?
Ivana!
Ivana who?
Ivana be rich!
#joke