Man: "Wanna hear a joke about ...
Man: "Wanna hear a joke about my penis? Oh never mind, it's too long."
Woman: "Want to hear a joke about my vagina? Never mind, you'll never get it."
"The woodcutter stret...
"The woodcutter stretched every morning before starting work. He was a limberjack."
Computer Help Stories
This article is from the Wall Street Journal, Tuesday, March 1, 1994: Befuddled PC Users Flood Help Llines, and No Qquestion Seems To Be Too Basic
AUSTIN, Texas - The exasperated help-line caller said she couldn't get her new Dell computer to turn on. Jay Ablinger, a Dell Computer Corp. technician, made sure the computer was plugged in and then asked the woman what happened when she pushed the power button.
"I've pushed and pushed on this foot pedal and nothing happens," the woman replied. "Foot pedal?" the technician asked. "Yes," the woman said, "this little white foot pedal with the on switch." The "foot pedal," it turned out, was the computer's mouse, a hand-operated device that helps to control the computer's operation.
Personal-computer makers are discovering that it's still a low-tech world out there. While they are finally having great success selling PCs to households, they now have to deal with people to whom monitors and disk drives are as foreign as another language.
"It is rather mystifying to get this nice, beautiful machine and not know anything about it," says Ed Shuler, a technician who helps field consumer calls at Dell's headquarters here. "It's going into unfamiliar territory," adds Gus Kolias, vice president of customer service and training for Compaq Computer Corp. "People are looking for a comfort level."
Only two years ago, most calls to PC help lines came from techies needing help on complex problems. But now, with computer sales to homes exploding as new "multimedia" functions gain mass appeal, PC makers say that as many as 70% of their calls come from rank novices. Partly because of the volume of calls, some computer companies have started charging help-line users.
The questions are often so basic that they could have been answered by opening the manual that comes with every machine. One woman called Dell's toll-free line to ask how to install batteries in her laptop. When told that the directions were on the first page of the manual, says Steve Smith, Dell director of technical support, the woman replied angrily, "I just paid $2,000 for this stupid thing, and I'm not going to read a book."
Indeed, it seems that these buyers rarely refer to a manual when a phone is at hand. "If there is a book and a phone and they're side-by-side, the phone wins time after time," says Craig McQuilkin manager of service marketing for AST Research, Inc. in Irvine, Calif. "It's a phenomenon of people wanting to talk to people.
And do they ever. Compaq's help center in Houston, Texas, is inundated by some 8,000 consumer calls a day, with inquiries like this one related by technician John Wolf: "A frustrated customer called, who said her brand new Contura would not work. She said she had unpacked the unit, plugged it in, opened it up and sat there for 20 minutes waiting for something to happen. When asked what happened when she pressed the power switch, she asked, "What power switch?
Seemingly simple computer features baffle some users. So many people have called to ask where the "any" key is when "Press Any Key" flashes on the screen that Compaq is considering changing the command to "Press Return Key.
Some people can't figure out the mouse. Tamra Eagle, and AST technical support supervisor, says one customer complained that her mouse was hard to control with the "dust cover" on. The cover turned out to be the plastic bag the mouse was packaged in. Dell technician Wayne Zieschan says one of his customers held the mouse and pointed it at the screen, all the while clicking madly. The customer got no response because the mouse works only if it's moved over a flat surface.
Disk drives are another bugaboo. Compaq technician Brent Sullivan says a customer was having trouble reading word-processing files from his old diskettes. After troubleshooting for magnets and heat failed to diagnose the problem, Mr. Sullivan asked what else was being done with the diskette. The customer's response: "I put a label on the diskette and rolled it into the typewriter."
At AST, another customer dutifully complied with a technician's request that she send in a copy of a defective floppy disk. A letter from the customer arrived a few days later, along with a Xerox copy of the floppy. And at Dell, a technician advised his customer to put his troubled floppy back in the drive and "close the door." Asking the technician to "hold on," the customer put the phone down and was heard walking over to shut the door to his room. The technician meant the door to his floppy drive.
The software inside the computer can be equally befuddling. A Dell customer called to say he couldn't get his computer to fax anything. After 40 minutes of troubleshooting, the technician discovered the man was trying to fax a piece of paper by holding it in front of the monitor screen and hitting the "send" key.
Another Dell customer needed help setting up a new program, so Dell technician Gary Rock referred him to the local Egghead. "Yeah, I got me a couple friends," the customer replied. When told Egghead was software store, the man said, "Oh! I thought you meant for me to find couple of geeks.
Not realizing how fragile computers can be, some people end up damaging parts beyond repair. A Dell customer called to complain that his keyboard no longer worked. He had cleaned it, he said, filling up his tub with soap and water and soaking his keyboard for a day, and the removing all the keys and washing them individually.
Computers make some people paranoid. A Dell technician, Morgan Vergaran says he once calmed a man who became enraged because, "his computer has told him he was bad and an invalid." Mr. Vergara patiently explained that the computer's "bad command" and "invalid" responses shouldn't be taken personally.
These days PC-help technicians increasingly find themselves taking on the role of amateur psychologists. Mr. Shuler, the dell technician who once worked as a psychiatric nurse, says he defused a potential domestic fight by soothingly talking a man through a computer problem after the man had screamed threats at his wife and children in the background
There are also the lonely hearts who seek out human contact, even if it happens to be a computer techie. One man from New Hampshire calls Dell every time he experiences a life crisis. He gets a technician to walk him through some contrived problem with his computer, apparently feeling uplifted by the process.
"A lot of people want reassurance," says Mr. Shuler.
#joke
Angelic Love
A man tells his friend, "My wife is an angel."
His friend replies, "Lucky you. Mine's still alive."
Who Should Have The Toy?
The father of five children had won a toy at a raffle.
He called his kids together to ask which one should have the present.

"Who is the most obedient?" he asked. "Who never talks back to mother? Who does everything she says?"
Five small voices answered in unison. "Okay, dad, you get the toy."
#joke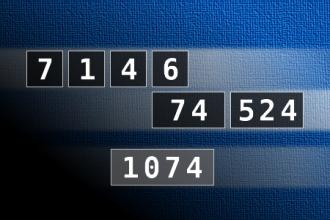 Calculate the number 1074
NUMBERMANIA: Calculate the number 1074 using numbers [7, 1, 4, 6, 74, 524] and basic arithmetic operations (+, -, *, /). Each of the numbers can be used only once.
Don't steal, the Government ha...
Don't steal, the Government hates competition!
New Gorilla in Bar
A black man enters a bar with his gorilla. He says to the bartender, "I would like a beer, and a gin and tonic for my girlfriend here."
The bartender looks at him like he's nuts and says, " I sorry but I don't serve Gorillas in this bar."
The man has an idea. He takes his girlfriend home and shaves her head, gives her a wig, dress, and makeup. Then he returns to the same bar. He places the same order and this time the bar tender gives it to them.
They go and sit in a corner while the bartender turns to his friend and says, "Damn! Did you ever notice how all the good looking Iraqi ladies that come in here, always seem to be with black men.
A fellow bought a new Mercedes...
A fellow bought a new Mercedes and was out on the interstate for a nice evening drive. The top was down, the breeze was blowing through what was left of his hair and he decided to open her up. As the needle jumped up to 80 mph, he suddenly saw flashing red and blue lights behind him. "There's no way they can catch a Mercedes," he thought to himself and opened her up further. The needle hit 90, 100.... Then the reality of the situation hit him. "What am I doing?" he thought and pulled over. The cop came up to him, took his license without a word and examined it and the car. "It's been a long day, this is the end of my shift and it's Friday the 13th. I don't feel like more paperwork, so if you can give me an excuse for your driving that I haven't heard before, you can go."
The guy thinks for a second and says, "Last week my wife ran off with a cop. I was afraid you were trying to give her back!"
"Have a nice weekend," said the officer.
Why God Created Eve
10. God was worried that Adam would frequently become lost
in the Garden.
9. God knew that one day Adam would require someone to
locate and hand him the remote.
8. God knew Adam would never go out and buy himself a new
fig leaf when his wore out and would therefore need Eve to
buy one for him.
7. God knew Adam would never be able to make a doctor's,
dentist, or haircut appointment for himself.
6. God knew Adam would never remember which night to put the
garbage on the curb.
5. God knew if the world was to be populated, men would
never be able to
handle the pain and discomfort of childbearing.
4. As the Keeper of the Garden, Adam would never remember
where he left his tools.
3. Apparently, Adam needed someone to blame his troubles on
when God caught him hiding in the garden.
2. As the Bible says, It is not good for man to be alone!
And finally, the Number 1 reason why God created Eve...
1. When God finished the creation of Adam, He stepped back,
scratched his head, and said, "I can do better than that."
In A Bad Nursing Home
The Top Signs You're In A Bad Nursing Home


Its named Heaven's Waiting Room.

Cheap TV antenna can't pick up Xena: Warrior Princess.

Defibrilator doubles as a remote control.

Its named Matlock Manor.

No furniture in it outside of beds and lots of caskets.

Radio stations alternate between Glenn Miller and broadcasting Last Rites in every language known to man.

You can't ring a nurse but you can page the attorney's office down the hall.

Rectal thermometers made of wood.

Two words: Community Bedpan.

#joke
Steve Byrne: Half-Korean, Half-Irish
Its weird when youre a mix. People just want to play detective with your face. Nine times out of 10, theyre polite: Where are you from? Im like, Pittsburgh. Theyre like, Pittsburgh, right. Seriously though, where are you from? Pittsburgh. Like Im from some mutant island south of the Philippines, the island of Half Asia. Its just me, Keanu Reeves and Tiger Woods on a beach all day playing volleyball.
#joke