What do you give a deaf fisher...
What do you give a deaf fisherman? A herring aid.
Helping your father
A clergyman walking down a country lane and sees a young farmer struggling to load hay back onto a cart after it had fallen off.
"You look hot, my son," said the cleric. "why don't you rest a moment, and I'll give you a hand."
"No thanks," said the young man.
"My father wouldn't like it."
"Don't be silly," the minister said.
"Everyone is entitled to a break. Come and have a drink of water."
Again the young man protested that his father would be upset. Losing his patience, the clergyman said, "Your father must be a real slave driver. Tell me where I can find him and I'll give him a piece of my mind!"
"Well," replied the young farmer, "he's under the load of hay."
#joke
"Tubeless is a produc...
"Tubeless is a product of tireless effort!"
Efficiency Expert
An efficiency expert concluded his lecture with a note of caution. "You need to be careful about trying these techniques at home."
"Why?" asked somebody from the audience.
"I watched my wife's routine at dinner for years," the expert explained. "She made lots of trips between the refrigerator, stove, table and cabinets, often carrying a single item at a time.
One day I told her, 'Honey, why don't you try carrying several things at once?'
"Did it save time?" the guy in the audience asked.
"Actually, yes," replied the expert. "It used to take her 30 minutes to make dinner.
Now I do it in ten..."
#joke
The usual
A wife decides to take her husband to a strip club for his birthday.
They arrive at the club and the doorman says, "Hey, Dave! How ya doin'?"
His wife is puzzled and asks if he's been to this club before.
"Oh, no," says Dave. "He's on my bowling team."
When they are seated, a waitress asks Dave if he'd like his usual and brings over a Budweiser.
His wife is becoming increasingly uncomfortable and says,"How did she know that you drink Budweiser?"
"She's in the Ladies' Bowling League, honey. We share lanes with them."
A stripper then comes over to their table, throws her arms around Dave, and says "Hi Davey. Want your usual table dance, big boy?"
Dave's wife, now furious, grabs her purse and storms out of the club.
Dave follows and spots her getting into a cab. Before she can slam the door, he jumps in beside her. He tries desperately to explain how the stripper must have mistaken him for someone else, but his wife is having none of it. She is screaming at him at the top of her lungs, calling him every name in the book.
The cabby turns his head and says, "Looks like you picked up a real bitch tonight, Dave."
Submitted by curtis
Edited by calamjo and Megansdino
#joke
Bad Boomerang
Q: What do you call a boomerang that doesn't come back?
A: A stick.
FLEX WORDLE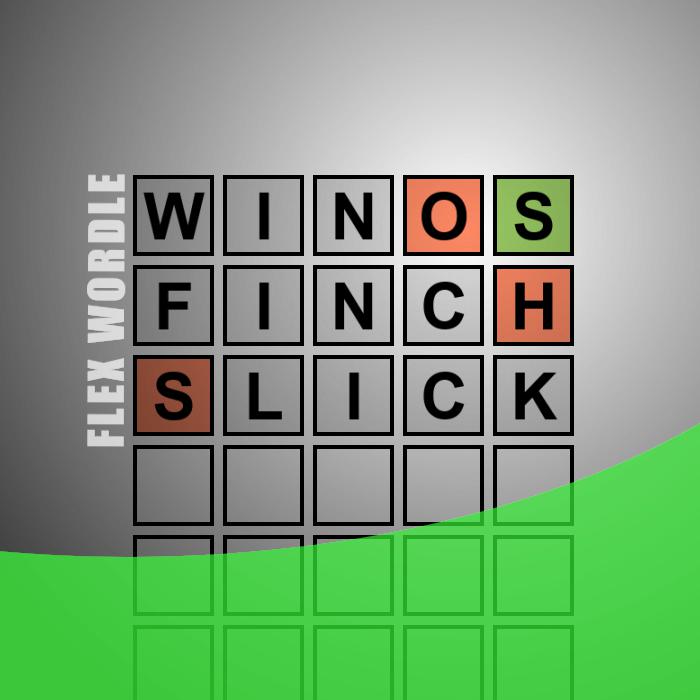 Guess the
WORDLE
in 3 tries. After each guess, the color of the tiles will change to show how close your guess was to the solution.
Business One-liners 67
If opportunity came disguised as temptation, one knock would be enough.
If people listened to themselves more often, they would talk less.
If reproducibility might be a problem, conduct the test only once.
If some people didn't tell you, you'd never know they'd been away on vacation.
If something is confidential, it will be left in the photocopy machine.
If something is done wrong often enough, it becomes right.
If 'success' consisted simply of not taking chances, then 'glory' would be at the disposal of the most mediocre talent.
If the assumptions are wrong, the conclusions are not likely to be very good.
If the code and the comments disagree, then both are probably wrong.
If the probability of success is not almost one, it is very near zero.
#joke
Church Cake!
Have you ever told a white lie? You are going to love this — especially all the ladies who bake for church events
Alice was to bake a cake for the church ladies' group bake sale, but she forgot to do it until the last minute.
She baked an angel food cake and when she took it from the oven, the center had dropped flat.
She said, "Oh dear, there's no time to bake another cake."
So, she looked around the house for something to build up the center of the cake.
Alice found it in the bathroom … a roll of toilet paper.
She plunked it in and covered it with icing.
The finished product looked beautiful, so she rushed it to the church. Before she left the house, Alice had given her daughter some money and specific instructions to be at the bake sale the minute it opened, and to buy that cake and bring it home.
When the daughter arrived at the sale, the attractive cake had already been sold.
Alice was beside herself.
The next day, Alice was invited to a friend's home where two tables of bridge were to be played that afternoon.
After the game, a fancy lunch was served, and to top it off, the cake in question was presented for dessert.
Alice saw the cake, she started to get out of her chair to rush into the kitchen to tell her hostess all about it, but before she could get to her feet, one of the other ladies said, "What a beautiful cake!"
Alice sat back in her chair when she heard the hostess (who was a prominent church member) say,
"Thank you, I baked it myself."
#joke
Answering Machine Message 97
"Camptown Races":
I can't come to the telephone; doo-dah, doo-dah.
Leave your message when you hear the tone; oh, de doo-dah day.
Might be gone all night... Might be gone all day...
So leave a message when you hear the tone.
I'll call you back someday...
#joke
How good was I?
A guy meets a girl out at a nightclub and she invites him back to her place for the night, her parents are out of town and this is the perfect opportunity.
They get back to her house and they go into her bedroom, and when the guy walks in the door he notices all these fluffy toys.
There's hundreds of them, fluffy toys on top of the wardrobe, fluffy toys on the bookshelf and window sill, there's more on the floor, and of course fluffy toys all over the bed.
Later, after they've had sex, he turns to her and asks, "So, how was I?"
She says, "Well, you can take anything from the bottom shelf."
#joke
New Secretary
The real estate boss got a hot new secretary. Afraid of sexual harrassment issues he held himself off for a week, but finally overcome with lust, he decided to put some moves on her. But within a few weeks, he is feeling displeased at the way she is working, not caring, coming to work late, and so on. So, he pulls her aside, and has a little talk with her. "Listen, baby, we may have gone to bed together a few times, but who said you could start coming in late and slacking off?" Looking him in the eyes, she replied, "My lawyer!"
Bumper Stickers in Heaven
Honk if you ARE Jesus
Ask Me About My Previous Lives
I Brake For Celestial Choirs
I Died and Went To Heaven and All I Got Was This Lousy Halo
Join us on WhatsApp