Q: Why cant you hear a pteroda...
Q: Why cant you hear a pterodactyl pee? A: Because the "p" is silent.
Ploughing the land
A husband and wife were driving down a country lane on their way to visit some friends. They came to a muddy patch in the road and the car became bogged. After a few minutes of trying to get the car out by themselves, they saw a young farmer coming down the lane, driving some oxen before him.
The farmer stopped when he saw the couple in trouble and offered to pull the car out of the mud for $50. The husband accepted and minutes later the car was free. The farmer turned to the husband and said, "You know, you're the tenth car I've helped out of the mud today."
The husband looks around at the fields incredulously and asks the farmer, "When do you have time to plough your land? At night?"
"No," the young farmer replied seriously, "Night is when I put the water in the hole."
#joke
"Is a group of finger...
"Is a group of fingerprints considered to be a whorl pool?"
Anagrams
George Bush: When you rearrange the letters: He Bugs Gore
Dormitory: When you rearrange the letters: Dirty Room
Evangelist: When you rearrange the letters: Evil's Agent
Desperation: When you rearrange the letters: A Rope Ends It
The Morse Code: When you rearrange the letters: Here Come Dots
Slot Machines: When you rearrange the letters: Cash Lost in Em
Animosity: When you rearrange the letters: Is No Amity
Snooze Alarms: Wen you rearrange the letters: Alas No More Z's
A Decimal Point: When you rearrange the letters: I'm a Dot in Place
Eleven plus two: When you rearrange the letters: Twelve plus one
#joke
Knock Knock Collection 031
Knock Knock
Who's there?
Carl!
Carl who?
Carl get you there quicker than if you walk!
Knock Knock
Who's there?
Carmen!
Carmen who?
Carmen get it!
Knock Knock
Who's there?
Carrie!
Carrie who?
Carrie the bags into the house please!
Knock Knock
Who's there?
Carrot!
Carrot who?
Carrot me back home!
Knock Knock
Who's there?
Cash!
Cash who?
Cash me if you can!
#joke
Cannibals and Politicians
A cannibal was walking through the jungle and came upon a restaurant opened by a fellow cannibal. Feeling somewhat hungry, he sat down and looked over the menu...
Broiled Missionary: $25.00
Fried Explorer: $35.00
Baked Politician: $100.00.
The cannibal called the waiter over and asked , "Why such a price difference for the politician?"
The cook replied "Have you ever tried to clean one of them?"
#joke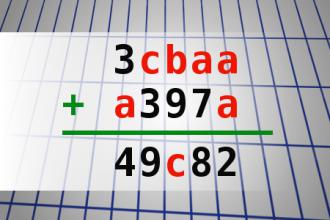 Find number abc
If 3cbaa + a397a = 49c82 find number abc. Multiple solutions may exist.
Unheavenly blessed
Three nuns were talking. The first nun said, "I was cleaning the Father's room the other day and do you know what I found? A bunch of pornographic magazines!"
"What did you do?" the other nuns asked.
"Well, of course I threw them in the trash."
The second nun said, " Well, I can top that, I was in Father's room putting away the laundry and I found a bunch of condoms!"
"Oh my!" gasped the other nuns. "What did you do?" they asked.
"I poked holes in all of them," she replied.
The third nun said, "Oh shit!"
Submitted by Curtis
Edited by Yisman
#joke
Funny Humor About The Irish
This is a true story of the late Irish author Brendan Behan who one night collapsed in a diabetic coma in a Dublin street. It was at a time when he was at the height of his drunken notoriety and passes-by naturally thought he was dead drunk. They took him to the nearby surgery of one of Dublin's most fashionable and respected doctors. The doctor decided to take a cardiograph and, somewhat nervous of his patient, thought to humor him. He explained the workings of the cardiograph needle as it registered the faint heartbeats of the very sick and semiconscious Brendan.
"That needle there is writing down your pulses, Mr. Behan, and I suppose, in its own way, it is probably the most important thing you have ever written."
To which Behan replied: "Aye, and it's straight from me heart, too."

Three old ladies met on the street on a very stormy day. The wind was so strong and loud that they had difficulty in hearing each other.
"It's windy," said one.
"No, it's Thursday," said the next.
"So am I," said the third. "Let's go and have a drink!"


Nick Swardson: Down side of Magical Friends
One of my best friends is a professional magician. The only downside to having a magical friend is he always invites us on double dates, and thats the worst because Im a nice guy, but hes magic. Theres no way I can compete with that. He shows up, hes so smooth. Girls love him. Hes like, Hows it going? You look so beautiful tonight. Your hair -- is that a coin? Now, its a rose. Now, its money. And its like, I show up -- what am I gonna do? Im like, Hi, I brought you this rose. Now, its broken.
#joke
Pipe Organ
A local church built a new sanctuary. They moved their very
fine old pipe organ from to the new sanctuary. It was an
intricate task that was completed successfully.
The local news heralded . . . "St. Paul Completes Organ
Transplant."