"The artist's favorit...
"The artist's favorite swimming technique was the brushstroke."
Internet Axioms...
1. Home is where you hang your @.
2. The e-mail of the species is more deadly than the mail.
3. A journey of a thousand sites begins with a single click.
4. You can't teach a new mouse old clicks.
5. Great groups from little icons grow.
6. Speak softly and carry a cellular phone.
7. C: is the root of all directories.
8. Don't put all your hypes in one home page.
9. Pentium wise; pen and paper foolish.
10. The modem is the message.
11. Too many clicks spoil the browse.
12. The geek shall inherit the earth.
13. A chat has nine lives.
14. Don't byte off more than you can view.
15. Fax is stranger than fiction.
16. What boots up must come down.
17. Windows will never cease.
18. Virtual reality is its own reward.
19. Modulation in all things.
20. A user and his leisure time are soon parted.
21. There's no place like home.com.
22. Know what to expect before you connect.
23. Oh, what a tangled website we weave when first we practice.
24. Speed thrills.
25. Give a man a fish and you feed him for a day; teach him to use the Net and
he won't bother you for weeks.
#joke
Dog Jokes 05
Q: Why do you need a licence for a dog and not for a cat?
A: Cats can't drive!
Q: What do you call a dog in the middle of a muddy road?
A: A mutt in a rut!
Q: What do you get if you cross a dog with a blind mole?
A: A dog that keeps barking up the wrong tree!
Q: What do you call a happy Lassie?
A: A jolly collie!
Q: What do you call a nutty dog in Australia?
A: A dingo-ling!
Q: What dog loves to take bubble baths?
A: A shampoodle!
Q: How do you catch a runaway dog?
A: Hide behind a tree and make a noise like a bone!
Q: What dogs are best for sending telegrams?
A: Wire haired terriers!!
Q: What kind of dog does a vampire prefer?
A: Any kind of bloodhound!
Q: What kind of dog sniffs out new flowers?
A: A bud hound!
#joke
Baseball In Heaven
Two old guys, Abe and Sol, are sitting on a park bench feeding pigeons and talking about baseball, like they do every day.
Abe turns to Sol and says, "Do you think there's baseball in heaven?"
Sol thinks about it for a minute and replies, "I dunno. But let's make a deal: if I die first, I'll come back and tell you if there's baseball in heaven, and if you die first, you do the same."
They shake on it and sadly, a few months later, poor Abe passes on.
One day soon afterward, Sol is sitting there feeding the pigeons by himself when he hears a voice whisper, "Sol... Sol..."
Sol responds, "Abe! Is that you?"
"Yes it is, Sol," whispers Abe's ghost.
Sol, still amazed, asks, "So, is there baseball in heaven?"
"Well," says Abe, "I've got good news and bad news."
"Gimme the good news first," says Sol.
Abe says, "Well... there is baseball in heaven."
Sol says, "That's great! What news could be bad enough to ruin that!?"
Abe sighs and whispers, "You're pitching on Friday."
Blind Skydivers
Q: Why don't blind people skydive?
A: It scares the crap out of their seeing-eye dogs.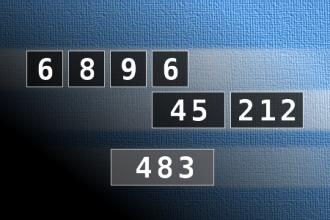 Calculate the number 483
NUMBERMANIA: Calculate the number 483 using numbers [6, 8, 9, 6, 45, 212] and basic arithmetic operations (+, -, *, /). Each of the numbers can be used only once.
Keep the change
An elderly couple visits their grown-up grandson one night. While in the bathroom, Grandpa discovers a bottle of Viagra in his grandson's medicine cupboard.
"I don't think you should take one of those," says the grandson when his grandpa asks him about them: "They're pretty expensive."
"How much?" asks the old timer.
"$20 a pill," replies the grandson.
"I'd still like to try one," says the old man: "Before we go in the morning I'll leave the money under the pillow in the guest room."
The next day the grandson goes into the guest room, and lifts the pillow to find $120. Puzzled, he calls his grandpa. "Grandpa, I told you the pills were $20 each!" he says.
"I know," says the old man: "The extra $100 is from your grandma!"
#joke
Detective test
A policeman was interrogating 3 SARDARS who were training to become detectives. To test their skills in recognizing a suspect, he shows the first SARDAR a picture for 5 seconds and then hides it.
"This is your suspect, how would you recognize him?"
The first SARDAR answers, "That's easy, we'll catch him fast because he only has one eye!"
The policeman says, "Well...uh...that's because the picture I showed is his side profile."
Slightly flustered by this ridiculous response, he flashes the picture for 5 seconds at the second SARDAR and asks him, "This is your suspect, how would you recognize him?"
The second SARDAR smiles, flips his hair and says, "Ha! He'd be too easy to catch because he only has one ear!"
The policeman angrily responds, "What's the matter with you two?? Of course only one eye and one ear are showing because it's a picture of his side profile! Is that the best answer you can come up with?"
Extremely frustrated at this point, he shows the picture to the third SARDAR and in a very testy voice asks, "This is your suspect, how would you recognize him? He quickly adds, "Think hard before giving me a stupid answer."
The SARDAR looks at the picture intently for a moment and says, "The suspect wears contact lenses."
The policeman is surprised and speechless because he really doesn't know himself if the suspect wears contacts or not. "Well, that's an interesting answer. Wait here for a few minutes while I check his file and I'll get back to you on that."
He leaves the room and goes to his office, checks the suspect's file in his computer, and comes back with a beaming smile on his face.
"Wow! I can't believe it. It's TRUE! The suspect does in fact wear contact lenses. Good work! How were you able to make such an astute observation?"
"That's easy," the SARDAR replied. "He can't wear regular glasses because he only has one eye and one ear."
Submitted by sai1ram
Edited by calamjo
Competition at the retirement home
An old man and an old woman are together every night. They aren't married, but for years and years they have spent every night together. All they ever do is sit on the couch buck naked and watch TV while she holds his weiner.
Every night, like clockwork, they do this - sit on the couch watching TV while she holds his weiner.
One night he doesn't show up. Then a second night goes by - no show. She calls him up.
"Where you been?" "Oh ... I've been down at what's her name's." "What are you doing there?"
"Pretty much the same thing we do - sitting naked on the couch watching TV while she holds my weiner."
"Well, what does she have that I don't have?"
"Parkinson's."
#joke
Password
A female secretary was helping her new boss set up his computer and asked him what word he would like to use as a password to log in with.
Wanting to embarrass his new secretary a bit and let her know where they stood, he smugly told her to enter 'penis.'
Without blinking or saying a word, she entered the password. She then almost died laughing at the computer's response:
PASSWORD REJECTED. NOT LONG ENOUGH!
Submitted by Calamjo
Edited by Curtis
#joke
Lone Ranger
Tonto and the Lone Ranger had a falling out... because the Lone Ranger discovered that "Kimosabee" actually means... "asshole!"
Submitted by Curtis
Edited by Yisman
Dane Cook: Watching The Discovery Channel
Im watching some television tonight. Im watching The Discovery Channel. You know, this channel, you never ever plan on watching this. It just happens. Youre flickin around, all of a sudden -- boom -- youre watching a mole for an hour-and-a-half.