What do you call a Mexican wit...
What do you call a Mexican with a rubber toe? Roberto
"The student had such...
"The student had such a big assignment, he had to burn his kindle at both ends."
Funny video of the day - Best Fails of the Week 1 August 2014
The Vase
A guy goes to a girl's house for the first time, and she shows him into the living room. She excuses herself to go to the kitchen to make them a few drinks, and as he's standing there alone, he notices a cute little vase on the mantel. He picks it up, and as he's looking at it, she walks back in.
He says "What's this?"
She says, "Oh, my father's ashes are in there."
He says, "Jeez...oooh....I..."
She says, "Yeah, he's too lazy to go to the kitchen to get an ashtray."
#joke

Q: What did the windmill...

Q: What did the windmill say when she met her favorite movie star?
A: "Nice to meet you. I'm a BIG FAN!"


What Did You Learn?
Susie came home from her first day at school.
Her mother said, "Well, Honey, what did you learn today?"
"Not enough, I guess....They want me to come back again tomorrow."
Fish Jokes 03
Where are most fish found?
Between the head and the tail!
What kind of fish will help you hear better?
A herring aid!
What do fish sing to each other?
Salmon-chanted evening!
How does an octopus go to war?
Well-armed!
Where do you find a down-and-out octopus?
On squid row!
What do you get if you cross an abbot with a trout?
Monkfish!
What bit of fish doesn't make sense?
The piece of cod that passeth all understanding!
What is dry on the outside, filled with water and blows up buildings?
A fish tank!
What was the Tsar of Russia's favorite fish?
Tsardines!
What did the boy octopus say to the girl octopus?
I wanna hold you hand, hand, hand, hand, hand, hand, hand, hand!
#joke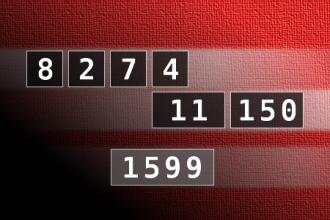 Calculate the number 1599
NUMBERMANIA: Calculate the number 1599 using numbers [8, 2, 7, 4, 11, 150] and basic arithmetic operations (+, -, *, /). Each of the numbers can be used only once.
Alaskan Drunk Goes F
A drunk guy in Alaska decides to go ice fishing. So he packs up his stuff and goes out onto the ice.
He starts sawing a hole in the ice, and a loud booming voice says, "YOU WILL FIND NO FISH UNDER THAT ICE!"
The drunk looks up, ignores it, and continues on. The voice repeats, "YOU WILL FIND NO FISH UNDER THE ICE."
The drunk looks up and says, "God? Is this God trying to warn me?"
The voice says "NO, I'M THE MANAGER OF THIS ICE RINK."
#joke
Paris Native
Q: What's a native of Paris called?
A: A parasite.
On a tropical island
On a beautiful deserted island in the middle of nowhere, the following people are stranded:
Two Italian men and one Italian woman
Two French men and one French woman
Two German men and one German woman
Two Greek men and one Greek woman
Two English men and one English woman
Two Polish men and one Polish woman
Two Japanese men and one Japanese woman
Two American men and one American woman
Two Australian men and one Australian woman
Two New Zealand men and one New Zealand woman
Two Irish men and one Irish woman
One month later the following things have occurred:
One Italian man killed the other Italian man for the Italian woman.
The two French men and the French woman are living happily together having loads of sex.
The two German men have a strict weekly schedule of when they alternate with the German woman.
The two Greek men are sleeping with each other and the Greek woman is cleaning and cooking for them.
The two English men are waiting for someone to introduce them to the English woman.
The two Polish men took a long look at the endless ocean and one look at the Polish woman and they started swimming.
The two American men are contemplating the virtues of suicide, while the American woman keeps on bitching about her body being her own, the true nature of feminism, how she can do everything that they can do, about the necessity of fulfillment, the equal division of household chores, how her last boyfriend
respected her opinion and treated her much nicer and how her relationship with her mother is improving - but at least the taxes are low and it's not raining.
The two Japanese men have faxed Tokyo and are waiting for further instructions.
The two Australian men beat each other senseless for the Australian woman, who is checking out all the other men after calling them both 'bloody wankers'.
Both the New Zealand men are searching the island for sheep.
The Irish began by dividing the island into North and South and by setting up a distillery. They do not remember if sex is in the picture because it gets sort of foggy after the first few bottles of coconut whisky, but they are satisfied in that at least the English are not getting any.
#joke

A cocky State Highways em...
A cocky State Highways employee stopped at a farm and talked with an old farmer. He told the farmer, "I need to inspect your farm for a possible new road."
The old farmer said, "OK, but don't go in that field." The Highways employee said, "I have the authority of the State Government to go where I want. See this card? I am allowed to go wherever I wish on farm land."
So the old farmer went about his farm chores.
Later, he heard loud screams and saw the State Highways employee running for the fence and close behind was the farmer's prize bull. The bull was madder than a nest full of hornets and the bull was gaining on the employee at every step!!
The old farmer called out, "Show him your card!!"
#joke
Brendon Walsh: Bathroom Break
Ever been at your job and you get so bored and sick of doing it that you just go to the bathroom to hang out? You dont even need to go. You just want a change of scenery for a little bit.
Walrus and Tupperwar
What do a walrus and Tupperware have in common? They both like a tight seal.