Be prepared for Christmas, check out our latest
Christmas jokes
and quotes on:
Christmas jokes collection
Chuck Norris got shot. We are ...
Chuck Norris got shot. We are now in the hospital, where the bullet is in critical condition.
"You can't sing with ...
"You can't sing with a mouthful of garbanzo beans, so hummus a tune."
Funny video of the day - Ultimate Water Sports Fails Compilation
Soap And Water
After several exciting dates, Jim invited Tina over to his house for a home-cooked dinner.
When she sat down at the table, she noticed that the dishes were the dirtiest that she had ever seen in her life.
"Have these dishes ever been washed?" Tina asked, running her fingers over the grit and grime.
Jim replied, "They're as clean as soap and water could get them."
Tina felt a bit apprehensive, but started eating. It was really delicious and she said so, despite the dirty dishes.
When dinner was over, Jim took the dishes outside, whistled and yelled, "Here, Soap! Here, Water!"
#joke
Humor about Dumb Irishmen
The local District Judge had given the defendant a lecture on the evils of drink. But in view of the fact that this was the first time the man had been drunk and incapable, the case was dismissed on payment of ten shillings costs.
"Now don't let me ever see your face again," said the Justice sternly as the defendant turned to go.
"I'm afraid I can't promise that, sir," said the released man.
"And why not?"
"Because I'm the barman at your regular pub!"
Monahan stumbled into a saloon, half crocked. "Say," he said to the bartender, "how tall is a penguin?"
"About two and a half feet."
"Thank God!" cried Monahan. "I thought I ran over a nun!"
#joke
The little man...
Rodney walks into a bar and says, "Bartender, give me two shots--one for me and one for my best buddy here."
The bartender says, "You want both drinks now or do you want me to wait until your buddy arrives to pour this?"
Rodney says, "Oh, I want them both now. I've got my best buddy in my pocket here."
With that, he pulls out a little three-inch man from his pocket.
The bartender says, "Wow! And you mean to say he can drink that much?"
"Oh, sure. He can drink it all and then some," the man retorted. So the bartender poured the two shots. Sure enough, the little guy drinks it all up.
"That's amazing!" says the bartender. "What else can he do? Can he walk?"
Rodney flicks a penny down to the end of the bar and says, "Hey, Al, go get that penny!" The little guy runs down to the end of the bar, picks up the penny, and hauls it back down and gives it to Rodney.
The bartender is totally amazed by this display. "That's amazing," he says. "What else can he do? Does he talk?"
Rodney looks up at the bartender with a look of surprise in his eye and squawks, "Talk? Sure, he talks! Hey, Al, tell him about that time we were down in Africa on safari and you insulted that witch doctor!"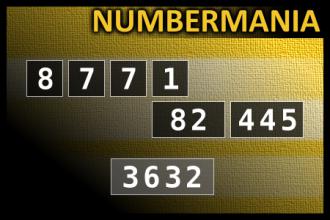 Calculate the number 3632
NUMBERMANIA: Calculate the number 3632 using numbers [8, 7, 7, 1, 82, 445] and basic arithmetic operations (+, -, *, /). Each of the numbers can be used only once.
Where No Man has gon
Two young brothers, aged 5 and 6, are listening through the keyhole as their older sister is getting it on with her new boyfriend.
They hear her say, "Oh, Jim, you're going where no man has gone before!"
The six-year-old says to his brother, "He must be fucking her up the ass!"
#joke
There used to be a street name...
There used to be a street named after Chuck Norris, but it was changed because nobody crosses Chuck Norris and lives.
Man Talks to God
Man says to God: "God, why did you make woman so beautiful?"
God says: "So you would love her."
"But God," the man says, "why did you make her so dumb?"
God says: "So she would love you."
A major network is planning th...
A major network is planning the show "Survivor" this winter. In response, Texas is planning "Survivor, Texas Style." The contestants will start in Dallas, travel through Waco, Austin, San Antonio, over to Houston, and down to Brownsville. They will proceed up to Del Rio, on to El Paso, then to Midland/Odessa, Lubbock, and Amarillo. From there, they proceed to Abilene, and on to Ft. Worth and back to Dallas.
Each will be driving a pink Volvo with a bumper sticker that reads, "I'm gay, I voted for Al Gore, and I'm here to confiscate your guns."
#joke