Be prepared for Christmas, check out our latest
Christmas jokes
and quotes on:
Christmas jokes collection
There was this guy at a bar, j...
There was this guy at a bar, just looking at his drink. He stays like that for half an hour. Then, this big trouble making truck driver steps next to him, takes the drink from the guy, and just drinks it all down. The poor man starts crying. The truck driver says, "Come on man, I was just joking. Here, I'll buy you another drink. I just can't stand to see a man cry." "No, it's not that. This day is the worst of my life. First, I fall asleep, and I go late to my office. My boss, outraged, fires me. When I leave the building to my car, I found out it was stolen. The police said that they can do nothing. I get a cab to return home, and when I leave it, I remember I left my wallet and credit cards there. The cab driver just drives away." "I go home, and when I get there, I find my wife in bed with the gardener. I leave home, come to this bar, and just when I was thinking about putting an end to my life, you show up and drink my poison."
#joke
"People who lack the ...
"People who lack the patience for calligraphy will never have properly formed characters."
Funny video of the day - Angry Coach Fail
Dining Companion
A man and a beautiful woman were having dinner in a fine restaurant. Their waitress (taking another order at a table a few paces away) suddenly noticed that the man was slowing
sliding down his chair and under the table, but the woman acted unconcerned.
The waitress watched as the man slid all the way down his chair and out of sight under the table.
Still, the woman dining across from him appeared calm and unruffled, apparently unaware that her dining companion had disappeared.
After the waitress finished taking the order, she came over to the table and said to the woman, "Pardon me, ma'am, but I think your husband just slid under the table.
The woman calmly looked up at her and replied, "No he didn't. He just walked in the door."
#joke
Vanity Insanity...
The girl knelt in the confessional and said, "Bless me, Father, for I have sinned."
"What is it, child?"
"Father, I have committed the sin of vanity. Twice a day I gaze at myself in the mirror and tell myself how beautiful I am."
The priest turned, took a good look at the girl, and said, "My dear, I have good news. That isn't a sin - it's only a mistake."
#joke
Private Baby
Q: Which part of the military do babies join?
A: The infantry.
Fight Competition
The shopkeeper was dismayed when a brand new business much like his own opened up next door and erected a huge sign which read BEST DEALS.
He was horrified when another competitor opened up on his right, and announced its arrival with an even larger sign, reading LOWEST PRICES.
The shopkeeper was panicked, until he got an idea. He put the biggest sign of all over his own shop-it read... Main entrance.
#joke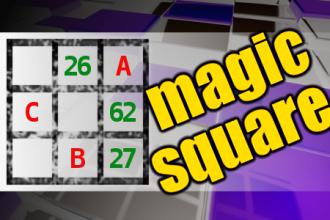 MAGIC SQUARE: Calculate A-B*C
The aim is to place the some numbers from the list (5, 13, 14, 20, 26, 27, 33, 42, 62, 63, 69) into the empty squares and squares marked with A, B an C. Sum of each row and column should be equal. All the numbers of the magic square must be different. Find values for A, B, and C. Solution is A-B*C.
How to Cure a Headache
A guy has been suffering from severe headaches for years
with no relief. After trying all the usual cures he's
referred to a headache specialist by his family doctor. The
doctor asks him what his symptoms are and he replies.
"I get these blinding headaches; kind of like a knife across
my scalp and...."
He is interrupted by the doctor, "And a heavy throbbing
right behind the left ear".
"Yes! Exactly! How did you know?"
"Well I am the world's greatest headache specialist, you
know. But I myself suffered from that same type of headache
for many years. It is caused by a tension in the scalp
muscles. This is how I cured it: Every day I would give my
wife oral sex. When she came she would squeeze her legs
together with all her strength and the pressure would relieve
the tension in my head. Try that every day for two weeks and
come back and let me know how it goes".
Two weeks go by and the man is back, "Well, how do you
feel?"
"Doc, I'm a new man! I feel great! I haven't had a headache
since I started this treatment! I can't thank you enough.
And, by the way you have a lovely home."
Ethiopian
What do you call an Ethiopian taking a shit? A show-off!
Chuck Norris invented the bear...
Chuck Norris invented the beard.
Three Wishes for Three Priests
Three priests died and came up to St. Peter at the Pearly Gates. St. Peter looked up the priests and informed them there had been a mistake; they were not supposed to die for another 10 years or so.
The priests were upset about this and asked St. Peter what could be done. St. Peter said that he would send them back to earth in any form they wanted until the problem was fixed.
St Peter asks the first priest, " What do you want to become?" and the first priest replies," I always wanted to be an eagle and see all of God's creation from above."
"Done." St. Peter snaps his fingers and the first priest disappears.
St. Peter asks the second priest, "What do you want to become?" and the second priest replies, "I always wanted to be a dolphin and see all of God's creation from under the sea."
"Done." St Peter snaps his fingers and the second priest disappears like the first.
St. Peter asks the third priest, "What do you want to become?"" and the third priest shyly says, ""Well... my wish is kind of sinful."
"No matter. You can choose any form you want." St. Peter says and the third priest replies, "Well, I always wanted to be a...stud, you know?"
St .Peter replies, "I don't see a problem with that." St. Peter snaps his fingers and the third priest disappears.
Later, Jesus asked St. Peter, " I heard there was a problem with three priests being here before their time. Where are they?"
St. Peter explained, "One is soaring high above the Grand Canyon. The second is swimming in the North Atlantic. The third is on the left rear tire of a Chevy Blazer."
- Joke shared on Beliefnet's Religious Humor page
#joke
I get so drunk that I imagine things
The drunk was floundering down the alley carrying a box with holes on the side. He bumped into a friend who asked, "What do you have in there, pal?"
"A mongoose."
"What for?"
"Well, you know how drunk I can get. When I get drunk I see snakes, and I'm scared to death of snakes. That's why I got this mongoose, for protection."
"But," the friend said, "you idiot! Those are imaginary snakes."
"That's okay," said the drunk, showing his friend the interior of the box, "So is the mongoose."
#joke
Greg Giraldo: Dodgeball Skills
Part of growing up is learning your strengths and weaknesses. What better way to figure out that hand-eye coordination aint your thing than by getting drilled in the mouth by a red, rubber ball? You only gotta get beaned in the face so many times before you figure out, I better hit the books because this is not working out.
#joke