The Lone Ranger and Tonto were...
The Lone Ranger and Tonto were hunting buffalo one day to no avail. Tonto jumps off his horse, puts his ear to ground and says, "Buffalo come." The Lone Ranger asks, "How do you know that?" Tonto replies, "Ear sticky."
"I gave my stressed o...
"I gave my stressed out feline too much elixir. Now it's catatonic."
Funny video of the day - Lost and Found Fails
Near death experience
A middle-aged woman had a heart attack and was taken to the hospital. While on the operating table, she had a near-death experience. Seeing God, she asked if this was it. God said: "No, you have another 43 years, 2 months and 8 days to live."
Upon recovery, the woman decided to stay in the hospital and have a face-lift, liposuction, breast augmentation, and a tummy tuck. She even had someone come in and change her hair color. Since she had so much more time to live, she figured she might as well make the most of it.
She got out of the hospital after the last operation, and while crossing the street was killed by an ambulance speeding to the hospital. Arriving in front of God, she demanded: "I thought you said I had another 43 years?"
"Sorry," God replied: "I didn't recognize you."
#joke
Location...Location...Location
Benny had told all his friends about the delicious steak he'd eaten in the Delancey Street restaurant the day before. So they decided to go down there and see if it was really as large and delicious as he said. But, much to their disappointment, the waiter brought them the tiniest steak they'd ever seen.
"See here, my good man," Benny barked. "I was in this restaurant yesterday, and you served me a big, juicy steak, and now today, when I've organized a party and highly recommended this place, you serve such a small one."
"Yes, sir," replied the waiter. "But yesterday you were sitting by the window."
#joke
69 farts
A girl brings a guy home one night. They get into her apartment and immediately she suggests that they do '69'.
"What the hell is that?" asks the guy.
Realizing he's inexperienced, she tries to explain, "I put my head between your legs and you put your head between mine."
Still not knowing what she's talking about, but not wanting to ruin the moment he agrees to try it. The second they get in to the position, she lets go a RIP-ROARING fart.
"What was that for?" he asks.
"Oooopppps! Sorry, lets try it again." she says.
So, they get into position again, and once more she lets one loose. The guy gets up and starts to put his coat on.
"Wait, where are you going?", she asks.
Submited by Curtis
Edited by axelwang
#joke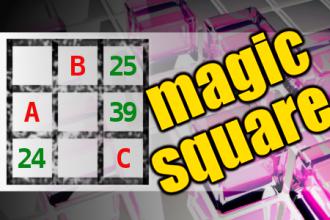 MAGIC SQUARE: Calculate A+B-C
The aim is to place the some numbers from the list (5, 16, 17, 20, 24, 25, 28, 34, 39, 40, 43, 55) into the empty squares and squares marked with A, B an C. Sum of each row and column should be equal. All the numbers of the magic square must be different. Find values for A, B, and C. Solution is A+B-C.
Answering Machine Message 71
Theme music from Peter Gunn: My name is David. What people call me is something else entirely. I'm a P.I. It says so on my door. I would have been here to take your call, but then... she walked in. She was the kind of dame that could make Mr. Spock speak French. Her baby blues wouldn't let me turn her case down, so leave me a clue of your identity after the tone and I'll track you down. Here's lookin' at you, kid.
#joke
Demetri Martin: Naming Foods
I think they named oranges before they named carrots. What are these? Those are orange: oranges. What about these? Oh, sh*t. Long pointies? Well go by shape now?
Once poor
A poor man told his wife, I am sick and tired of being poor, I am going to work overseas. So, he took off to Africa. A few years later, he returned. As he approached his house he got stunned with the luxurious and rich look of the house. He knocked on the door, the servant opened.
"Is the housewife in?" he asked. The servant replied: "Just a moment." The wife comes out: Wife: Wow, my man, all dressed up as a rich man after these years.
Husband: Guess what? I am rich.
Wife: How?
Husband: I went to Africa, found people walk with no underwear and sleep on sand, so I began to make and sell underwear and beds. Due to the high demand, I got rich fast.
Wife: A man, with all of your strength, had to go all the way to Africa, making beds and underwear, to get rich, and I am a little woman that stayed here, without underwear and on a single bed...I got REAL rich.
#joke
Chuck Norris can judge a book ...
Chuck Norris can judge a book by its cover.
A young gay man calls home and...
A young gay man calls home and tells his Jewish mother that he has decided to go back into the closet because he has met a wonderful girl and they are going to be married. He tells his mother that he is sure she will be happier since he knows that his gay lifestyle has been very disturbing to her.
She responds that she is indeed delighted and asks tentatively, "I suppose it would be too much to hope that she would be Jewish?"
He tells her that not only is the girl Jewish, but is from a wealthy Beverly Hills family. She admits she is overwhelmed by the news, and asks, "What is her name?"
He answers, "Monica Lewinsky."
There is a long pause, then his mother asks, "What happened to that nice Catholic boy you were dating last year?"
#joke
Bibles to Boats
A young man from Nebraska moves to Florida and goes to a big "everything under one roof" department store looking for a job. The manager asks, "Do you have any sales experience?" The kid replies, "Yeah, I was one of the best Bible salesman back in Omaha."
The boss liked the kid and gave him the job. "You can start tomorrow. I'll come down after we close and see how you did."
His first day on the job was rough, but he got through it. After the store was locked up, the boss came down. "How many customers bought something from you today?" The kid responds, "One."
The boss says, "Just one? Our sales people average 20 to 30 customers a day. How much was the sale for?"
"$101,237.65."
"$101,237.65? Holy Mother Mary! What did you sell to him?"
"First, I sold him a small fish hook. Then, I sold him a medium fish hook. Then, I sold him a larger fish hook. Then, I sold him a new fishing rod. Then, I asked him where he was going fishing and he said down the coast. I told him he was going to need a boat, so we went down to the boat department, and I sold him a twin engine Boston Whaler. Then, he said he didn't think his car would pull it, so I took him down to the automobile department and sold him a 4x4 truck with all the bells and whistles."
"A guy came in here to buy a fish hook, and you sold him a boat and a truck?!"
"No, the guy came in here to buy feminine products for his wife, and I said, 'Dude, your weekend's shot. You should go fishing.'"
- Joke shared by Beliefnet member socaliflady
#joke