Teacher: "Kids,what does the c...
Teacher: "Kids,what does the chicken give you?"
Student: "Meat!"
Teacher: "Very good! Now what does the pig give you?"
Student: "Bacon!"
Teacher: "Great! And what does the fat cow give you?"
Student: "Homework!"
"The fruit farmer is ...
"The fruit farmer is berry competitive in his field."
Funny video of the day - Black Tie Beach 2014
10 Reasons Why God Created Eve...
10. God worried that Adam would always be lost in the garden because he knew men would never ask directions.
9. God knew that Adam would one day need someone to hand him the TV remote because men don't want to see what's on television, they want to see WHAT ELSE is on television.
8. God knew that Adam would never buy a new fig leaf when the seat wore out and therefore would need Eve to get one for him.
7. God knew that Adam would never make a doctors appointment for himself.
6. God knew that Adam would never remember which night was garbage night.
5. God knew that if the world was to be populated there would have to be someone to bear children, because men would never be able to handle it.
4. As 'Keeper of the Garden' Adam would never remember where he put his tools.
3. The scripture account of creation indicates that Adam needed someone to blame his troubles on when God caught him hiding in the garden.
2. As the Bible says, 'It is not good for man to be alone.' He only ends up getting himself in trouble.
AND the #1 REASON WHY GOD CREATED EVE is ...
When God had finished the creation of Adam, He stepped back, scratched his head and said, 'I KNOW I can do better than THIS!!'
Siamese Twins
Q: Why did the Siamese twins move to England?
A: So the other one could drive.
Watch For Fallen Rocks
Driving down a remote road, a motorist sees a sign that says: "Watch For Fallen Rocks."
A couple of miles of careful driving later, he spots some pebbles and stops to pick a few up. Arriving in the next town, the motorist carries the stones into the highway maintenance office.
Placing them on the counter, he says to an official: "Here are your fallen rocks. Now where's my watch?"
#joke
Touring A New Saw Mill

Two Newfies landed themselves a job at a saw mill. Just before morning the one yelled, "Mick! I lost me finger!"
"Have you now?" says Mick. "And how did you do it?"
"I just touched this big spinning thing here... No! There goes another one!"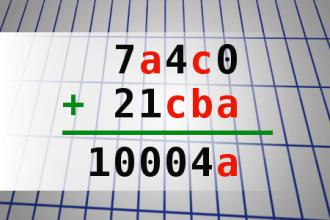 Find number abc
If 7a4c0 + 21cba = 10004a find number abc. Multiple solutions may exist.
The Gift
On the first day of school, the children brought gifts for their teacher. The florist's son brought the teacher a bouquet of flowers. The candy-store owner's daughter gave the teacher a pretty box of candy. Then the liquor-store owner's son brought up a big, heavy box. The teacher lifted it up and noticed that it was leaking a little bit. She touched a drop of the liquid with her finger and tasted it.
"Is it wine?" she guessed.
"No," the boy replied. She tasted another drop and asked, " Champagne ?
"No," said the little boy... "It's a puppy!"
#joke
Put it back
What do you do in case of fallout?
Put it back in and take shorter strokes.
Submitted by Curtis
Edited by Calamjo
Emily Heller: Using Feminism
I have found some ways to use feminism to my own advantage -- mostly to remain lazy and disgusting.
Kathleen Madigan: Figure Skating
I always wanted to be a figure skater as a kid, too, that was like my fantasy dream. But whenever I watch it, I think I would have totally done it alone. I dont know how these people have enough control over the tempers to be working with a partner. Because if I worked with some guy for 15 years, and we got to the Olympics, and out of nowhere he just fell -- oh, Id skate around just to chop off his fingers. I would, and I would not feel bad about that -- ever. Now when youre nubbing your cereal spoon in the morning, you can look at that box and remember why were not on it.
#joke
A blonde, a brunette and a red...
A blonde, a brunette and a redhead went into a bar and asked the bartender:
Brunette: "I'll have a B and C."
Bartender:"What is a B and C?".
Brunette: "Bourbon and Coke."
Redhead: "And, I'll have a G and T."
Bartender: "What's a G and T?"
Redhead: "Gin and tonic."
Blonde: "I'll have a 15."
Bartender: "What's a 15?"
Blonde: "7 and 7"