Happy New Year 2021!!
A penguin takes his car to the...
A penguin takes his car to the shop, and the mechanic says he needs an hour to check it out. So the penguin goes across the street to the 7-Eleven to kill some time and get an ice cream. Since the penguin has no hands, the poor little guy gets the ice cream all over his beak. He returns to the mechanic and the guy tells him, "Looks like you blew a seal." "Oh no," says the penguin, "this is just a little ice cream."
#joke
A sexy lady meet a handsome yo...
A sexy lady meet a handsome young man in a pub, after some drinks and a little tipsy the sexy lady said to the young man, "My mouth is like a loud speaker, my two breasts are for tuning, left one is for tuning the channel AM or FM and my right breast is for tuning bass and treble depending which mode you want."
The young man was aroused by the young lady expression, and said to the lady, "I don't believe it."
Young lady said, "You can try it if you want."
Young man said, "OK come to my hotel room and prove it to me."
They agreed and both holding hands and headed for the hotel room.
Upon entering the room the young lady undressed herself and soon the young man start feeling the left nipple for AM/FM fine tuning. After a while nothing happen.
He changed to the right nipple and start rubbing with greater pressure. Again nothing happened.
The young man soon give up and ask the lady, "Hello sweetie, after I have tuned your AM/FM and treble/bass nipples there are no response."
The sexy lady replied, "You forgot to PLUG IN your power."
#joke
Language Barrer
One reason the Military Services have trouble operating jointly is that they don't speak the same language.
For example, if you told Navy personnel to "secure a building," they would turn off the lights and lock the doors.
The Army would occupy the building so no one could enter.
Marines would assault the building, capture it, and defend it with suppressive fire and close combat.
The Air Force, on the other hand, would take out a three-year lease with an option to buy.
#joke
Take public transit? Hellz yea...
Take public transit? Hellz yeah, that's how I bus to move.
Harry had a bit of a drinking ...
Harry had a bit of a drinking problem.
Every night, after dinner, he took off for the local watering hole, spent the entire evening there and arrived home, well inebriated, around midnight each night. He always had trouble getting his key into the keyhole and getting the door opened. His wife, waiting up for him, would go to the door and let him in. Then she would proceed to yell and scream at him for his constant nights out and his returned drunken state. But Harry continued his nightly routine. One day, the wife, distraught by it all, talked to a friend about her husband's behavior.The friend listened to her and then asked, "Why don't you treat him a little differently when he comes home? Instead of berating him, why don't you give him some loving words and welcome him home with a kiss? He then might change his ways." The wife thought it was worth trying. That night, Harry took off again after dinner. Around midnight, he arrived home in his usual condition. His wife heard Harry at the door and let him in. This time, instead of berating him as she had always done, she took his arm and led him into the living room. She sat him down in an easy chair, put his feet up on the ottoman and took his shoes off. Then she went behind him and started to cuddle him a little. After a while, she said to him, "It's pretty late. I think we had better go upstairs to bed now, don't you?" At that, Harry replied in his inebriated state, "I guess we might as well. I'll get in trouble if I go home anyway!"
#joke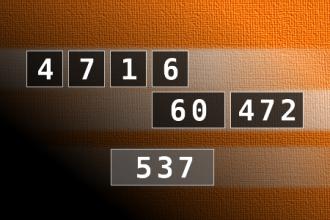 Calculate the number 537
NUMBERMANIA: Calculate the number 537 using numbers [4, 7, 1, 6, 60, 472] and basic arithmetic operations (+, -, *, /). Each of the numbers can be used only once.
Ecumenical Greenbacks
My home church welcomes all denominations, but really prefers tens and twenties.
Lightbulb Joke Collection 12
Q: How many journalists does it take to screw in a lightbulb?
A: Three. One to report it as an inspired government program to bring light to the people, one to report it as a diabolical government plot to deprive the poor of darkness, and one to win a pulitzer prize for reporting that Electric Company hired a lightbulb assassin to break the bulb in the first place.
Q: How many computer journalists does it take to screw in a light bulb?
A: Five-one to write a review of all the existing light bulbs so you can decide which one to buy, another one to write a remarkably similar one in another magazine the next month, a third to have a big one come out on glossy paper two months later that is by then completely out of date, a fourth to hint in his/her column that a completely new and updated bulb is coming out, and the fifth to report a rumor that that new bulb is shipping with a virus.
Q: How many GLC workers does it take to change a lightbulb ?
A: Four. One to do it and three to go round putting up posters announcing that the GLC, working for London, is going to change the lightbulb.
Q: How many city planners does it take to screw in a light bulb?
A: Six - four to write an extensive study recommending a three-way 100/200/250 watt light bulb, one to write an article in the newspaper praising the study, and one to put in a 10 watt blub instead.
#joke
The Verge
A Sunday school teacher asked her class, "What was Jesus'
mother's name?"
One child answered, "Mary."
The teacher then asked, "Who knows what Jesus' father's name
was?"
A little kid said, "The Verge."
Confused, the teacher asked, "Where did you get that?"
The kid said, "Well, you know they are always talking about
The Verge 'n' Mary."
#joke
Redneck Divorce
Q: What do a tornado and a redneck divorce have in common?
A: In the end, someone is going to lose a trailer.
"The hairless goat wi...
"The hairless goat wished that it had mohair."
Classy Insults
"He has all the virtues I dislike and none of the vices I admire."
Winston Churchill
"A modest little person, with much to be modest about."
Winston Churchill
"I have never killed a man, but I have read many obituaries with great pleasure."
Clarence Darrow
"He has never been known to use a word that might send a reader to the dictionary."
William Faulkner (about Ernest Hemingway)
"Poor Faulkner. Does he really think big emotions come from big words?"
Ernest Hemingway (about William Faulkner)
"Thank you for sending me a copy of your book; I'll waste no time reading it."
Moses Hadas
"He can compress the most words into the smallest idea of any man I know."
Abraham Lincoln
"I've had a perfectly wonderful evening. But this wasn't it."
Groucho Marx
"I didn't attend the funeral, but I sent a nice letter saying I approved of it."
Mark Twain
"He has no enemies, but is intensely disliked by his friends."
Oscar Wilde
"I am enclosing two tickets to the first night of my new play, bring a friend... if you have one."
George Bernard Shaw to Winston Churchill
"Cannot possibly attend first night, will attend second... if there is one."
Winston Churchill, in response
"I feel so miserable without you, it's almost like having you here."
Stephen Bishop
"He is a self-made man and worships his creator."
John Bright
"I've just learned about his illness. Let's hope it's nothing trivial."
Irvin S. Cobb
"He is not only dull himself, he is the cause of dullness in others."
Samuel Johnson
"He is simply a shiver looking for a spine to run up."
Paul Keating
"He had delusions of adequacy."
Walter Kerr
"There's nothing wrong with you that reincarnation won't cure."
Jack E. Leonard
"He has the attention span of a lightning bolt."
Robert Redford
"They never open their mouths without subtracting from the sum of human knowledge."
Thomas Brackett Reed
"He inherited some good instincts from his Quaker forebears, but by diligent hard work, he overcame them."
James Reston (about Richard Nixon)
"In order to avoid being called a flirt, she always yielded easily."
Charles, Count Talleyrand
"He loves nature in spite of what it did to him."
Forrest Tucker
"Why do you sit there looking like an envelope without any address on it?"
Mark Twain
"His mother should have thrown him away and kept the stork."
Mae West
"Some cause happiness wherever they go; others, whenever they go."
Oscar Wilde
"He uses statistics as a drunken man uses lamp-posts... for support rather than illumination."
Andrew Lang (1844-1912)
"He has Van Gogh's ear for music."
Billy Wilder
#joke
Anthony Jeselnik: Gift for Who?
A couple of months ago, I gave my girlfriend some fancy lingerie, and she actually got mad at me. She said, Anthony, I think this is more of a gift for you than it is for me. And I said, If you want to get technical, it was originally a gift for my last girlfriend.
Jeff Dunham: Sissy-ness of the Law
Walter: I aint afraid of the cops around Santa Ana. You seen some of these guys? What, cops on bicycles? How intimidating is this: Alright buddy, pull it over. Ching-ching-ching? What do they do when they arrest somebody? Alright, get in the basket.
Little Emily was complaining t...
Little Emily was complaining to her mother that her stomach hurt. Her mother replied, "That's because it's empty. Maybe you should try putting something in it." The next day, the pastor was over at Emily's family's house for lunch. He mentioned having his head hurt, to which Emily immediately replied, "That's because it's empty. Maybe you should try putting something in it."
#joke
Dark
Two Rednecks were sitting at the rural area bar, lamenting their lack of a sex life.
One looks out the window, and across the road is a sheep stuck half way through a fence, with its butt facing the tavern.
One drunk says, "I sure wish that sheep was Marilyn Monroe."
The other says, "I just wish it were dark."
Submitted by Calamjo
Edited by Yisman
#joke
Yo Mama so old...
Yo Mama so old her social security # is 1.