Late one night, a preacher was...
Late one night, a preacher was driving on a country road and had a wreck. A farmer stopped and said, "Sir, are you okay?" The preacher said, "Yes, I had the Lord riding with me." The farmer said, "Well, you better let him ride with me, because you're gonna kill him."
A Scotchman had been presented...
A Scotchman had been presented with a pint flask of rare old Scotch whiskey. He was walking briskly along the road toward home, when along came a Ford which he did not sidestep quite in time. It threw him down and hurt his leg quite badly. He got up and limped down the road.
Suddenly he noticed that something warm and wet was trickling down his leg.
"Oh, Lord," he groaned, "I hope that's blood!"
#joke
Funny video of the day - Chainsaw Massacre Prank!
"The doors just broke...
"The doors just broke, I could fix it, but it hinges on other things."
The Painting
An elderly woman decided to have her portrait painted. . .
She told the artist, "Paint me with diamond earrings, a diamond necklace, emerald bracelets, a ruby broach, and Rolex watch."

"But you are not wearing any of those things," replied the artist.

"I know," she said. "It's in case I should die before my husband. I'm sure he'll remarry right away, and I want his new wife to go crazy looking for the jewelry."
#joke
Two guys were walking in the w...
Two guys were walking in the woods one day, and they all of a sudden came across a bear. The bear noticed them, and started growling and generally getting really mean.
The bear started to chase one of the guys, who, as it turns out, was from Czechoslovakia. The bear soon caught up with him, and ate him alive. The other guy turned around and ran for his life.
A little while later, the second guy found a park ranger station and told his story. The ranger took his gun, and they both went out in search of the bear, in order to destroy it.
Soon, they came across two bears, one male, and one female. The ranger turned to the other guy and said: "Quick... tell me which bear ate your friend!" The ranger levelled his gun and got ready to shoot.
"I'm not really sure," said the other guy, "they both look similar."
"QUICK! Make up your mind!" said the ranger.
"O.K.," said the other, "it was the male."
The ranger promptly aimed and shot the female bear. The male ran off. Using his knife, the ranger cut open the belly of the female and found the body of the other man.
"But why didn't you shoot the male when I thought it was the male who ate my friend?" the other man asked.
"Well," said the ranger...
"I never trust anyone who says that the Czech's in the male!"
#joke
Bee Inconspicuous
Two bees ran into each other. The first bee asked the other how things were going.
"Really bad," said the second bee. "The weather has been really wet and damp and there aren't any flowers or pollen, so I can't make any honey."
"No problem," said the first bee. "Just fly down five blocks and turn left. Keep going until you see all the cars. There's a Bar Mitzvah going on and there are all kinds of fresh flowers and fruit."
"Thanks for the tip," said the second bee, and he flew away.
A few hours later, the two bees ran into each other again. The first bee asked, "How'd it go?""Great!" said the second bee. "It was everything you said it would be."
"Uh, what's that thing on your head?" asked the first bee.
"That's my yarmulke," said the second bee. "I didn't want them to think I was a wasp."
#joke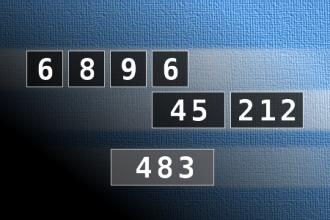 Calculate the number 483
NUMBERMANIA: Calculate the number 483 using numbers [6, 8, 9, 6, 45, 212] and basic arithmetic operations (+, -, *, /). Each of the numbers can be used only once.
Animal Lives
Q: What has more lives than a cat?
A: A frog -- it croaks every night.
A drunk at the bar...
A man walks into the front door of a bar. He is obviously drunk and staggers up to the bar, seats himself on a stool and, with a belch, asks the bartender for a drink. The bartender politely informs the man that it appears he has already had plenty to drink and that he could not be served additional liquor. The bartender offers to call a cab for him.
The drunk is briefly surprised, then softly scoffs, grumbles, climbs down from the bar stool and staggers out the front door. A few minutes later, the same drunk stumbles in the side door of the bar. He wobbles up to the bar and hollers for a drink. The bartender comes over and - still politely if not more firmly - refuses service to the man and again offers to call a cab. The drunk looks at the bartender for a moment angrily, curses, and shows himself out the side door, all the while grumbling and shaking his head.
A few minutes later, the same drunk bursts in through the back door of the bar. He plops himself up on a bar stool, gathers his wits, and belligerently orders a drink. The bartender comes over and emphatically reminds the man that he is drunk and will be served no drinks. He then tells him that he can either call a cab or the police immediately.
The surprised drunk looks at the bartender and in hopeless anguish cries, "Man! How many bars do you work at?"
#joke
I Know You Were Drunk Yesterday
A fellow decides to take off early from work and go drinking. He stays until the bar closes at three in the morning, at which time he is extremely drunk. After leaving the bar, he returns home on foot.
When he enters his house, he doesn't want to wake anyone, so he takes off his shoes and starts tip-toeing up the stairs. Half-way up the stairs though, he falls over backwards and lands flat on his back. That wouldn't have been so bad, except that he had couple of empty pint bottles in his back pockets, and they broke; the broken glass carved up his back terribly. Yet, he was so drunk that he didn't know he was hurt.
A few minutes later, as he was undressing, he noticed blood, so he checked himself out in the mirror, and, sure enough, his behind was cut up terribly. He then repaired the damage as best he could under the circumstances, and he went to bed.
The next morning, his head was hurting, his back was hurting, and he was hunkering under the covers trying to think up some good story, when his wife came into the bedroom.
"Well, you really tied one on last night," she said. "Where'd you go?"
"I worked late," he said, "and I stopped off for a couple of beers."
"A couple of beers? That's a laugh," she replied. "You got plastered last night. Where did you go?"
"What makes you so sure I got drunk last night, anyway?"
"Well," she replied, "my first big clue was when I got up this morning and found a bunch of band-aids stuck to the mirror."
Hourse Rider
A blonde decides to learn and try horse back riding assisted without any experience or lessons.
She mounts the horse with great effort, and the tall, shiny horse springs into motion.
It gallops along at a steady and rhythmic pace, but the blonde begins to slip from the saddle.
Out of shear terror, she grabs for the horse's mane but cannot seem to get a firm grip.
She tries to throw her arms around the horse's neck, but slides down the side of the horse anyway.
The horse gallops along, seemingly oblivious to its slipping rider.
Finally, giving up her frail grip, she leaps away from the horse to try and throw herself to safety.
Unfortunately, her foot has become entangled in the stirrup.
She is now at the mercy of the horse's pounding hooves as her head is struck against the ground again and again.
As her head is battered against the ground, she is moments away from unconsciousness or even death when Todd, the Wall-Mart Manager, runs out to turn the horse off.
Editted by Curtis
Preposition
A small-town country boy gets a scholarship to Harvard. During his first week on campus, when he's still learning to get around the place, he's trying to find the library to meet up with a study group. While wandering around, he sees an older, distinguished-looking man walking by. Figuring that the man is a professor, or otherwise associated with the school, he decides to ask him for directions.
"Excuse me," he asks, "do you know where the library is at?"
The man stops, looks at him, and sniffs, "Son, at Harvard we do not end a sentence with a preposition".
"OK. Do you know where the library is at, asshole?"
#joke
A rapist, a gangster and a mur...
A rapist, a gangster and a murderer are in the same car...
Who is driving the car?
A police officer!

Chuck Norris threw a grenade a...
Chuck Norris threw a grenade and killed 50 people. Then it blew up.
The Butt Biter
A few years ago when my girlfriend still lived with her parents, I managed to pull a real lu-lu. I came out of the bathroom at the end of the hall in her parents' home and as I walked past my girlfriend's bedroom I saw her making the bed.
She was kneeling on the bed facing away from me, trying to tuck the sheets under the far side of the mattress. Of course this meant her luscious behind was sticking up and waving invitingly in the air. Well, there's few things I like more than gently sinking my teeth into a girl's nice behind, a habit which my girlfriend had already become familiar with.
So naturally I snuk up behind her behind and bit her butt. Imagine my horror when her mother's incredulous face turns around and looks back at me! She didn't know what the hell I was up to!
Of course I could've died of embarrassment at that moment. I stuttered a few words saying how I thought it was her daughter's butt (I don't think that would necessarily go over too well either!), apologized and got out of there.
The next thing I did was march downstairs and immediately tell her husband what had just happened – I'd much rather he heard it from me than her! Of course he laughed his head off and they all still tease me about it to this day.
And I later found out that my middle-aged mother-in-law was actually kind of thrilled to have someone mistake her butt for that of a 25-year-old.
#joke
Chuck Norris can do a wheelie ...
Chuck Norris can do a wheelie on a unicycle.
Three old men
Three old men are talking about their aches, pains and bodily dysfunctions.
One 75-year-old man says: "I have this problem. I wake up every morning at 7 a.m. and it takes me 20 minutes to pee."
An 80-year-old man says: "My case is worse. I get up at 8 a.m. and I sit there and grunt and groan for half an hour before I finally have a bowel movement."
The 90-year-old man says: "Not me. At 7 a.m. I pee like a horse and at 8 a.m. I crap like a cow."
"So what's your problem?" asked the others.
"I don't wake up until 9:00."
#joke
Brother -in-law
A man suffered a heart attack and had by-pass surgery. He awakened to find himself in the care of nuns at a Catholic hospital.
As he was recovering, a nun asked him how he was going to pay the bill.
He replied in a raspy voice, "No health insurance."
The nun asked if he has money in the bank.
He replied "No money in the bank."
The nun asked " Do you have a relative who could help you?"
He said "Just a spinster sister who is a nun."
The nun, slightly preturbed, said "Nuns are not spinsters! Nuns are married to God."
The patient replied, "Then send the bill to my brother-in-law!"
Submitted by Calamjo
Edited by Curtis
#joke